NEET 2017 Topper Interview: Mock test and Self study are key to crack NEET, says AIR 8, Nikita Goyal
With a dream of seeing herself clad in a white coat, Nikita Goyal studied hard every day. She went for coaching, took extra tuition, and developed a disciplined and dedicated study schedule. Nikita's passion made her crack NEET with a score of 690 out of 720 and AIR 8. Careers360 shares her preparation strategy and her plans to join Maulana Azad Medical College in this interview.

Related Post -
NEET 2019
NEET Eligibility Criteria 2019
NEET Application Form 2019
NEET Admit Card 2019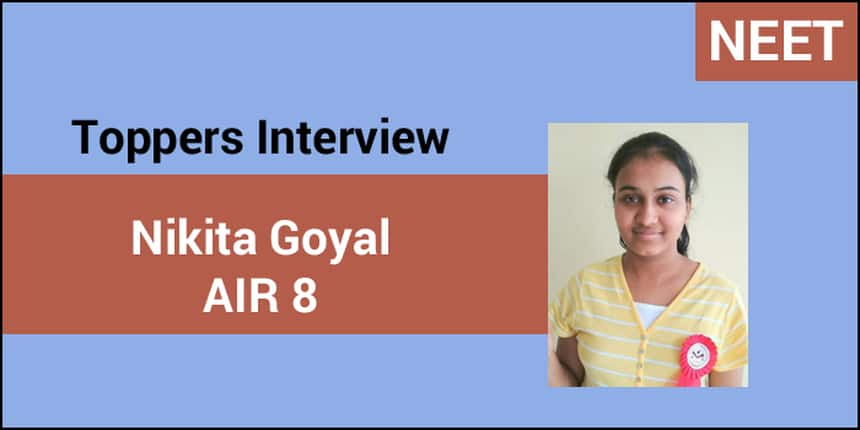 A believer and dreamer, Nikita shares that the support from her parents kept her motivated and increased her confidence at every stage. She shares that mock test combined with self-study can overcome any challenge in preparations. With an interest to become a Doctor from a young age, Nikita aspires to pursue MD in Neurology. 
Read the complete interview below.
Careers360: Congratulations on being AIR 8 in NEET 2017. How are the celebrations going?
Nikita Goyal: Honestly, I was not expecting this rank. But I am feeling great. Parents, friends and everyone around me are celebrating and I am just plain happy. 
Careers360: Tell us about your family and how they supported you in this success?
Nikita Goyal: I am blessed with great parents. My mother is a lecturer and father a government officer. They used to motivate me with their words and shared quotes of great people. My father used to sit with me and fill me with great energy to study more and work harder. My mother sacrificed her professional hours just to comfort me while studying and made sure that I have all the comforts. Even my friends worked as a great support system for me.
Careers360: What motivated you to pursue Medicine as your career?
Nikita Goyal: Biology has interested me since class eighth or ninth. Every year I was drawn more towards this subject. When it came to selecting stream, the medical option came naturally to me. At that moment I had set my goal to be a Doctor.
Careers360: Tell us about your preparation routine for NEET? How much time did you put for coaching vis a vis self-study?
Nikita Goyal: For me, coaching helped a lot. The study material and the competitive spirit you get from there support you in your preparations. Not only coaching but self-study is equally important. While coaching gives you an extra edge, self-study motivates you to do more.
I had to give around eight to nine hours to my classes and rest minimum six hours to self-study. I had a balanced preparation schedule, keeping myself relaxed.
Careers360: How did you balance between preparation and recreational activities?
Nikita Goyal: It was not that difficult at all. Music helped me sail through my preparations. I love listening to music, especially Arijit Singh. Also, I used to take evening walks with my mother, that took away the pressure off my head and made me more relaxed and prepared for next challenges.
Careers360: Among the three subjects, which was the easiest and toughest subject for you?
Nikita Goyal: Easiest was Biology, and a bit difficult was Physics, specifically the Numerics. But then continuous practice, completion of syllabus helps one to overcome any difficulties in tough subjects.
Careers360: Where do you see yourself in the next six years down the line in the medical career?
Nikita Goyal: A successful doctor from Maulana Azad Medical College,  who is now pursuing MD in Neurology.
Careers360: Any advice for future NEET aspirants?
Nikita Goyal: If you really wish to be a Doctor, dream about it every day. This will motivate you more to work hard. Believe in yourself, your teachers and in your hard work. If you want to do it, you can do it. And also, stay relaxed during the exam.
Also Read:
NEET 2017: Know the Toppers
Visit medicine.careers360.com for more information on NEET 2017 toppers
Get real-time alerts on exam & colleges at your fingertips with Careers360 App!
Click Here to Install or Give a missed call on 08080944727 to get app link.
Questions related to NEET
Showing 83666 out of 83666 Questions