NEET 2018 Topper Interview: Put equal effort for all subjects to maximise score, says Aarosh Dhamija, AIR 4
NEET 2018 Topper Interview - Delhi boy Aarosh Dhamija secured the fourth rank in National Eligibility cum Entrance Test (NEET) 2018 with a score of 686 out of 720. He believes in putting equal effort in all subjects and not discriminate between strong or weak areas. Aarosh mentions that he did not have a strong or weak area in NEET but Physics was his favourite subject.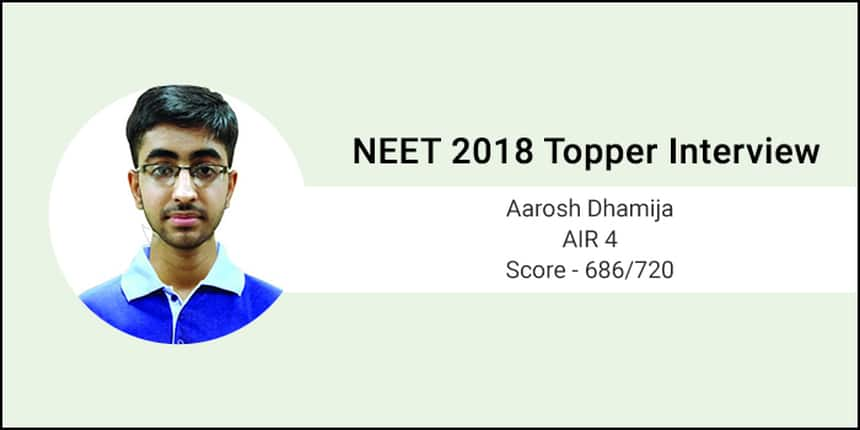 Careers360 brings to you the interview of Aarosh Dhamija, where he shares his preparation strategy and success mantras for the next year's NEET aspirants.
Related Post -
NEET 2019
NEET Eligibility Criteria 2019
NEET Application Form 2019
NEET Admit Card 2019
Son of a businessman father and home-maker mother, Aarosh credits his success in NEET 2018 to his parents and mentors for their support and guidance. A believer in all work and no play makes Jack a dull boy, he took regular breaks between studies and went for cycling. Read the full NEET 2018 topper interview of AIR 4 Aarosh Dhamija here.
Excerpts from the interview:
Careers360: Congratulations on making it to top four! Were you expecting this result?
Aarosh: Thank you for your wish! Although I had calculated my score based on the official answer key, I was not sure about the rank. Needless to say, I am very much elated upon knowing that I am among the top five.
Careers360: Tell us something about yourself and your family members. What role did they play in your success?
Aarosh: I belong to Delhi. My father is a businessman and my mother is a house wife. My parents have stood by my side like a rock. They helped me in every possible way to carry on with my preparation and succeed.
Careers360: What is your overall and subject wise score of NEET 2018?
Aarosh: My total score is 686. My subject wise scores are 175 in Physics, 160 in Chemistry and 351 in Biology.
Careers360: Apart from NEET, did you take other medical entrance exams?
Aarosh: Yes, I appeared for AIIMS MBBS and JIPMER Medical entrance exams as well.
Careers360:  When and how did you start your NEET preparation?
Aarosh: I had started the preparation in Class 11. I enrolled in coaching. My strategy was to prepare the topics from all three subjects fully and then approach towards mock tests.
Careers360: How did you prepare for NEET 2018 and balanced the studies for board exams?
Aarosh: I had completed the board exam syllabus within the first few months of Class 12. After that, I focused entirely on the NEET syllabus. In the last 1.5 months before the Board exam, I brushed up the syllabus. Since I was preparing simultaneously for both exams, I did not find it hard to focus on one.
Careers360: You said that you had joined coaching. How beneficial was it for your success?
Aarosh: I was a full-time student at Aakash Institute. In the first year, the classes were held twice in a week and in the second and final year, I attended classes for three days in a week. Right from clearing the basics to developing exam taking strategy through regular mock tests, my mentors at the coaching were very helpful. The credit for my success definitely goes to my mentors.
Careers360: What were the toughest and easiest subjects for you? How did you tackle your weak areas?
Aarosh: I personally did not discriminate between subjects in terms of toughness. For me, all the subjects were equal and I maintained a balanced and equal preparation strategy of studying theory followed by practice for all the subjects. Personally, Physics is my favourite subject followed by Organic Chemistry.
Careers360: Please share your exam day strategy for NEET 2018.
Aarosh: I was feeling very nervous before the exam but upon receiving the question paper I felt confident. The question paper was balanced. I started with Biology as this subject carries maximum weightage of the paper hence wanted to get done with at first, followed by Chemistry and attempted Physics at the end.
Careers360: Amidst your rigorous preparation session, were you able to pursue any hobby? What was your pastime?
Aarosh: I believe in taking breaks between study schedule. That not only refreshes your mind but helps improve your concentration for the next study session. I used to go for cycling every day. Apart from that I met my friends, watched TV, and was also active on social media during the preparation phase.
Careers360: What is your message for the future NEET aspirants?
Aarosh: Focus on your studies and maintain a balanced preparation strategy. Taking regular mock tests will improve your speed and help develop test taking and time management skills. Along with studies, it is important to enjoy yourself as well. Don't pressurise yourself much and just follow your set study routine.
Also Read
Questions related to NEET
Showing 84421 out of 84421 Questions