NEET 2018 Topper Interview: "Do your part with dedication and you will definitely attain success," says AIR 3 Himanshu Sharma
NEET 2018 Topper Interview - Himanshu Sharma, the All India Rank (AIR) 3 in NEET 2018, believes that working towards your dream with dedication is a definite path to success. According to Himanshu, "Medicine is a noble profession", and it was his keen desire to be able to pursue the profession and become a doctor which led to him moving from Haryana to Delhi for further studies. Following his stupendous result in the National Eligibility cum Entrance Test (NEET) 2018, his aim is to become either a cardiologist or a neurologist for a Government hospital so as to do justice to the pledge he had previously taken to provide free health care for the less fortunate.
Related Post -
NEET 2019
NEET Eligibility Criteria 2019
NEET Application Form 2019
NEET Admit Card 2019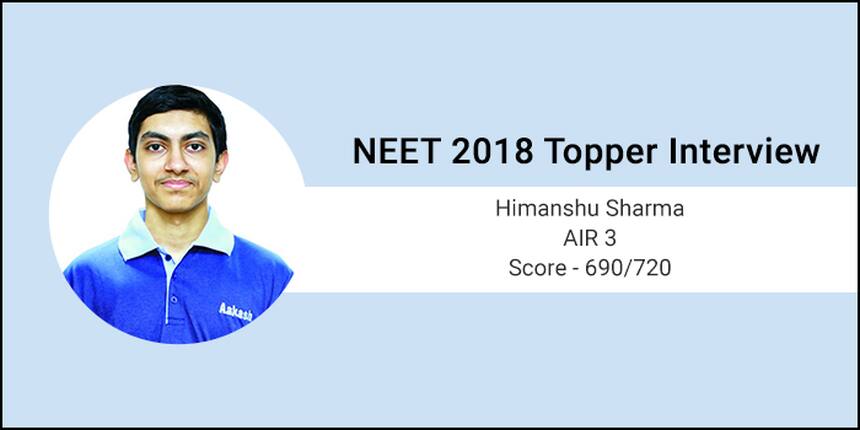 In this exclusive interview with Careers360 Himanshu shares details about his preparation strategy, the driving force behind his dream and other essential aspects which helped him ace the exam.
Excerpts from the Interview
Careers360: Congratulations on emerging as a NEET 2018 topper! How are you feeling about your NEET results?
Himanshu: Thank you! I am really happy and overwhelmed at achieving the 3rd rank in such a competitive examination, where more than 12 lakh students were competing.
Careers360: Tell us something about your background.
Himanshu: I belong to Rohtak, Haryana, but moved to Delhi for 11th and 12th to continue my preparation due to the level of quality competition the city offers. Both my parents are teachers. My father is a Science teacher in a Government school while my mother teaches Hindi. I studied my Classes 11 and 12 from Convent of Gagan Bharti Senior Secondary School, Mohan Garden, New Delhi.
Careers360: What motivated you to pursue medicine as a career?
Himanshu: I believe that medicine is a very noble profession. I was motivated by the need to provide the less fortunate with basic medical aid which made me want to take up the profession. I have pledged to serve in a Government hospital and provide free medical care for the economically weaker sections of society.
Careers360: How did your family support you in your journey?
Himanshu: My family fully supported me from the very beginning. They were there to encourage me even when I decided to move to Delhi for my further studies. After I moved, my father frequently visited me during weekends which was also a great support for me.
Careers360: Could you share with us your overall and subject-wise score in NEET 2018?
Himanshu: My overall marks are 690 out of 720. In Physics, I secured 170 out of 180 and in Chemistry, 170 out of 180. I was able to do well in both Botany and Zoology, which helped me secure 350 out of 360 marks in the Biology section.
Careers360: Which other medical entrances have you appeared for?
Himanshu: Apart from NEET, I also appeared for AIIMS, the results of which will be declared on June 18.
Careers360: How did you prepare for NEET 2018 while balancing your preparations for the Board exam and other medical entrances?
Himanshu: I had a clear plan in my mind from the very beginning as to how I will study for the exam. I divided my time for different chapters ranging from one to two hours per chapter. I prepared from the very beginning for the boards and NEET simultaneously so that I did not have to face any exam stress and tension.
Careers360: Tell us about your NEET preparation routine.
Himanshu: For NEET I focused more on the NCERT text books, underlining important lines and understanding important concepts. If I had a doubt in any of the concepts, I would turn to the other foreign authored books and engineering books that I have to clear my doubts.
Careers360: Did you take any coaching or help? How beneficial did it prove?
Himanshu: I took up coaching for NEET at Aakash Institute Janakpuri. Coaching according to me provides you with a clear way, proper guidance to plan your studies and extract the maximum out of what you study. Coaching also helped me in handling the pressure of the exam including time management which was taken care of by the practice tests. Correcting mistakes at the right time with guidance is also another benefit of joining a coaching centre.
Careers360: How much time did you devote in self-study vs. coaching?
Himanshu: As part of self-study, I dedicated around 7 to 8 hours while coaching during weekends took up around 8-10 hours.
Careers360: What was your exam day strategy for all three subjects, namely Physics, Chemistry and Biology?
Himanshu: I knew Physics would be tough but I still made it a point to attempt all the questions that I could. Unlike what I thought would be the exam day routine after Physics, I moved on to solving Biology instead of Chemistry. The main strategy I took up was first solving all the questions and then moving on to filling the OMR sheet. This kept my mind relaxed which in turn helped me avoid silly mistakes.
Careers360: Which according to you were the toughest and easiest sections?
Himanshu: The toughest section according to me was Physics while Chemistry was the easiest. Since some of the questions in Biology were asked from outside the NCERT textbooks, I would say that was a moderate section.
Careers360: How did you tackle your strong and weak areas?
Himanshu: I had a few engineering books which I referred in order to make my concepts in Physics more clear. I practiced the questions given in them regularly. Chemistry and Biology were my strong points while Physics was my weakest subject. The toughest topics for me in Physics were thermodynamics and mechanics. I gained confidence in Physics with thorough practice and gradually gained confidence that I would be able to score good marks in the same.
Careers360: What are your hobbies? Did you engage in them during the preparations?
Himanshu: When it comes to hobbies, I love playing cricket and engaging myself in all kinds of sports. I also make sure I find time to read the newspaper and watch news channels.
Careers360: What factors would you attribute this success to?
Himanshu: Proper planning, unceasing dedication and the strong motivation that I had within me to become a doctor and emerge in the NEET top 10 is what lead me to this success.
Careers360: Any particular college you have in mind for admission?
Himanshu: Yes, my dream college is Maulana Azad Medical College, New Delhi.
Careers360: Where do you see yourself in the next 10 years?
Himanshu: In the next 10 years, I see myself practicing in my specialization. I want to do my specialization in either Cardiology or Neurology.
Careers360: Any message or advice for future medical aspirants?
Himanshu: I would say that if you do your part with dedication, you will definitely attain success. Use your time well, focus more on the NCERT textbooks, give your 100 percent and do your best because if you are sincere from your end, there is nothing that can stop you from attaining your dream of becoming a doctor.
Also Read
Questions related to NEET
Showing 83368 out of 83369 Questions