NEET 2018 Topper Interview: All it takes is right guidance and focus to crack NEET, says Krishna Ashish Agrawal, AIR 7
With medicine his passion for which he started preparing from Class 8 itself, AIR 7 Krishna Ashish Agrawal is beyond happy for making up to the top 10 list. A state-level badminton and cricket player, Krishna always knew that he was going to score well in the exam. Following in the footsteps of his parents, Krishna is an aspiring radiologist. He believed in clearing his basics and immersed himself in rigorous preparation for two years.
Related Post -
NEET 2019
NEET Eligibility Criteria 2019
NEET Application Form 2019
NEET Admit Card 2019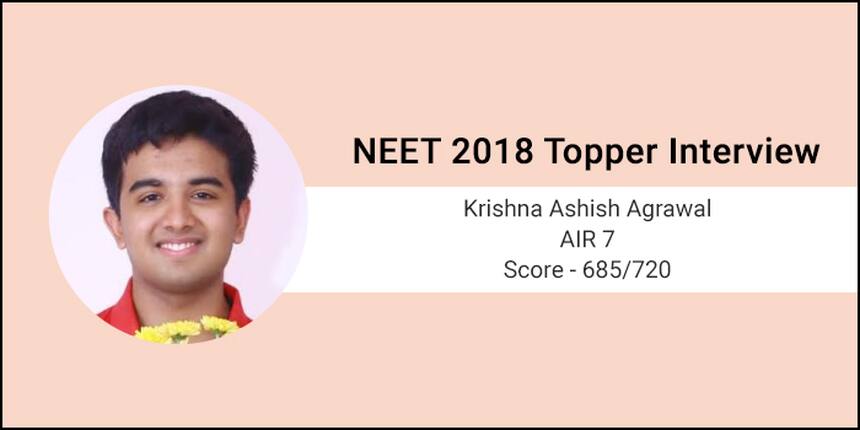 In his interview with Careers360, he narrates how his consistent efforts resulted in his success.
Careers360: Congratulations on grabbing AIR 7 in NEET 2018. How are you feeling and was it expected?
Krishna Agrawal: Thank you so much. I am elated and that's exactly what I was expecting because I started medicine foundation course in Class 8 and have prepared for NEET for two years rigorously. My teachers and parents supported me so much and I was hoping that I will make it to the top 10 list and I did so it seems that hard work pays off.
Careers360: Tell us about yourself and your family. How did they support you during the preparation days?
Krishna Agrawal: I belong to Nanded, Maharashtra and I have studied from Maharashtra state board. My father is a Paediatrician and my mother is a Dentist. My parents have always supported me and because they are doctors it was their guidance in every step that has helped me to secure AIR 7. There were times when I was unable to perform well in exams but they never let me think that I cannot do this. All through my journey, I believe they never allowed me to doubt myself. They have helped me especially with Biology and if you want to clear NEET then Biology is the most important section.
Careers360: What motivated you to pursue medicine as a career?
Krishna Agrawal: Since both of my parents are doctors so they were my biggest motivating factor.  I kept engineering as an option but in Class 11 I decided that medicine is that career option for me where I can see myself 10 years down the line. The faculty in Nanded is really amazing and they helped me a lot in clearing my doubts regarding medicine as a career option.
Careers360: What is your overall and subject-wise score in NEET 2018? Which according to you was the toughest and easiest section?
Krishna Agrawal: My overall NEET score was 685. I have scored 170 in Physics section, 165 in Chemistry and 350 in Biology. Mechanics under Physics section was the toughest topic for me and Biology section was the easiest. Inorganic in Chemistry section requires a lot of learning so I focused a lot more on that part.
Careers360: Which other medical entrances have you appeared for? What are your expectations in these medical entrances?
Krishna Agrawal: I appeared for AIIMS and JIPMER. I am hoping to secure a good rank in AIIMS as the exam went well. For me, JIPMER was slightly difficult as the language medium is only English. My target college is AIIMS, New Delhi, if not then Maulana Azad Medical College, New Delhi since both of them are the most sought after institutions of the country.
Careers360: How did you prepare for NEET 2018 and balanced the studies for board exams and other medical entrances with NEET?
Krishna Agrawal: Physics was a little tricky for me so I tried to pay more attention to this section. I had a prepared schedule for each section and I tried to closely follow till the last days. I studied for 6-7 hours each day and believed in my teachers whatever knowledge they imparted me I followed it. Although, I had to halt the NEET preparation while taking the board exams for a month. After March, I studied for NEET with more vigour and hard work.
Careers360: Did you take any coaching or help? How beneficial did it prove?
Krishna Agrawal: I took coaching from Ideal Institute of Biology for Biology section and for Physics and Chemistry section I preferred Creative Coaching Classes. They provided me practice papers and corrected my mistakes and it proved to be a lot beneficial for me especially while taking the NEET exam.
Careers360: What are your hobbies? Did you engage in them during the preparations?
Krishna Agrawal: I am a state level player in badminton and cricket. However, while preparing for NEET I didn't play but now I am doing that.
Careers360: Any message or advice for future medical aspirants?
Krishna Agrawal: Try to study at least 6-7 hours a day, prepare a schedule and stick to it. Believe in yourself, your teachers and in your hard work. You don't require any outside material if you believe in the guidance of your teachers and success will follow.
Also Read -
Questions related to NEET
Showing 83367 out of 83368 Questions