NEET 2018 Topper Interview: Sound study plan and strategy necessary to crack NEET, says AIR 16 Menda Jaideep
NEET 2018 Topper Interview – Menda Jaideep, a student from Sri Chaitanya Techno School and a resident of Andhra Pradesh, bagged the sixteenth rank in the National Eligibility cum Entrance Test (NEET) 2018 with a score of 675 out of 720. Jaideep was quite focused and started preparing for the medical entrance from the age of 15 years, right after he entered Class 9. Contrary to most applicants, he shares that Physics was his strongest while Biology was his weakest amongst the three science subjects in the NEET syllabus.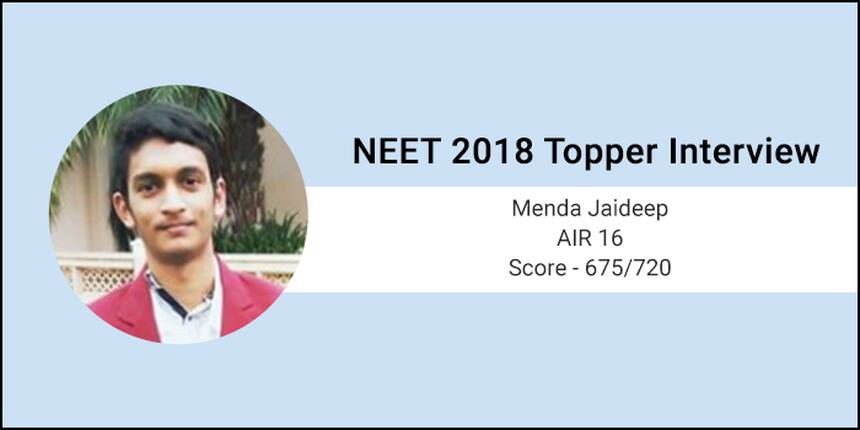 Related Post -
NEET 2019
NEET Eligibility Criteria 2019
NEET Application Form 2019
NEET Admit Card 2019
Jaideep hails from a teaching background, with his father a teacher of Physics and mother a teacher of Biology. He gathered inspiration from his two uncles who are both doctors, as well as from his mother, whose dream was to become a doctor herself. He credits his success in NEET 2018 to his school as they conducted a special NEET programme apart from the regular academic sessions.
A creative writer who loves writing stories during his leisure hours, Jaideep feels it is important to work hard to fare well in NEET or for that matter, any exam. Careers360 brings to you the interview of Menda Jaideep, where he shares his preparation strategy and renders tips for future NEET aspirants.
Read the full NEET 2018 topper interview of AIR 16 Menda Jaideep here.
Excerpts from the interview:
Careers360: Congratulations on achieving the sixteenth rank in NEET 2018! Were you expecting this result?
Jaideep: Thank you! Honestly speaking, I was expecting a rank below ten. Due to some controversy in two of the questions from the chemistry section, I feel I lost my expected rank as CBSE did not award scores on those two questions.
Careers360: Tell us something about yourself and your family members. What role did they play in your success?
Jaideep: I hail from Andhra Pradesh. Both my parents are teachers. They have always kept me motivated and supported me when I used to get low scores. They taught me how to learn from my mistakes.
Careers360: What is your overall and subject wise score in NEET 2018?
Jaideep: My overall score is 675 in NEET 2018 and the percentile I obtained is 99.998189 percentile. Speaking subject-wise, I obtained 165 marks in Physics, 155 marks in Chemistry and 355 marks in Biology.
Careers360: Apart from NEET, did you appear for any other medical entrance exams?
Jaideep: Yes, I have appeared for AIIMS MBBS and JIPMER Medical entrance examinations as well. This was my first attempt for all the three exams.
Careers360:  When and how did you start your NEET preparation?
Jaideep: I seriously started preparing for the medical entrances when I was in Class 9 itself. My school followed a stringent routine as they had special NEET preparation programme along with school curriculum. I did not have to run after any coaching institute thus saving a substantial amount of time and energy. To begin with, I had prepared a good study plan after assessing my capabilities. For the last two months before the NEET 2018 exam, I had been studying for a minimum of 6 hours every day.
Careers360: How did you prepare for NEET 2018 and balance the studies for board exams?
Jaideep: My school did it all! As already mentioned before, my school had a tight schedule; we used to start our regular academic lessons at 6.00 AM which continued until 12.30 PM. Then the NEET preparatory sessions started from 2.00 PM and continued until 10.30 PM at night. The eight and half hours were divided between each of the subjects included in the NEET syllabus.
Careers360: What were the toughest and easiest subjects for you?
Jaideep: For me, the toughest subject has always been Biology; the easiest being Physics.
Careers360: Please share your exam day strategy for NEET 2018.
Jaideep: I was quite confident about my performance. I had put in 100% efforts and my test strategy was in place, so I felt I had nothing to worry about. I completed Biology in first 50 minutes, followed by Chemistry in the next 30 minutes, and finally took up Physics section and completed it in 1 hour 10 mins. I started with my weakest subject and concluded the exam with my strongest subject.
Careers360: Having such a rigorous schedule in school, were you able to pursue any hobby? What did you do during the leisure hours between preparation?
Jaideep: I am a creative writer and love to write stories during my leisure hours. Whenever I was feeling exhausted with my medical entrance preparation, I wrote. Playing badminton is yet another hobby of mine.
Careers360: Where do you see yourself in the next 10 years?
Jaideep: Though I am not very sure, I hope to see myself as a Neurologist.
Careers360: Any colleges you have in mind for admissions?
Jaideep: I am awaiting the results of AIIMS and JIPMER. My dream is to get into AIIMS New Delhi.
Careers360: What is your message for future NEET aspirants?
Jaideep: I would suggest to the future aspirants that they first analyse their capabilities, prepare a good study plan and finally strategize their preparation. The next step would be to strictly abide by the plan. One does not have to undergo coaching if one takes up as many as mock tests/sample paper tests as possible.
Questions related to NEET
Showing 83369 out of 83370 Questions