NEET 2018 Topper Interview: Hard work key to my success but proper guidance also necessary, says OVS Harsha Vardhan Reddy, AIR 14
NEET 2018 Topper Interview - NEET AIR 14 Harsha Vardhan Reddy was expecting his stellar result in the exam after having completely dedicated the last two years to prepare for the same. Reddy, who hails from the Nellore district of Andhra Pradesh, always wanted to become a doctor as he considers it a very noble profession. He is now looking forward to becoming the first member from his family to pursue medicine.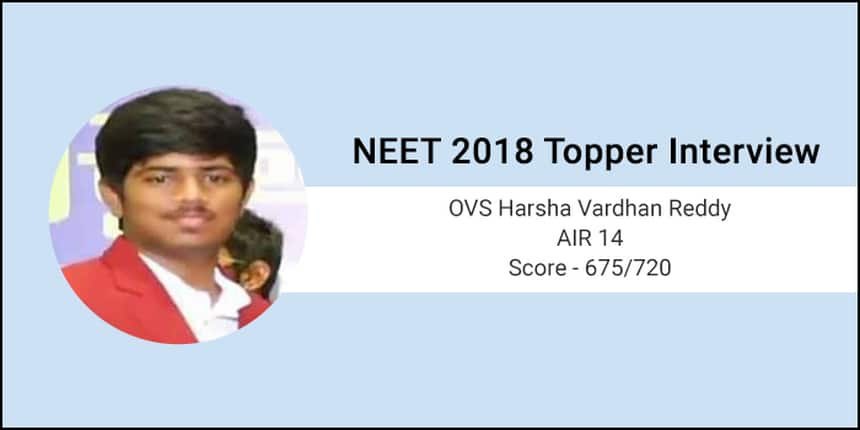 Harsha, who also achieved a top 100 rank in both the AIIMS and JIPMER entrance exams, considers AIIMS New Delhi and JIPMER Puducherry as his top preferences for MBBS. He has yet to decide what he wishes to specialize in but is interested in becoming an Oncologist. A keen cricket and badminton enthusiast, he ensured that he played for at least an hour while also preparing for 15-16 hours each day.
Related Post -
NEET 2019
NEET Eligibility Criteria 2019
NEET Application Form 2019
NEET Admit Card 2019
In this exclusive interview with Careers360, Harsha shares his journey of becoming a top ranker in both NEET and JIPMER. See the topper's story below -
Careers360: Congratulations on securing AIR 14 in NEET and AIR 37 in JIPMER. How are you celebrating your results?
Harsha: Thank you so much! I am feeling very happy and I think everyone feels happy when their hard work comes to fruition. I expected this result because I dedicated two years to prepare for medical entrances. All my family members are very happy. No one has ever performed so well in my family. To make my parents feel proud is the biggest celebration for me.
Careers360: Tell us something about yourself and your background.
Harsha: I am from Nellore district in Andhra Pradesh. My father is a farmer and mother is a housewife. I will be the first one to pursue medicine from my family. I was enrolled in Sri Chaitanya Classes in Vijayawada where I completed Classes 11 and 12 and simultaneously prepared for MBBS.
Careers360: What motivated you to pursue medicine as a career?
Harsha: Whenever I have visited a hospital, I have seen people respecting doctors. They look up to them as Gods because doctors save lives. According to me, there cannot be any profession which could be as noble as being a doctor. I have always cherished this idea and my family and friends have always been there to support me. It is with their motivation that I have been able to change this idea into reality.
Careers360: How did your family and friends support you in this journey?
Harsha: As I said, there is no one in my family, not even an acquaintance, who is a doctor. But I think that it is the moral support that I needed and which proved helpful. They made me believe that I have the ability to score well in the exam. It is their encouragement which has led me here.
Careers360: Tell us about your friends. How did they help you?
Harsha: When I came to Sri Chaitanya I became friends with Anirudh Babu (secured AIR 8 in NEET and AIR 1 in JIPMER) and Ravi Kiran (secured AIR 36 in NEET 2018 and AIR 64 in JIPMER). They have been there with me for last two years. We all studied together, cleared each other's doubts and shared new concepts. As a matter of fact, when the faculty of Sri Chaitanya saw that we all are so eager to help each other, they shifted us to a single room when Class 12 started. Therefore, our journey became easy not just because of the bond we shared but with the interesting discussions that we had. Now Anirudh and Ravi have emerged as toppers as well, that too in both NEET and JIPMER, and it is just an amazing feeling.
Careers360: What is your overall and subject-wise score in NEET 2018 and JIPMER 2018?
Harsha: In NEET my overall score was 675 out of 720. My sectional score was 355 out of 360 in Biology, 165 out of 180 in Chemistry and 155 out of 180 in Physics.
JIPMER doesn't disclose the overall or subject-wise scores so I can't tell you that. My overall percentile in JIPMER was 99.9755979.
Careers360: Are you expecting a similar result in AIIMS as well?
Harsha: Yes, I am expecting a rank below 100 (Harsha eventually secured a rank of 56 as per the AIIMS MBBS 2018 result declared on June 18). I believe that AIIMS MBBS exam when compared to JIPMER and NEET is much tougher. The level of AIIMS exam is similar to NEET PG.
Careers360: How did you prepare for medical entrances and balance the studies for your Class 12 Board exam?
Harsha: I studied for Boards also through Sri Chaitanya and I scored 980 out of 1000. While my focus was on medical entrances, the institute helped me to balance preprations for both. I used to study for 12- 13 hours a day. Apart from that, I had classes for three hours. So, I used to make sure that I dedicated at least 15 hours daily to my studies.
JIPMER and NEET are of equal standard in my opinion and so, my preparation strategy was the same for both.
I believe coaching was the main reason for my performance. The programme that I was enrolled in was made for the students who want to prepare for NEET. The material that the faculty at Sri Chaitanya provided me cleared my concepts.
Careers360: What was your exam day strategy in NEET?
Harsha: In NEET, I attempted Biology first and completed 180 questions in 45 minutes. Chemistry consumed time because there were some ambiguous questions. I even challenged those and I thought CBSE will award bonus marks for them like it did last year. After completing Chemistry, I moved on to Physics which I completed in one hour. In JIPMER, my strategy was same because the level of exam is also similar. In AIIMS, I attempted the English section in the end because I never consulted a book for this section. I gave answers on the basis of my own knowledge.
Careers360: Which according to you were your toughest and easiest sections in each exam?
Harsha: In AIIMS, Physics was the toughest section. Those questions should have been in JEE Advanced paper. I don't think that any institute can guide you in solving those questions.
In NEET, Physics was easy and Chemistry was toughest as I mentioned there were ambiguous questions. There was no answer for one question and multiple answers for the other.
In JIPMER, Biology came across as the toughest section for me. There were some questions which were not from NCERT books and I think there were some questions from Tamil Nadu State Board syllabus as well.
Careers360: How did you tackle your strong and weak areas?
Harsha: My strategy was to concentrate more on weak areas and revise them from time to time. I practiced a lot of MCQs which helped me a lot in solving difficult questions.
Careers360: What are your hobbies? Did you engage in them during the preparations?
Harsha: I love watching and playing cricket. While I was in Sri Chaitanya, I played cricket and badminton. They used to give us one hour break in the evening. It was like a stress buster for us.
Careers360: Which factors would you attribute this success to?
Harsha: Well, there are a lot of factors. Ofcourse my family are the people who made it all possible by motivating me throughout. Apart from them, my teachers at Sri Chaitanya guided me and that is also a very important aspect of my success.
Careers360: Do you have any particular colleges in mind for admissions?
Harsha: My preference will be AIIMS, New Delhi and then JIPMER, Puducherry.
Careers360: Where do you see yourself in the next 10 years?
Harsha: I will definitely be pursuing post-graduation but I have yet to decide which specialisation I will prefer since my focus was on the medical entrances till now. If I have to choose then I think I will go for MD in Oncology.
Careers360: Any message or advice for future medical aspirants?
Harsha: First of all, concentrate on clearing your basic concepts. After getting a strong hold on that, try to solve MCQs but don't jump to the MCQ's before knowing the concepts. Try to clarify each and every doubt that comes in your mind with you the help of teachers. There is nothing wrong in asking. Although hard work is the main reason for my results, I believe proper guidance is also necessary.
Questions related to NEET
Showing 83369 out of 83370 Questions