NEET 2018 Topper Interview: I focussed on NCERT text books as the base for preparation, says Ritwik Kumar Sahoo, AIR 13
NEET 2018 Topper Interview - Ritwik Kumar Sahoo is not only basking in the glory of being the topper of NEET 2018 with an All India Rank of 13, but also in finishing as the state topper from West Bengal. Hailing from Tamluk, West Bengal, he enrolled himself in the distance coaching mode from both Allen Kota and Aakash Institute. Ritwik, whose dream is to become a Cardiac Surgeon, concentrated more on the NCERT textbooks as they form the base for NEET preperations.
Related Post -
NEET 2019
NEET Eligibility Criteria 2019
NEET Application Form 2019
NEET Admit Card 2019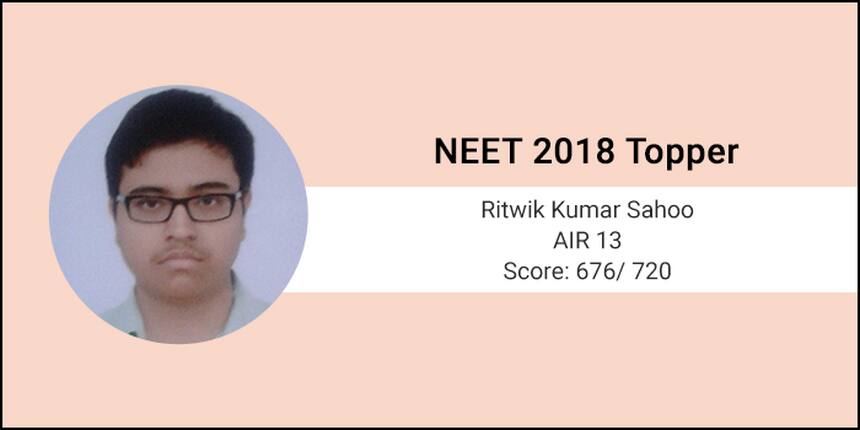 In this NEET 2018 topper interview with Careers360, Ritwik talks about his preparation strategy and the factors which motivated him to study and achieve AIR 13 in NEET 2018. A fan of cricket and literature, he managed to eke out time to follow his hobbies during the preparation phase. Maulana Azad Medical College, New Delhi and Calcutta Medical College are his dream institutes.
Excerpts from the Interview -

Careers360: Congratulations on making it to the top 20 list. How are you feeling about your NEET results?
Ritwik: Thank you! I am very happy with the results. I believe my hard work has paid off.
Careers360: Tell us something about your schooling and family background.
Ritwik: I did my schooling from Tamluk Hamilton High School, East Midnapore, West Bengal. My father is a teacher and my mother is a home maker.
Careers360: What motivated you to pursue medicine as a career?
Ritwik: I have always dreamt of becoming a doctor which also proved to be my motivation to crack NEET.
Careers360: How did your family support you in this journey?
Ritwik: My mother was my biggest support system. She supported me whenever I needed her. Also, my teachers played a very important role in giving me the advise and confidence I needed.
Careers360: What is your overall and subject-wise score in NEET 2018?
Ritwik: The overall score was 676. Subject-wise, I scored 161 in Physics, 175 in Chemistry and 340 in Biology.
Careers360: Which other medical entrances have you appeared for?
Ritwik: Apart from NEET I also appeared for AIIMS and JIPMER. (Ritwik has obtained AIR Rank 32 in the JIPMER MBBS Result declared on June 8, 2018)
Careers360: How did you prepare for NEET 2018 and balance the studies for Board exams and other medical entrances with NEET?
Ritwik: I strictly followed the NCERT textbooks. Along with these, I made it a point to solve as many objective questions as possible. I took up online tests as well from Allen Kota and enrolled for the Distance Learning Programme (DLP) from Aakash Institute.
Careers360: Tell us about your NEET preparation routine?
Ritwik: I revised the NCERT texts thoroughly, solved a lot of objective questions and studied the notes provided to me.
Careers360: How much time did you devote in self-study vs coaching?
Ritwik: I spent around seven to eight hours daily as part of self-study. In the last few days before the exam, I spent upto 12 hours in self study. Overall, I tried to concentrate more on self study over coaching.
Careers360: What was your exam day strategy for all three subjects, namely Physics, Chemistry and Biology and how did you tackle your strengths and weaknesses?
Ritwik: Since Chemistry was my strong point, I concentrated more on completing Biology as much as I could and made sure to attempt as many questions as possible from Physics as it was my weak area.
Careers360: What are your hobbies? Did you engage in them during the preparations?
Ritwik: I am a sports person. I love cricket and also take out time to read whenever I can. During the exams however, I concentrated more on my studies and spent less time on sports and reading.
Careers360: Which factors would you attribute this success to?
Ritwik: From the beginning itself I had a clear goal and I made it a point to concentrate 100 percent on it. I took up the NCERT texts as my guide which led me through the examination preparation phase.
Careers360: Any college you have in mind for admission?
Ritwik: Yes, I will either look at MAMC, New Delhi, or Calcutta Medical College, Kolkata.
Careers360: Where do you see yourself in the next 10 years?
Ritwik: In the next ten years, I see myself preparing for my MS. I want to be a Cardiac Surgeon.
Careers360: Any message or advice for future medical aspirants?
Ritwik: Concentrate on your goal from the very beginning. Thoroughly go through the NCERT texts which form the base for everything. Try your maximum to solve as many questions as possible, take up online tests and mock tests. Also follow the models from your coaching institute as they will guide you to your success.
Also Read:
Questions related to NEET
Showing 82702 out of 82702 Questions