NEET 2018 Topper Interview: Leave no stone unturned to pursue your passion, says Rohan Purohit, AIR 2
NEET 2018 Topper Interview - Telangana boy Rohan Purohit obtained a total of 690 out of 720 marks to secure the second place in the National Eligibility cum Entrance Test (NEET) 2018. Passionate about medicine, he believes hard work is the sole criterion behind achieving one's dreams. He chose not to favour any particular subject and credits his sincere dedication in obtaining a perfect score, 180 out of 180, in Chemistry.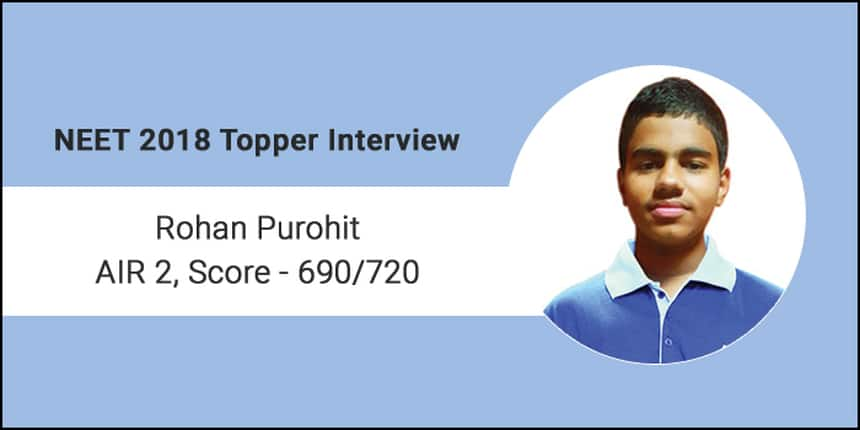 Related Post -
NEET 2019
NEET Eligibility Criteria 2019
NEET Application Form 2019
NEET Admit Card 2019
Born to doctor parents, Rohan says they were his main inspiration when it came to choosing a career. Intrigued by the functioning of the human brain and its enormous capabilities, he intends to take up an MS in Neurosurgery. An ardent music lover, Rohan used to destress from his packed preparation schedule by listening to his favorite songs and playing the keyboard on occasion. Careers360 brings to you an interview with Rohan Purohit, where he shares details about his preparation strategy for NEET 2018 and the essential aspects that contributed to his success.
Careers360: Congratulations on obtaining the second rank! How are you feeling about your NEET results?
Rohan: Thank you for your heartfelt wishes! Being in the top two in the country is making me feel ecstatic. I had calculated my score from the NEET official answer key but I was not sure as to what rank I might get. I believe all the hard work that I had put in has finally paid off.
Careers360: Tell us something about yourself and your background.
Rohan: I was born in Bhubaneswar and later moved to Hyderabad. My father is a senior cardiologist, heading the department at Continental Hospital in Hyderabad while my mother is a Dermatologist working with the Apollo Group of Hospitals in the same city.
Careers360: What motivated you to pursue medicine as a career?
Rohan: As a child, I would always look up to my parents and the noble work that they put in. The sheer feeling of gratitude and respect that is attributed to a doctor is something that inspired and motivated me to become one.
Careers360: How did your family support you in this journey?
Rohan: My family was initially apprehensive when I told them that I aspire to become a doctor. They cautioned me regarding the amount of hard work that I would have to put in. Once they realised how determined I was to pursue my dream, they have been nothing but supportive and kept my confidence boosted even at times when I felt really low.
Careers360: What is your overall and subject-wise score in NEET result 2018?
Rohan: I scored a total of 690 out of 720 with my individual scores being 160 in Physics, 180 in Chemistry and 350 in Biology.
Careers360: Which other medical entrances have you appeared for?
Rohan: I have appeared for AIIMS and JIPMER as well and am eagerly waiting for the results (Rohan has obtained AIR Rank 29 in the JIPMER MBBS Result declared on June 8, 2018).
Careers360: How did you prepare for NEET 2018 and balance the studies for boards exam and other medical entrances with NEET?
Rohan: I enrolled in Sri Chaitanya School, Telangana, which is a State Board school, in Class 11. My teachers at school helped us prepare simultaneously for both the Class 12 boards and the entrance examinations, with more focus being on the latter. It was this that helped me perform well in my board exams as well and obtain 980 out of 1000.
Careers360: Tell us about your NEET preparation routine.
Rohan: For my NEET preparation, I used to plan in advance as to how much time I was going to devote to each topic judging by its difficulty. I made sure that I stuck to my routine as much as possible and it proved to be very fruitful. I devoted as much as 16 hours, right from 6.30 AM to 10.30 PM at my institute. The time was divided between my classes at school and self-study.
Careers360: Did you take any coaching? How beneficial did it prove?
Rohan: Yes, I did enroll for the Distance Learning Programme of Allen Kota. It proved very beneficial as I took a lot of tests and solved questions on a regular basis.
Careers360: What was your exam day strategy for all three subjects, namely Physics, Chemistry and Biology?
Rohan: On the exam day, my parents calmed me down and asked me to give my best without worrying about the results. During the exam, I attempted Biology initially and after solving half of it moved on to Chemistry since I felt that there were some portions of Biology I was unable to recall at that moment. Having solved the Chemistry portion, my confidence was boosted, so then I moved on to Physics and completed the remaining questions at the end.
Careers360: Which according to you were the toughest and easiest sections?
Rohan: I found Biology slightly tougher than the rest.
Careers360: How did you tackle your strong and weak areas?
Rohan: Initially when I started my NEET preparation, Chemistry was the toughest for me, Organic Chemistry in particular. Organic Chemistry being an applicative concept, my teachers asked me to solve as many problems in order to solidify my concepts.
Careers360: What are your hobbies? Did you engage in them during the preparations?
Rohan: I like playing the keyboard. However, my strenuous routine did not allow much time to indulge in it. During my preparation days, I mainly listened to music which helped me to maintain my calm.
Careers360: What factors would you attribute this success to?
Rohan: I would like to think that both my mentors and my parents had an equal contribution to it. This would not have been possible otherwise.
Careers360: Do you have any particular college in mind for admission?
Rohan: Well honestly, I would like to say AIIMS New Delhi as that is every medical aspirant's dream, but only a few make the cut. Through NEET, I would like to take admission to Christian Medical College, Vellore or Seth GS Medical College, Mumbai.

Careers360: Where do you see yourself in the next 10 years?
Rohan: In the next 10 years, I envision myself practising as a Neurosurgeon which is the field I want to pursue after completing MBBS.
Careers360: Any message or advice for future medical aspirants?
Rohan: Be hard working and committed towards your goal. Never cease to follow your passion.
Questions related to NEET
Showing 82658 out of 82658 Questions