NEET 2019 Topper Interview: "Focus on basic concepts to succeed", says Apoorv Raghav, AIR 26
NEET 2019 Topper Interview - Success is a result of continuous efforts, right approach and determination, says NEET 2019 topper Apoorv Raghav. He has something indifferences than other NEET 2019 toppers, his calm and sheer voice has perfect blend of diligence and foresightedness. He believes in working hard and regular practice to be the key mantra of success. Apoorv is basically from Bihar but has come to Delhi for medical preparation. My parents have always supported me throughout my NEET preparation period. Whenever I use to feel low, it was my parents who stood with me, believed in me, says NEET 2019 topper Apoorv Raghav. He has also appeared in AIIMS and JIPMER and is also quite confident to secure a good rank in both. Careers360 interacted with NEET 2019 topper Apoorv Raghav about his success journey, the ups and downs he went through. Follow the complete article to know more about NEET 2019 topper Apoorv Raghav.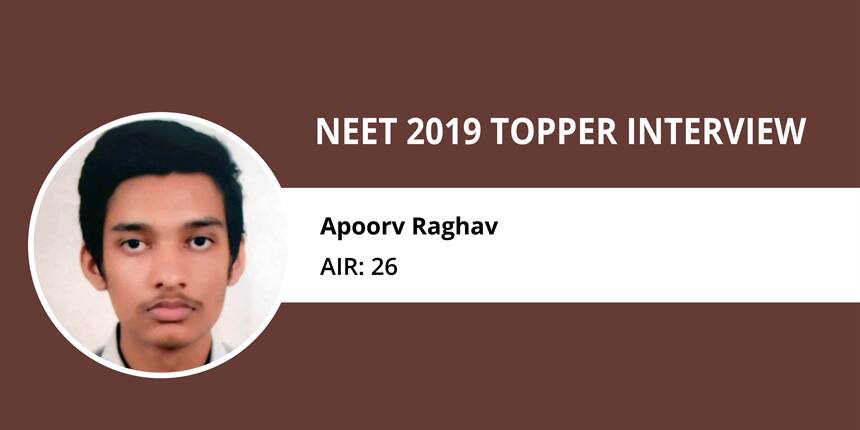 Careers360: Congratulations on emerging as a NEET 2019 topper! How are you feeling about your NEET results?
Apoorv: Thanks a lot! I was expecting a good score in NEET 2019 but securing 26 is something more than unbelievable.
Careers360: Tell us something about your background.
Apoorv: I am basically form Bihar, I did my schooling in Bihar till class 10 and moved to Delhi for the preparation of medical exams. I did my class 12 from Presidium School.
Careers360: What motivated you to pursue medicine as a career?
Apoorv: I was very keen in studying Biology from a very early age. I made my mind during class 10 to study medicine.
Careers360: How did your family support you in your journey?
Apoorv: My family is my greatest strength, they continuously supported and guided me to keep me motivated.
Careers360: Could you share with us your overall and subject-wise score in NEET 2019?
Apoorv: I scored 180 in Chemistry, 175 in Physics and 335 in Biology.
Careers360: Which other medical entrances have you appeared for?
Apoorv: I also appeared in AIIMS and JIPMER exam.
Careers360: How did you prepare for NEET 2019 while balancing your preparations for the Board exam and other medical entrances?
Apoorv: Initially i use to face time-crunch but slowly I managed to give proper time to my preparation and board exam. I use to devote extra time during weekends and holidays to cover the left out topics.
Careers360: Tell us about your NEET preparation routine.
Apoorv: I use to study regularly for some 7-8 hours after school of which 4 hours was fixed for NEET and other medical exam preparations.
Careers360: Did you take any coaching or help? How beneficial did it prove?
Apoorv: I was in regular contact with Allen institute throughout my preparation. I attended the correspondents program and also use to attend there weekend class for doubts. I would say, for NEET preparation, it is good to go with NCERT and practise books but for other exams like AIIMS, coaching is a must.
Careers360: How much time did you devote to self-study vs. coaching?
Apoorv: I was studying 7-8 hours everyday from last one year. My focus was extensively on NEET, AIIMS and JIPMER but i also studied for my board exam regularly.
Careers360: What was your exam day strategy for all three subjects, namely Physics, Chemistry, and Biology?
Apoorv: Although before appearing for the exam, I thought of attempting Chemistry first and then Biology and Physics but during the exam, I just flew with the patter. I attempted the questions in the manner they were coming.
Careers360: Which according to you were the toughest and easiest sections?
Apoorv: There were some questions which were tough in Biology but overall it was very easy. There were a few questions in Biology for which NTA provided different answers but coaching institutes came up with different answers.
Careers360: How did you tackle your strong and weak areas?
Apoorv: My strategy throughout the preparation has been to focus mainly on understanding the basic concepts. I extensively studied NCERT books and took help from practise sets to prepare for the exam.
Careers360: What are your hobbies? Did you engage in them during the preparations?
Apoorv: I like to read novels and listen to light music. I use to read books and listen music in between the study hours to make myself feel lighthearted and start preparation with new energy.
Careers360: What factors would you attribute this success to?
Apoorv: Hard work and determination is the key to success. My parents faith on me and my hard work made my way to clearing this exam.
Careers360: Any particular college you have in mind for admission?
Apoorv: I am awaiting for AIIMS result and will plan accordingly. I am interested in Cardiology and Neurology but will decide the college after my AIIMS and JIPMER result.
Careers360: Any message or advice for future medical aspirants?
Apoorv: I would say that future medical aspirants should focus on NCERT much to understand the basic concepts. Take coaching if needed for extra help.
Questions related to NEET
Showing 102090 out of 102090 Questions