NEET 2019 Topper Interview: "NEET is all about accuracy and time management" says Hemant Khandelia, AIR 11
NEET 2019 Topper Interview: On the eve of June 5, Hemant Khandelia, barely hiding his elation, speaks about the intense hard work he had put in to realize his dream of becoming a doctor one day. A resident of the city of Joy, Kolkata, Hemant has given his humble parents a big reason of joy by bagging an All India Rank (AIR) 11 in the National Eligibility cum Entrance Test. Aspiring to sit in the most coveted MBBS seat in the country's famous Maulana Azad Medical College, Hemant is still hoping for a good score in AlIMS entrance exam. He has not set his mind on any specialization but has a keen interest in the field of General Medicine, Oncology or Neurosurgery.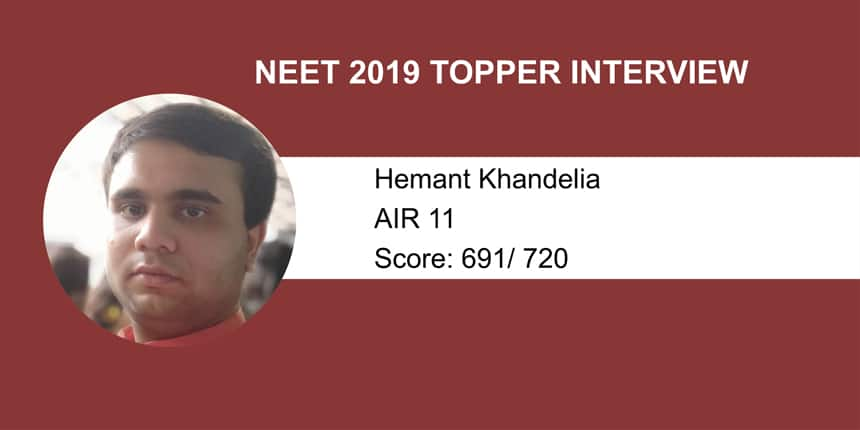 In an exclusive interview with Careers360, Hemant walks us through his journey of triumph in NEET 2019.
Careers360: Congratulations on your NEET result! How do you feel?
Hemant Khandelia: Thank you so much. I am happy but a bit shocked. I have been dreaming about becoming a doctor since Class 10 and I am happy that I am so close to achieving it.
Careers360: What is your overall and subject-wise score in NEET 2019?
Hemant Khandelia: In NEET my overall score is 691 out 720 with a percentile of 99.9992203. In Physics, I have secured 180 out of 180. In Chemistry, I have scored 175 out of 180 and in Biology, I have got 336 out of 360.
Careers360: Tell us about yourself and your background?
Hemant Khandelia: I belong to Kolkata, West Bengal where I did my schooling from South Point High School, Baliganj. My father works as a general manager in Dulichand Motors and my mother is a humble homemaker.
Careers360: How did your family and teachers support you?
Hemant Khandelia: My parents are the biggest support system that I had throughout my preparation for NEET. They have been constantly motivating me to do better. They have made many sacrifices for my education and career for which I am very grateful. My teachers have also been very supportive. They have guided me through thick and thins and resolved all my queries at the earliest. Their help has been very instrumental in my success.
Careers360: What was your NEET exam preparation strategy along with Class 12 boards?
Hemant Khandelia: My motto has been very clear, which is to put in sincere hard work in a balanced study schedule. I used to wake up early and spend 5-6 AM before going to school, after school hours, I devoted 6-7 hours of study. I got enrolled in Akash coaching institute for my preparations and practiced the study material provided by them. However, I believe that self-study is most important. At last, it depends on the hard work that you have put in your preparations.
Careers360: What was your exam day strategy?
Hemant Khandelia: NEET is all about accuracy and time management, therefore, my sole focus was on these two. I remained calm and devised a systematic strategy to increase my accuracy in marking my answers. The time factor is also crucial which has to be kept in mind.
Careers360: How did you manage the building pressure? Can you tell us about your stress-busting strategy?
Hemant Khandelia: I found my refuge in music. I used to listen to music at times when I felt like taking a break. I like listening to music by Coldplay. Sometimes when it became monotonous, I used to switch the subject at hand and went ahead with reading other subject books.
Careers360: Where do you see yourself in 10 years?
Hemant Khandelia: I have not thought about it where I am going to be 10 years down the line. I am interested in specialization like general medicine, oncology, and neurosurgery. Hopefully, I would do something in one of these fields.
Questions related to NEET
Showing 83615 out of 83616 Questions