NEET 2020 preparation tips by Prof. Ravindra Kumar Kondamudi, NEET Dean, Sri Chaitanya
NEET 2020 preparation tips by Prof. Ravindra Kumar Kondamudi, NEET Dean, Sri Chaitanya - National Testing Agency will be conducting the NEET 2020 on July 26 for all the eligible aspirants. With the declaration of the official NEET 2020 exam date, the query among the medical aspirants related to preparation is moving around. "Opportunity does not waste time with those who are unprepared." a beautiful quote by Idowu Koyenikan. Since the NEET exam is pushed up 3 month more, candidates are having an abundant amount of time to prepare for the medical entrance test. Thus, candidates should prepare regularly without wasting any of the time, as every minute is crucial now.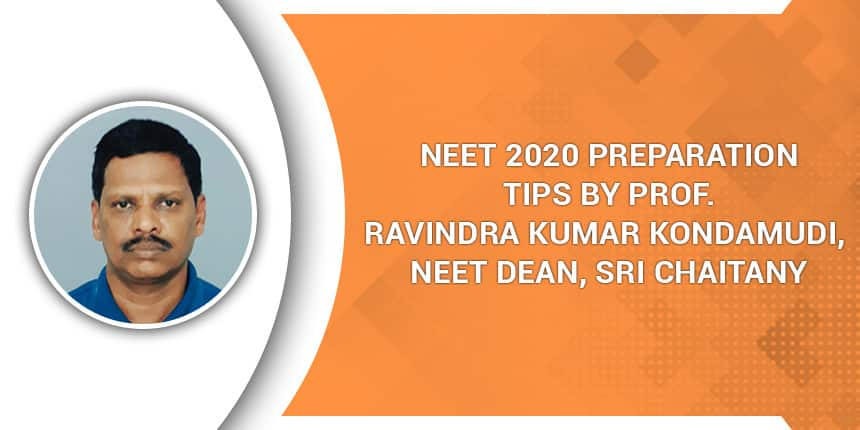 Medical entrance exam for this year is having lots of changes, so for the NEET 2020 the preparation measures would be something different. Around 16.84 lakhs aspirants have been registered for appearing for NEET 2020 exam for granting admission to 1,63,150 MBBS/BDS/AYUSH/BVSc&AH seats. Seeing the competition level of the NEET, candidates must worry about the things to avoid during the preparation and the last month preparation tips for cracking the medical entrance test. To have an expert opinion on last month NEET preparation strategies and to solve queries of medical aspirants, Careers360 live interacted with Prof. Ravindra Kumar Kondamudi, Executive Dean for NEET And Senior Physics Lecturer, Sri Chaitanya Educational Institutions. Discussing the NEET preparation strategies, Prof. Ravindar stated "Strategies for preparation do not work out but strategies are required for writing the examination."
By avoiding the below mentioned common mistakes and following the tips candidates can perform well in the NEET 2020 and can score better marks for admission. Prof Ravindra during his live interaction not only gave the important tips of NEET 2020 preparation but also tried to solve the queries on NEET syllabus, best books to prepare, difficulties level with the live examples. Read the article to know the extract of interview of Prof. Ravindra Kumar Kondamudi below.
Check the Live Interview here -
Careers360: Candidates have completed their syllabus for NEET exam, everyone has prepared the strategy but they don't have prepared any strategy. So, what should be their strategy to crack NEET with 600+ marks?
Prof. Ravindra: Whatever the strategy followed by aspirants so far. I feel personally, it makes no difference. The reason is students have enough time from today till the NEET examination. Due to lockdown, the time available in the hands of students is more than sufficient to get 600+ marks in NEET examination. Only thing is, the strategy is when some students may feel, we have to attempt this chapter question first but in the real examination, nobody knows which NEET 2020 question is coming from which chapter. In my opinion strategies for preparation do not work out but strategies are required for writing the examination. On the real examination date, if a student is able to manage his time properly, it will pitch them may be 600+ or even 650+ in the NEET exam. The order of attempting the question matters a lot.
For eg. Examination is of three hours, first you are supposed to attempt the Biology paper. As half of the question is made from the syllabus of Biology. Out of 180 questions 90 questions are asked from Biology. This is not supposed to be half of the time for Biology, students have to complete the questions of Biology in maximum 1 hour. So that he will save two hours time and for remaining 30 to 35 minutes to Chemistry. Though the Physics questions take little more time, devote 1 hr to Physics. Candidates should follow the order of Biology, Chemistry and Physics to score 600+ score. All the known questions of these 3 subjects need to be completed in 2 and half hours and in the last half hour they can attempt the remaining questions. In my opinion by following this strategy, candidates will surely get 600 or 600+ scores very easily. .
Careers360: How do students ensure that they are attempting the question with their optimum speed to make sure that they have higher efficiency in those 3 hours?
Prof. Ravindra: Out of my experience, i can suggest one thing, time management is very crucial for NEET examination, no doubt on that. NEET aspirants should take as many tests as possible. For each practice test, aspirants should analyze what time they are taking for Biology, what for Chemistry and what for Physics. They have to monitor by themselves and have to improve. After writing each test. Suppose in Biology in particular a topic like genetics. In that paper they are unable to answer, they have to make a list of all those concepts or sub-concept in which they are losing the marks and after writing the mock test, they have to correct that particular area. So measures like this, naturally they will improve their speed and they can get good marks. In NEET exam there are negative marks, so, aspirants have to improve speed as well as accuracy.
Careers360: Completion of syllabus of 11 and 12. Is that sufficient for NEET or do aspirants need some extra materials to study or should they start solving previous 10 years questions. Is it sufficient to gain 95 percentile or more?
Prof. Ravindra: 11 and 12 from NCERT is sufficient to get a qualified rank. NEET examination is not that tough. Students need not go beyond the syllabus prescribed by NCERT board CBSE board. Most questions are also based on the syllabus and concept of NCERT text book only. If we analyse the past year NEET question paper especially in Biology one or two questions are asked out from the concept of NCERT, out of 90 questions almost 88 question straightly asked from NCERT concept only. Chemistry is also not crossing boundaries, questions are straightly asked from the concept of NCERT. Physics last year had only one question on which proper information was not available in NCERT. If a student is thorough with NCERT and if they practice past 10-15 years of NEET question papers. Then they are definitely going to score good marks. The things they have to do is practice and time management. They have two answers to the question in two cycles. In the first cycle, candidates have to attempt the known question and in the second cycle they have to answer the question left. If they practice like that, candidates can easily manage to get admission in government medical seats.
Careers360: Apart from reading the textbook, what are the mock tests and how many years previous papers, aspirants have to work with?
Prof. Ravindra: Practicing the last 10 years' NEET paper will help them. In Total there were 180 questions, out of 180 questions 720 marks were allocated. The choice is getting 600+ marks, which means the student is supposed to answer 150 questions without error. By analysing the previous year question, out of 150 questions, most of it is based on the same concept. The chances are less for this year to come from last year's standard. Practicing these previous 10 years papers, one can identify the area from which the question is asked. But they need to modify the preparations as per the need. But simply practicing previous years questions will not help, alongwith they have to go through the concepts also.
Careers360: Will NEET be difficult due to AIIMS and JIPMER merger?
Prof. Ravindra: For the past two year JIPMER and AIIMS were conducted online, which is clearly different. As a teacher, in my opinion the JIPMER question paper was easy however the AIIMS pattern is totally different. When I observed the previous year AIIMS paper of Physics was very tough. The question paper framed under the syllabus was crossing the boundaries that was trouble with AIIMS. So, for NEET, the NTA frames the question paper and syllabus. NTA is making good precautions to frame a good number of questions without crossing the boundaries. Since paper will be set by the NTA, candidates must not worry. Paper will not be going to be tough.
Careers360: What one mistake a student should avoid during the last NEET preparation days?
Prof. Ravindra: Mistakes which are done by students are due to following reasons.
The student does not read the question paper well. NEET is a pen and paper test. They should read questions by keeping the pen below the line. They should read it by noting down the key points. They will not skip anything, as reading question papers properly is very very necessary.

Whatever answer they are getting might not be the correct answer. So aspirants need to read questions properly.

Units - Candidates must note the units example second or minute. So, candidates have to answer according to the unit asked in the question.
Candidates can practice some meditation during the NEET 2020 preparation period. So that they do not have tension on the day of the exam
Careers360: Is there some strategies to study NEET Physics, or important topics that they should cover in the period of 60 days.
Prof. Ravindra: Whether the exam is NEET or JEE Main, Physics is the topic in both. Regarding Physics, especially for medical students, it is not that much tough, it has been made tough by the students mindset. The reason is, Biology they can buck-up and they can answer, and even in Chemistry they can answer as per their understanding. But, they need not worry that much. Nobody is asking to get full marks in Physics, but the techniques involved whether for JEE or NEET, tips students can follow.
For eg: See, gravitation, electrostatics and magnetism, these three topics are important. You can check similarities in these chapters. In these three cases, the force between charges, gravitational force between two masses. Similarly, magnetism between two magnetics forces.
Here, the same formula will be applied just, charges, masses and magnetic forces. Field - Electric field, gravitation field and magnetic field. Potential - electric potential, gravitational potential and magnetic potential, like those students who feel Physics is tough, they can prepare a comparative table, and check that they can manage all these subjects in a better way.
Careers360 : Which has maximum weightage Class 11 or Class 12?
Ravindra: According to NEET, the weightage is 50-50. But sometimes, out of 45 questions, there can be a change of 50:45. In Physics it makes no difference. From Biology and Chemistry, as I learnt from my colleagues, there is no weightage to Class 12 or Class 11. But the thing is, out of 9 questions in Biology, they need not be 45 from Biology and Zoology each. Total Class 12 and Class 11, it is equally divided.
Careers360: Some of the students have exam fear, how would you advise students to tackle it?
Ravindra: Even the top ranker will have nervousness, it is natural. If there is nothing like that, the students are lying. As per my advice, students need not think that I am only nervous, others are not. Don't think this way. Everyone will have tension. How he will manage to tackle it is a question. For eg: Physics point of view. Tension is a force you can use it properly, if it becomes more, it is going to spoil. It can be converted into a useful tool to make better results. My opinion is enjoy the tension and try to convert it into positive force.
Even if your friend is getting tense, he is not expressing.

Try to do breathing exercise. It is like whenever there is a tension, the brain will not get proper oxygen. One must do pranayama or meditation.

On the exam date is, before starting practice breathing exercise. The brain will get minimised but wont go.

Do not discuss any subject with parents or anyone else. Parents should not encourage this. Don't collect advice from parents and friends for a week. Nobody has seen the paper so it is foolish to make assumptions.

Don't bother about what you have not studied, concentrate on what you have.
Careers360: Please sum up with last minute preparations five points how to prepare for the exam?
Ravindra: Regarding NEET, what has been told, concentrate more on Biology, If the students get same marks in total, suppose out of 720, the better rank and the least scores will be given to students who score better in BIology. Next priority is Chemistry and then Physics. This is the sync how the rank will be given. If weak in Physics, try to score good marks in Biology and Chemistry. Don't ignore Biology, then try to solve as many things from Chemistry and I should not say get less marks in Physics. Try to get as many marks as possible in Physics.
Last one week of preparation, during these preparations, whatever they are preparing, they need to write a keypoint in a book, during the last 10 days, instead of reading all text books, they can go through short notes which they noted down. Please enjoy the examination. I wish all NEET aspirants good luck!!
Thank you!!!
Also read:-
Frequently Asked Question (FAQs) - NEET 2020 preparation tips by Prof. Ravindra Kumar Kondamudi, NEET Dean, Sri Chaitanya
Question: Is the lockdown situation hampering the NEET 2020 preparation?
Question: Can I score 600 plus in NEET 2020 by preparing now?
Answer:
On the real examination day, if a student is able to manage his time properly with a proper NEET preparation, it will pitch them may be 600+ or even 650+ in the NEET exam.
Question: How can students prepare for NEET 2020 during lockdown?
Answer:
It is mandatory for candidates to practice and revise as much as they can for better NEET 2020 preparation.
Question: After completing NEET 2020 syllabus, what more needs to be done?
Answer:
Practicing the last 10 years' NEET paper will help medical aspirants.
Questions related to NEET
Showing 83438 out of 83439 Questions