NEET 2020 Preparations Tips During Lockdown by Pramod Maheshwari, Director, Career Point
NEET 2020 Preparations Tips During Lockdown by Pramod Maheshwari, Director, Career Point: With very little time left for India's biggest medical entrance examination, National Eligibility cum Entrance Test- NEET, the agitation level of the medical aspirants on how to prepare for NEET 2020 must be at the top. This is the time when candidates begin preparing and revising for NEET 2020 for the last time. They have got the leverage of extra time to prepare for NEET 2020 during the lockdown extension. Taking that into consideration, Careers360 has brought you an exclusive interview on how to prepare for NEET medical exam during the Lockdown period by Pramod Maheshwari, expert and Managing Director of Career Point. In this interview on how to prepare for NEET 2020 by expert, Pramod Maheshwari has shared some NEET preparation tips to give an edge to the preparations of all the NEET 2020 aspirants. Along with that, he has also shared some important revision tips that every NEET aspirant will have to keep in mind while preparing for NEET 2020.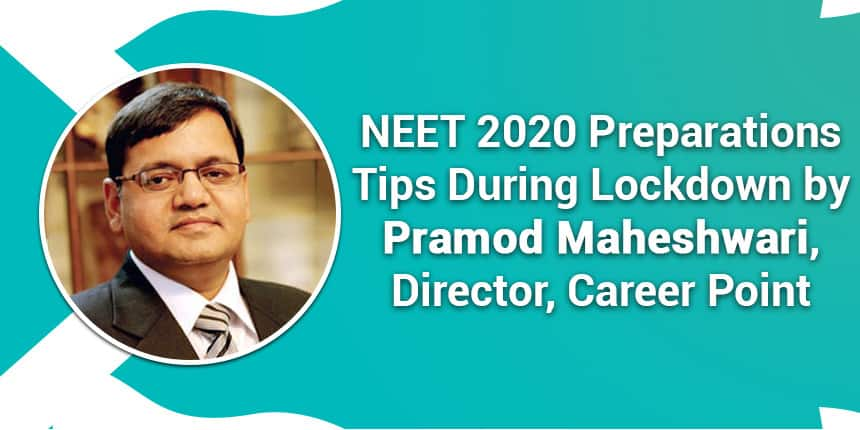 Latest: NTA extended NEET 2020 application form correction window last date to May 3!
Check out the entire interview on how to prepare for NEET 2020 during lockdown by Career Point Director, Pramod Maheshwari.
Careers360: Since NEET 2020 has been postponed, how can students grab this opportunity?
Pramod Maheshwari: The postponement of NEET has given students a great advantage of extra time to prepare. They should now use this time properly and strengthen their preparation. NEET aspirants should develop a 30-day evasion plan, in which they should give equal time to all subjects and work on their weaknesses.
Careers360: What major things do you think NEET aspirants must cover during the extra time provided due to COVID 19?
Pramod Maheshwari: In the 30 day plan, the aspirants must:
Revise the whole syllabus of physics, chemistry, and Biology.

Take a total of 8 to 10 test papers by 20th May.

After 23 my onwards you have to do revisions on formula level.
And, in order to do these 3 tasks you need to put your commitment to study for at least 12 hours a day. That is out of 24 hours that you have in a day, a student needs to strictly put his/her 12 hours aside for their studies.
Careers360: How aspirants can set accurate time management for the preparations?
Pramod Maheshwari: The total study time which you have to put in is 600 hours (50×12 =600 hrs), if you try to bifurcate these 600 hours into different tasks then we get time break-up as mentioned below.
Time required to take 10 tests would be around 30 hours (10 ×3= 30hrs).

It's important to analyze your paper, once you finish it off. Therefore you need to put in 1 hour for analyzing each paper. This means that you need a total of 10 hours for paper analysis (10×1=10hrs).

It means that out of total 600 hours of your total study time, you will be left for 560 hours and you have to utilize this period effectively in your self-study.
Careers360: According to you, how important is it to utilise this time in order to crack NTA NEET 2020?
Pramod Maheshwari: The potential and the execution on the part of the student can be considered as the sinusoidal wave, like that of sine function showing trough and crest. Additionally, it is very difficult to remain maintained at a level, for which you as a student will have to put up many efforts in your performance. If you are currently at the peak then your endeavor must be to remain at the peak position. If you don't put up your effort to maintain it, then you will surely get a fall in your further performances. But you can prolong your peak position if you properly put your efforts.
Careers360: Do you think, these last days preparation can have a drastic impact over an aspirant's performance?
Pramod Maheshwari: Yes, after this period gets over, the exam will be conducted and students get to witness many ups and downs. Those who will maintain their potential and their energy will be able to do better. Those students who have not reached better performance till yet but utilizes the remaining last 15 days will witness a significant jump in their performance. Whereas those students who have been performing well till now but unable to maintain their potential will surely slag their performance in NEET 2020.
Careers360: Candidates take a lot of mental pressure when exams knock at the door. How do you feel that can be reduced?
Pramod Maheshwari: Aspirants should not compel themselves much by thinking about the exam over and over again. Just remember, one cannot perform without being psychologically fit. They need not even stress over NEET result, as it's not the end. Give your body full rest by sleeping and eating well.
Additional Tips by Mr. Pramod Mahesweari for NEET 2020 Aspirants
Revise the complete course by solving as many NEET question papers as possible.

Cover all the NEET 2020 important topics.

Test your preparation level through online test series

If there is any doubt about any topic, ask your faculty and solve it immediately.

Study weak topics through online video lectures

Make a full plan of 40 days for revision.

Do not try to read a single topic from more than one NEET book, focus on grasping the concepts which you don't understand and move on.

Take practice tests in an exam like environment and timing at home also.

Create short notes and revision chits now for the last moments as per your needs.
Questions related to NEET
Showing 84259 out of 84259 Questions