NEET 2020 Topper Interview: "Stay calm and Focussed on Studies" says Aavula Shubhang (AIR 38)
NEET 2020 Topper Interview - Hailing from Telangana, Aavula Shubhang has secured AIR 38 in NEET 2020 result. He gave the credit of this achievement to his teachers and family. He told Careers360 that it was his childhood dream and he studied for 12 hours daily to get AIR 38. It was his first attempt and now he is aiming for AIIMS Delhi. Aavula Shubhang, a NEET 2020 topper wants to be a Cardiologist. Aavula Shubhang also mentioned that his family supported him a lot during the lockdown period and he made best use of that time. Read NEET 2020 topper interview of Aavula Shubhang to know about his wonderful journey.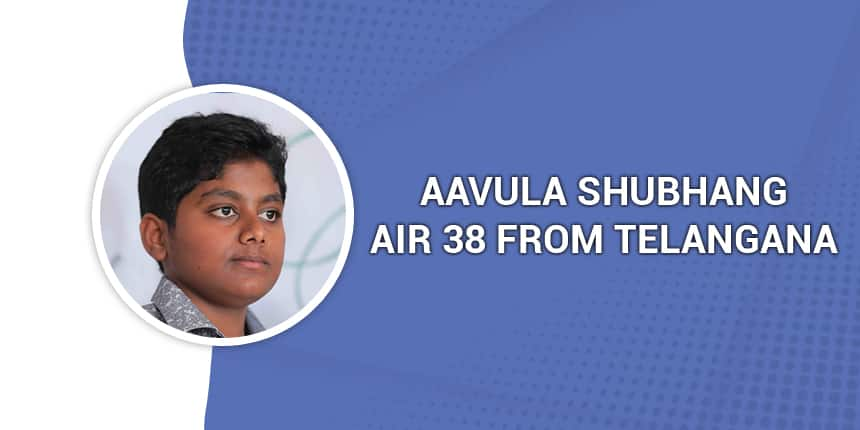 NEET 2020 was held on September 13 and again on October 14, 2020 in pen paper based mode. The Phase 2 of NEET exam was held only for COVID positive students of those who were in the containment zone on the previous date of exam.
Careers360: Congratulations on your NEET result! What are your feelings on this achievement?
Aavula Shubhang: I am feeling very happy as it's a dream come true moment for me today.
Careers360: What motivated you to choose medicine as a career? When did you decide to become a doctor?
Aavula Shubhang: I always want to help people and I decided to become a doctor when I was in class 4th.
Careers360: Is this your first attempt? When did you start your preparations for the NEET exam? How did you go about it?
Aavula Shubhang: Yes, it's my first attempt and I started my preparations after 10th class.
Careers360: How did you prepare for both your board exams and NEET?
Aavula Shubhang: Telangana Board is quite different from other states boards so I studied for only two months for NCERT rest of the time I devoted to my NEET preparations only.
Careers360: The lockdown was announced in March and things changed. How did you prepare for NEET 2020 during COVID-19? How did it affect your preparation?
Aavula Shubhang: Lockdown helped me a lot in preparations. I prepared short notes of all the topics that I had studied earlier. I studied for 10 hours daily in the lockdown period which helped me a lot to get AIR 38.
Careers360: Did you take any coaching for NEET 2020? How was the coaching affected because of the lockdown and how did you keep in touch with your teachers for doubts and regular lessons?
Aavula Shubhang: Yes, I took my coaching classes from Sri Chaitanya.
Careers360: Which subject is your weak one and in which are you strong?
Aavula Shubhang: My strong subject is Biology while physics is quite a tricky subject for me.
Careers360: What was your exam day strategy? What was the roughest and the easiest section according to you?
Aavula Shubhang: I was very calm and composed on the exam day. I was confident that I will perform well in the exam.
Careers360: Which college is your dream college for studying medicine? What is your aspiration in the field of medicine and which specialization would you be interested in?
Aavula Shubhang: I am aiming for AIIMS, Delhi and want to pursue my career as a Cardiologist.
Careers360: How did your family support you and motivate you during this stressful lockdown period? How did you de-stress during your preparation?
Aavula Shubhang: My family supported me a lot in my studies from day one. To de-stress during preparation I used to watch cricket and movies sometimes.
Careers360: What would you suggest to future NEET aspirants in terms of preparation, attitude etc?
Aavula Shubhang: I just want to suggest that you stay focussed to your studies. It is a game changer and NCERT is enough for NEET . So, compete NCERT first and then start covering modules and other study material.
Questions related to NEET
Showing 102086 out of 102086 Questions