NEET 2020 Topper Interview: Anantha Parakrama (AIR 11)
NEET 2020 topper interview - As after the long wait and uncertainty on NEET result 2020 declaration finally authorities has released the result at the official website ntaresults.nic.in. The results come with the anticipation to know about the NEET toppers 2020. Securing AIR 11 Anantha Parakrama a young boy of Telangana state has put his first food forwards to achieve his childhood dream of becoming a Doctor. Anantha has seen his father's dedication towards his job who is a doctor and motivated himself to become a doctor like his father is. Though this COVID period of NEET preparation is stressful for some of the aspirants, the topper of NEET 2020, Anantha has made this lockdown as an opportunity for his preparation. Asking about his preparation strategies, the NEET exam topper, who has secured AIR 11 said that he has never counted his study hours but complete his decided topics for the day at any cost. Aspirants seeking for information regarding the Anantha Prakrama, AIR 3, NEET 2020 topper can go through the article below to know the details about the preparation strategies and tips to prepare for NEET 2021.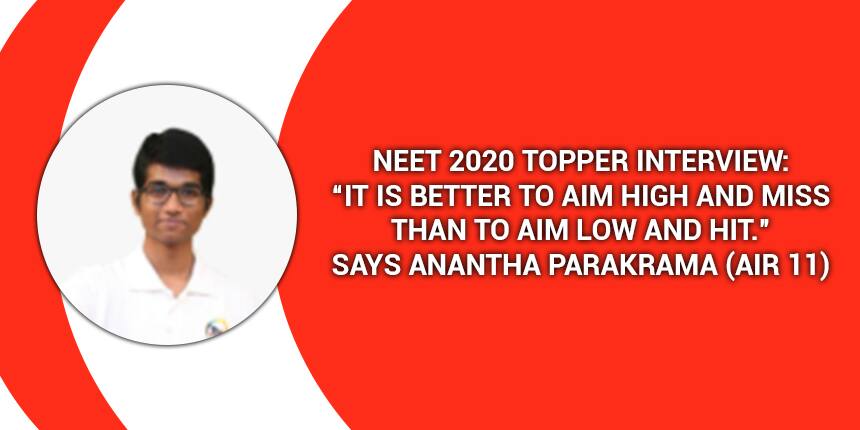 Read complete interview below -
Careers360: Congratulations on your NEET result! What are your feelings on this achievement?
Anantha Parakrama: It always feels good to be a topper and thank you.
Careers360: What motivated you to choose medicine as a career? When did you decide to become a doctor?
Anantha Parakrama: My father's passion for his job who is a doctor has motivated me to pursue medicine as a career. From childhood only i have decided that i will be a doctor.
Careers360: Is this your first attempt? When did you start your preparations for the NEET exam? How did you go about it?
Anantha Parakrama: Yes it was my first attempt and i am preparing for the NEET when i was in Class 11th.
Careers360: How did you prepare for both your board exams and NEET?
Anantha Parakrama: When there was board i have prepared for only board and as for NEET i have lots of time i have prepared for it separately. This lockdown helps my preparation alot.
Careers360: The lockdown was announced in March and things changed. How did you prepare for NEET 2020 during COVID-19? How did it affect your preparation? What was the most striking thing during this preparation?
Anantha Parakrama: The uncertainty on NEET exam was stressful but as I already mentioned earlier it helped me alot for my NEET preparation.
Careers360: Did you take any coaching for NEET 2020? How was the coaching affected because of the lockdown and how did you keep in touch with your teachers for doubts and regular lessons?
Anantha Parakrama: Yes i have taking coaching classes from Sri Chaitanya and attended some test series of Allen also.
Careers360: What was your daily routine for NEET before lockdown and after? How much time did you devote to self-study because coaching can only teach you but you have to do the work?
Anantha Parakrama. I use to decide my topics for the day and finish it at any cost. I never counted my time of studying as soon i completed my decided syllabus, i use to chill with my friends.
Careers360: Which subject is your weak one and in which are you strong?
Anantha Parakrama: My both weakest and strongest subject is Physics.
Careers360: How was the preparation different from the early days to just a month before NEET exam?
Anantha Parakrama: This lockdown has turned the preparation scenario totally but the online mode of NEET preparation is quite beneficial.
Careers360: What was your exam day strategy? What was the roughest and the easiest section according to you?
Anantha Parakrama: On exam day I reached the NEET exam centres two hours early and discussed my nervousness with my teachers who guided and motivated me very much.
Careers360: Which college is your dream college for studying medicine? What is your aspiration in the field of medicine and which specialization would you be interested in?
Anantha Parakrama: I want to pursue neurology from AIIMS, Delhi.
Careers360: How did your family support you and motivate you during this stressful lockdown period? How did you de-stress during your preparation?
Anantha Parakrama: My family supported me a lot as they always keep me away from stressful things. So that i can focus on my studies.
Careers360: What would you suggest to future NEET aspirants in terms of preparation, attitude etc?
Anantha Parakrama: I want to give my suggestion for aspiring candidates through a quote "It is better to aim high and miss than to aim low and hit."
Questions related to NEET
Showing 101983 out of 101983 Questions