NEET 2020 Topper Interview: Bhawanam Manasa (AIR 16)
NEET 2020 Topper Interview: The National Testing Agency (NTA) has finally declared the National Eligibility cum Entrance Test- NEET result 2020 on the official website ntaresults.nic.in on October 16. NEET results came with the anticipation to know the names of NEET toppers 2020. By securing All India Rank (AIR) 16, Bhawana Manasa from Andra Pradesh can now fulfil her dream to become a Doctor. 17 years old Manasa wishes to help people and save lives by being a neurologist. Asking about her preparation strategies, the NEET exam topper, who has secured AIR 16 said that she has devoted 7 to 8 hours to self-study, apart from her online classes. Aspirants seeking for information regarding the Bahwana Manasa, AIR 16, NEET 2020 topper can go through the article below to know the details about the preparation strategies and tips to prepare for NEET 2021.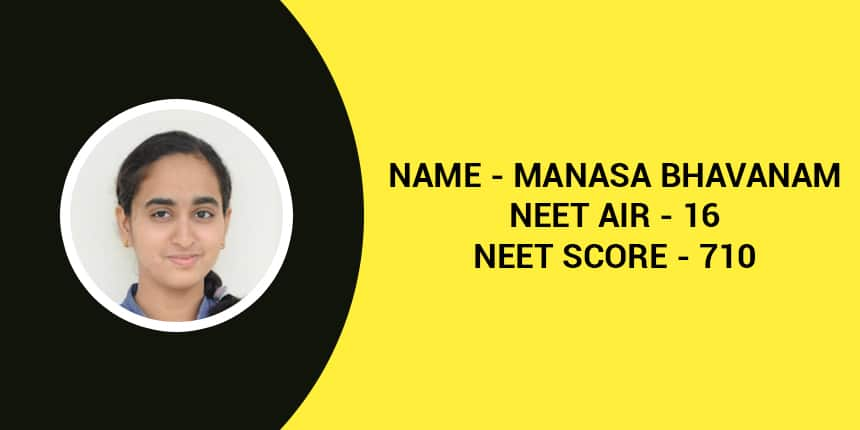 Read the complete article here:
Careers360: Congratulations on your NEET result! What are your feelings on this achievement?
Manasa: Thank you, I'm very happy. I was already expecting in being top 20.
Careers360: What motivated you to choose medicine as a career? When did you decide to become a doctor?
Manasa: In Class 8, I have decided to become a doctor. Because by being a doctor, I can serve many people and save many lives. So, it motivated me a lot.
Careers360: Is this your first attempt? When did you start your preparations for the NEET exam? How did you go about it?
Manasa: Yes, I have just completed Class 12 and gave NEET 2020. In Class 11, I have started my NEET preparations. I followed my college time-table for studying which includes weekly exams and preparatory classes.
Careers360: How did you prepare for both your board exams and NEET?
Manasa: I live in Andra Pradesh so we have Class 11 and 12 separately, so there was not much pressure like CBSE.
Careers360: The lockdown was announced in March and things changed. How did you prepare for NEET 2020 during COVID-19? How did it affect your preparation? What was the most striking thing during this preparation?
Manasa: I didn't let myself bothered from COVID-19 or anything which was happening in the country. I didn't lose my focus on my preparations.
Careers360: What was your daily routine for NEET before lockdown and after? How much time did you devote to self-study because coaching can only teach you but you have to do the work?
Manasa: During college, it was more stressful, however, during the lockdown, I get to study from home which is relaxing. Our college Sri Chaitanya had online classes so I prepared through that. After my online classes, I have devoted 7 to 8 hours to seld preparation.
Careers360:: Which subject is your weak one and in which are you strong?
Manasa: I love physics most and biology is tough for me.
Careers360: How was the preparation different from the early days to just a month before the NEET exam?
Manasa: I completed my NEET syllabus early and devoted a month before the exam to revision.
Careers360: What was your exam day strategy?
Manasa: I didn't think much about the exam day. Because I didn't want to stress myself before the exam
Careers360: Which college is your dream college for studying medicine? What is your aspiration in the field of medicine and which specialization would you be interested in?
Mansa: I want to be a neurologist and want to get into AIIMS, New Delhi.
Careers360:: How did your family support you and motivate you during this stressful lockdown period? How did you de-stress during your preparation?
Manasa: My parents have a major role in my life. They have supported me not only in COVID-19 times but since, the beginning of my NEET preparations. I do meditation and spend time with my family.to avoid stress.
Careers360: What would you suggest to future NEET aspirants in terms of preparation, attitude etc?
Manasa: Students should not drown themselves in too many books. Whatever material you have for your preparations. Study it perfectly.
Questions related to NEET
Showing 95764 out of 95766 Questions