NEET 2020 Topper Interview: "Concentration and time management is the key to success" says Kota Venkat Air 13
NEET 2020 Topper Interview: Kota Venkat has emerged as NEET 2020 topper and got an outstanding AIR 13. After a long wait, when the NEET 2020 result was finally announced, it stuffed Kota Venkat and his family with great happiness. Venkat belongs to Andhra Pradesh and aspires to take admission at AIIMS Delhi. Kota Venkat got 710 marks with 99.9985369 percentile in his NEET 2020 result. With immense concentration and effective time management, he achieved this astounding milestone in his life. Due to the Covid-19 transition, a terrible situation was revealed due to which people were going through stress, but he paid attention to his preparation and continued to exercise mock tests. Venkat's parents have always supported her in every level of education. Read the full interview of Kota Venkat, topper of NEET 2020 exam and make his tips a part of your preparation.
Latest: NEET 2020 result has been declared on October 16. Also check NEET 2020 Cutoff.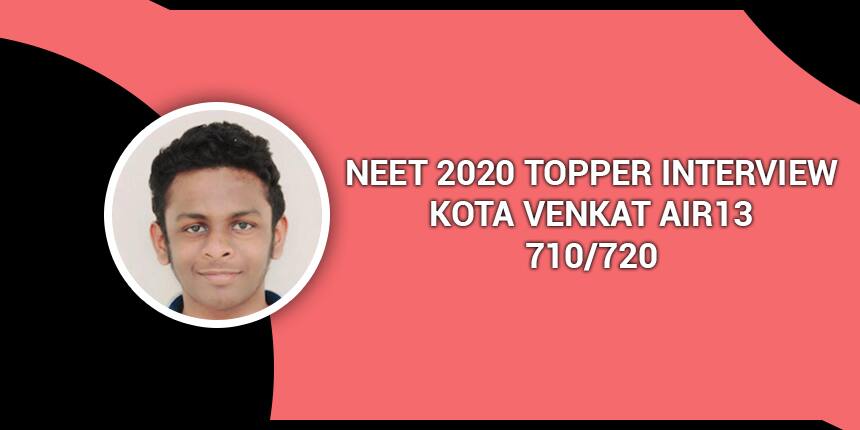 Careers360: Congratulations on your NEET result! What are your feelings on this achievement?
Kota Venkat: I am very happy to know the result. I expected under 100 but did not expect 13th rank, so this is better than my expectation.
Careers360: What motivated you to choose medicine as a career? When did you decide to become a doctor?
Kota Venkat: Some of my relatives are in the medical profession. Seeing them working in this noble field gave me the courage and inspiration to become a doctor. In 8th standard I decided to become a doctor.
Careers360: Is this your first attempt? When did you start your preparations for the NEET exam? How did you go about it?
Kota Venkat: This was my first attempt. I started NEET preparation from 11th standard.
Careers360: The lockdown was announced in March and things changed. How did you prepare for NEET 2020 during COVID-19? How did it affect your preparation? What was the most striking thing during this preparation?
Kota Venkat: I studied at Sri Chaitanya and they provided me study material. Lockdown had made studying easier for some students and some faced difficulties. I didn't lose focus during lockdown.
Careers360: Did you take any coaching for NEET 2020? How was the coaching affected because of the lockdown and how did you keep in touch with your teachers for doubts and regular lessons?
Kota Venkat: I stayed in a hostel provided by Sri chaitanya. When I was in the hostel it was very easy to interact with teachers but during lockdown, the whole environment changed.
Careers360: What was your daily routine for NEET before lockdown and after? How much time did you devote to self-study because coaching can only teach you but you have to do the work?
Kota Venkat: I studied 14 hours daily for neet preparation.
Careers360: Which subject is your weak one and in which are you strong?
Kota Venkat: Biology is my strongest subject and physics is the weakest. Biology is easy to remember but physics contains numericals and that's why I got more marks in bio and less marks in physics.
Careers360: How was the preparation different from the early days to just a month before NEET exam?
Kota Venkat: I had prepared according to my schedule during the last month of preparation. Just 5 days before the NEET exam, I took ample amount of rest and only revised important chapters.
Careers360: What was your exam day strategy? What was the roughest and the easiest section according to you?
Kota Venkat: I didn't have any special exam day strategy but before exam I kept myself tension free and before exam night I slept for 10 hours. According to me, the questions asked in NEET exam were not very difficult. The key point in the exam is concentration and time management.
Careers360: Which college is your dream college for studying medicine? What is your aspiration in the field of medicine and which specialization would you be interested in?
Kota Venkat: My dream college is AIIMS Delhi. I want to become the best Cardiologist.
Careers360: How did your family support you and motivate you during this stressful lockdown period? How did you de-stress during your preparation?
Kota Venkat: They have motivated me in every step of my life.
Careers360: What would you suggest to future NEET aspirants in terms of preparation, attitude etc?
Kota Venkat: My personal suggestion is that they have to prefer only NCERT books to secure good marks and students have to remember each and every line of NCERT. They have to improve their concentration skills. I strongly suggest that students should always know where to focus and where not.
Questions related to NEET
Showing 102090 out of 102090 Questions