NEET 2020 Topper Malleedi Rushith (AIR 33) Says "Hard work is both the foundation and pathway of success"
NEET 2020 Topper Interview: A journey of success paved through sheer hard work and persistence, the story of NEET 2020 topper, Maleedi Rushith is an inspiring one surely. The National Testing Agency released the NEET 2020 result in online mode on October 16. The young gun from Telangana secured All India Rank 33 in the NEET 2020 exam. Careers360 got in touch with the NEET 2020 topper for some exclusive conversation regarding his preparations for the exam, future plans and a lot more. Quite elated about his performance in the NEET exam this year, Rushith shared that he realised his dream of becoming a doctor at a very early age itself. Inspired by his grandfather who was a doctor himself, Rushith had decided to become a doctor in his 2nd standard itself. Such was the determination of the young topper, he cleared the exam with great scores in the first attempt itself.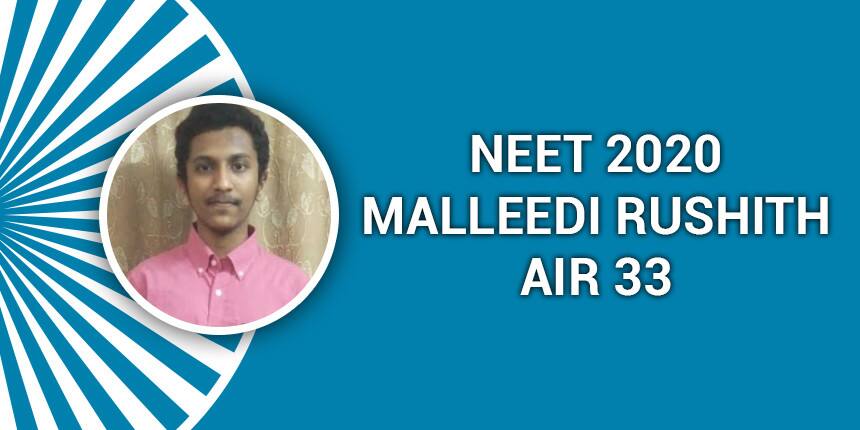 Read the excerpts of Careers360's conversation with the topper below.
Careers360: Congratulations on your NEET result! What are your feelings on this achievement?
Rushith: It was really a great sense of accomplishment when I saw my NEET 2020 result. I was really delighted by my performance in the exam. It was a proud feeling for me and my family.
Careers360: What motivated you to choose medicine as a career? When did you decide to become a doctor?
Rushith: It was my grandfather, a doctor by profession who inspired me to choose medicine as my career forward. I realised my dream of becoming a doctor very early in my life. It was in my second grade when I decided I wanted to become a doctor.
Careers360: Is this your first attempt? When did you start your preparations for the NEET exam? How did you go about it?
Rushith: Yes, it was my first attempt for the NEET exam. I started my preparations for NEET two years back when I just passed my 10th standard. Since then, my only goal was to score well in the NEET examination and reach one step closer to my dream of becoming a doctor.
Careers360: How did you prepare for both your board exams and NEET?
Rushith: I gave preference to NEET examination over my class 12 board exams. I studied very little on the board exams and clearing NEET was my only objective. However, I made sure I covered my board syllabus while preparing for NEET itself.
Careers360: The lockdown was announced in March and things changed. How did you prepare for NEET 2020 during COVID-19? How did it affect your preparation? What was the most striking thing during this preparation?
Rushith: During the COVID-19 lockdown period, I had to prepare for the exam from my home. Although, I spent 1 or 2 hours less than my regular preparation routine, I made sure that I studied with utmost concentration and covered each concept thoroughly. The striking thing during this period of time was that I did not have my NCERT books with me and I had to download all the books from the Internet to study for the exam.
Careers360: Did you take any coaching for NEET 2020? How was the coaching affected because of the lockdown and how did you keep in touch with your teachers for doubts and regular lessons?
Rushith: Yes, I took coaching from Sri Chaitanya institute for my NEET preparations. Initially, in the first few weeks of the lockdown, I was unable to get in touch with my teachers at the institute. Later on, the administrators planned online classes for students via Zoom. It was then I clarified all my doubts.
Careers360: What was your daily routine for NEET before lockdown and after? How much time did you devote to self-study because coaching can only teach you but you have to do the work?
Rushith: Before the lockdown period, my daily preparation started from 6 AM in the morning. I used to attend my coaching classes, doing self -study after the coaching classes. I used to go to bed at 10:30 pm. In the lockdown period as well my preparation routine was almost the same except the fact that I used to study 1 or 2 hours less. I used to give 2-3 hours to self-study every day during this time.
Careers360: Which subject is your weak one and in which are you strong?
Rushith: I was equally good in all the subjects. However, when it came to the problematic part which is the calculations, I was a bit slow in the beginning at Physics. Over time with enough practise and self study I was able to master this section as well.
Careers360: How was the preparation different from the early days to just a month before NEET exam?
Rushith: In the early days of my preparation, I did a very thorough study of NCERT. While going through my NCERT books I used to underline the important concepts and topics. In the last one month of the preparation, I used to only go through the underlined topics and concepts. I also prepared notes during my initial preparation and they came very handy while doing revision.
Careers360: What was your exam day strategy? What was the roughest and the easiest section according to you?
Rushith: On the exam day, my strategy was to manage my time properly and also to solve all questions accurately and as quickly as possible. The toughest section was obviously Biology as I had to choose between close options. Chemistry was the easiest section in the exam
Careers360: Which college is your dream college for studying medicine? What is your aspiration in the field of medicine and which specialization would you be interested in?
Rushith: My dream college for medicine has always been AIIMS Delhi. My aspiration in the medicine field is utmost professionalism in any field I specialize so as to provide the best treatment I can. I would love to specialize in Cardiovascular system.
Careers360: How did your family support you and motivate you during this stressful lockdown period? How did you de-stress during your preparation?
Rushith: My family was my biggest support system during the stressful times of COVID. My parents always motivated me to stay confident, keep up my hard work and never give up on my preparations during the lockdown period. I used to destress myself by watching some funny content on TV and the Internet. Also, reading my favorite novels was also a great escape for me during my preparations.
Careers360: What would you suggest to future NEET aspirants in terms of preparation, attitude etc?
Rushith: I would like to suggest future NEET aspirants to be very thorough with the NCERT content, be accurate while solving all the questions, read all the options carefully and manage your time well for all the subjects.
Questions related to NEET
Showing 95754 out of 95756 Questions