NEET 2020 Topper Interview, "Consistency is the key" says Shaik Kothapalli Arfath Khadeer (AIR 18)
NEET 2020 Topper Interview: After a long wait, when the NEET 2020 result was finally announced, it filled Shaik Kothapalli Arfath Khadeer and his family with immense joy. Shaik has emerged as NEET 2020 topper and got an impressive AIR 18. The young lad from Andhra Pradesh aspires to take admission at AIIMS Delhi. Shaik got 710 marks with 99.9985369 percentile in his NEET 2020 result. Sheer perseverance and consistency with which he solved the questions after consistently preparing for the NEET 2020 exam proved to be a boon for him on the day of the exam. When people were going through the anxiety due to the lockdown that was caused because of COVID 19 pandemic, Khadeer focussed on revision and taking NEET mock tests. Apart from that he did not let himself get demotivated if he did not perform well in the mock tests. His parents supported him during the entire preparation. Read the full interview of NEET 2020 topper Shaik Khadeer to know all the aspects of his preparation for the NEET exam.
Latest: NEET 2020 result has been declared on October 16. Also check NEET 2020 Cutoff.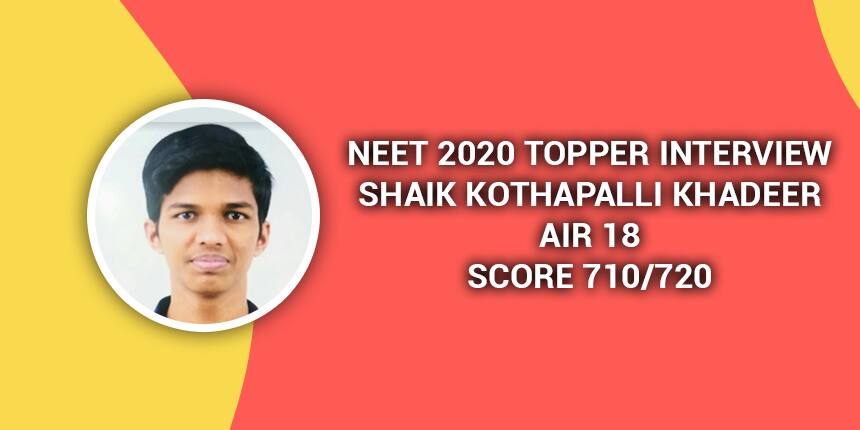 Careers360: Congratulations on your NEET result! What are your feelings on this achievement?
Shaik Kothapalli: I am happy to achieve this success. My hard work paid off.
Careers360: What motivated you to choose medicine as a career? When did you decide to become a doctor?
Shaik Kothapalli: I see a lack of doctors in our country. Especially in health emergencies like COVID-19, doctors are playing a crucial role for all of us. I always wanted to add my bit of effort in treating the people and provide best health care to my fellow Indians.
Careers360: Is this your first attempt? When did you start your preparations for the NEET exam? How did you go about it?
Shaik Kothapalli: Yes, this was my first attempt. I prepared for NEET 2020 along with my regular school studies. The first thing to do is to read and understand the class notes and then read the topics that are not included in class 11 and 12 syllabus.
Careers360: How did you prepare for both your board exams and NEET?
Shaik Kothapalli: I kept a time-table and followed it religiously. I studied for State board exams keeping my NEET preparation in mind.
Careers360: The lockdown was announced in March and things changed. How did you prepare for NEET 2020 during COVID-19? How did it affect your preparation? What was the most striking thing during this preparation?
Shaik Kothapalli: Even before lockdown, I would not go out unnecessarily and would devote maximum time in completing and revising the syllabus. I just got continuous time to study post-lockdown.
Careers360: Did you take any coaching for NEET 2020? How was the coaching affected because of the lockdown and how did you keep in touch with your teachers for doubts and regular lessons?
Shaik Kothapalli: Yes. I took coaching classes from Sri Chaitanya. During lockdown also, I continued online classes to keep my preparation on going.
Careers360: What was your daily routine for NEET before lockdown and after? How much time did you devote to self-study because coaching can only teach you but you have to do the work?
Shaik Kothapalli: There was not much change for me. I was into my preparation the whole time. Self-study is definitely crucial to keep up with revision and practise of questions.
Careers360: Which subject is your weak one and in which are you strong?
Shaik Kothapalli: I am weak in biology, especially in biotechnology. Chemistry is my favourite subject!
Careers360: How was the preparation different from the early days to just a month before NEET exam?
Shaik Kothapalli: I became more focussed during the last month's preparation for NEET Exam, practised questions and did intensive revisions of my notes.
Careers360: What was your exam day strategy? What was the roughest and the easiest section according to you?
Shaik Kothapalli: Strategy was basic, to keep calm and be confident in preparation. For me the chemistry portion was the easiest! Botany was tough I would say.
Careers360: Which college is your dream college for studying medicine? What is your aspiration in the field of medicine and which specialization would you be interested in?
Shaik Kothapalli: AIIMS Delhi is my dream college. I would put efforts in specializing in the field of neurology, as there are very few neurologists in our country.
Careers360: How did your family support you and motivate you during this stressful lockdown period? How did you de-stress during your preparation?
Shaik Kothapalli: My family has been really supportive, whenever I'd score less, they'll motivate me for next time. I talked to my friends and family to keep myself motivated and de-stressed.
Careers360: What would you suggest to future NEET aspirants in terms of preparation, attitude etc?
Shaik Kothapalli: Just keep consistent efforts throughout the preparation, stick to the time-table and be regular in revision. Everything will fall in place.
Questions related to NEET
Showing 102088 out of 102088 Questions