NEET 2021 exam day guidelines by Vineet Joshi, Director General of NTA
NEET 2021 exam day guidelines by DG, NTA - National Testing Agency is going to conduct the National Eligibility cum Entrance Test (NEET) on August 1, 2021. The exam guidelines of NEET 2021 by the Director-General of the National Testing Agency, Vineet Joshi, must be adhered to by the candidates appearing for the medical entrance test. Knowing the various NEET exam guidelines is important as it will enable candidates to avoid mistakes unwillingly. Vineet Joshi has specified the NEET exam day guidelines by keeping the COVID norms in mind. The details regarding the NEET 2021 exam day guidelines along with the COVID guidelines will be released before the exam day and will be updated on this page.
Stay up-to date with NEET News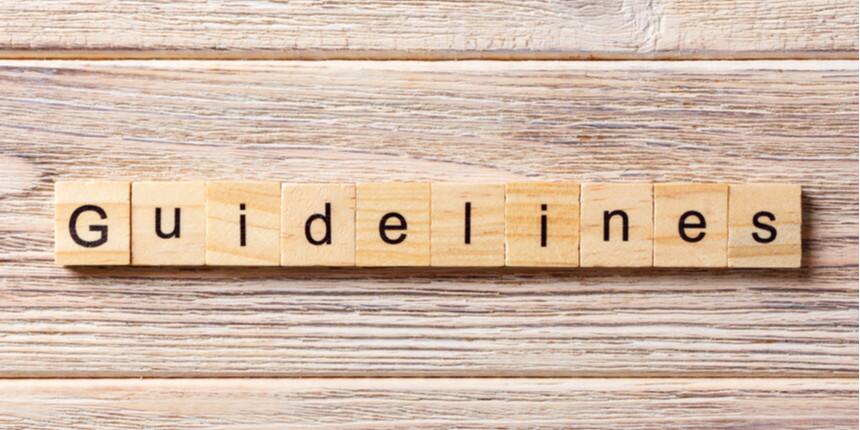 For more NEET exam day guidelines given by Joshi candidates should check the article that follows. Aspirants must note that this article has been written on the basis of a live session conducted by Careers360 on May 16, 2020. Here, extracts from the live session, where Joshi spoke about NEET exam and exam day guidelines, are provided.
NEET 2021 exam day guidelines - How will authorities ensure safety?
When asked about how the authorities are planning to maintain the safety and security of candidates keeping in view the social distancing factor Joshi said that they are in contact with more schools and colleges who are willing to convert as NEET exam centre on the day of the exam. Also, the exam conducting authority will be barricading the area outside the examination hall from where only candidates sitting for the examination will be allowed to enter.
Joshi ensured 'Students need not bother for safety' as all this will be taken care of by the authorities. Their only concern must be to answer the exam well and score good marks in NEET. They must not enter the examination centre with a sense of fear or worry. As this might lead to their bad performance and all their days and nights of hard work will go in vain.
Exam day guidelines for NEET by Vineet Joshi - Hygiene
Regarding hygiene, Joshi informed Careers360 that they will have arrangements of sanitizer at the exam centres and also, those centres will be pre-sanitized. Regarding individual hygiene, although the authorities will make every possible effort to ensure the same, it is also essential that candidates cooperate with them to make it a success. Joshi says that he believes in the fact that 'Individual safety is theory of safety of the community' and thus, candidates must also not lag behind in contributing to the same.
NEET exam day guidelines for candidates
During the live session, Joshi gave a lot of exam day guidelines for NEET to the candidates which they must keep in mind prior to entering the examination centre. 'Paper is not set in a manner that you are not able to do. Idea is to find students better than others' said Joshi on the difficulty level of NEET question paper. Addressing the document upload issue faced by many candidates Joshi added, 'There are a number of such cases majorly because of the internet. At the time of exam, we are asking them to bring certain photographs so this is solved'. Also, a number of candidates requested for NEET exam centre outside India to which Joshi said, 'If the situation demands we will give some provision to students to give exam there'. Thus candidates should keep all their worries regarding NEET exam day guidelines aside and concentrate only on answering the examination well and maintaining personal hygiene.
NEET 2021 exam day guidelines - Advice to parents and guardian
On the live session, Joshi said, 'We are expecting parents not to be there until there is an unavoidable situation.' Here he added that their child is specially-abled and needs them to be there then this is an exceptional case and will be considered by the authorities, however, in other cases, parents will be stopped at barriers. Joshi said, 'If a child can go on one's own we encourage that. We expect the guardian to not crowd the space. We will require candidates to stand in a certain orderly manner outside the exam centre also. We will indicate to the candidate in the admit card their time slot for entry.' This clearly tells that not all candidates will be asked to report at the same time instead slots will be divided for all of them.
NEET exam day guidelines on admit card
It is known to candidates that all the exam day guidelines of NEET will be clearly mentioned on the hall ticket. The time slot at which every individual candidate is supposed to arrive and the documents that they are expected to bring along will also be mentioned on NEET 2021 admit card. Candidates must report to the exam centre with the same.
Also Read -
Frequently Asked Question (FAQs) - NEET 2021 exam day guidelines by Vineet Joshi, Director General of NTA
Question: When will NTA conduct NEET 2021?
Answer:
As announced, NEET will be conducted on August 1, 2021, nationwide in pen paper-based mode.
Question: Is there a possibility of NEET 2021 being conducted online?
Answer:
No, for the current academic session, NEET will be conducted in offline mode.
Question: When should the candidates report to the centre as per exam day guidelines of NEET?
Answer:
According to Vineet Joshi, DG, NTA, candidates will be allotted slot timings to report at the exam centre and these will be mentioned in the admit card where NEET 2021 exam day guidelines are written.
Question: When authority will release NEET COVID guidelines?
Questions related to NEET
Showing 103600 out of 103600 Questions