NEET 2021 - Preparation tips and online transition of classes by Aakash Institute
NEET 2021 - Preparation tips and online transition of classes by Aakash Institute - From the previous year due to COVID, NEET preparations with a whole new transition from offline to online classes is turning out to be worrisome for most of the candidates. The National Eligibility cum Entrance Test (NEET) will be going to be conducted on August 1, 2021, amidst COVID-19. In the current situation, the education sector has already seen the transition from offline classes to online teaching which directly affects the preparation strategy of candidates for NEET. This is a crucial stage for preparations for NEET 2021 and candidates must use their time efficiently. Here, aspirants will learn NEET 2021 preparation strategy from Aakash Institute experts.
Stay up-to date with NEET News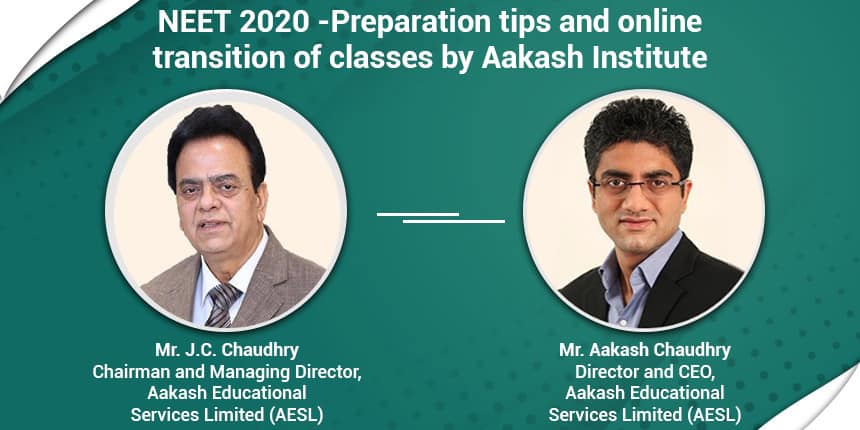 With the emergence of multiple types of problems and distractions in the lockdown phase, Careers360 brings to you a beneficial interaction with Mr. J.C. Chaudhry (Chairman & MD) and Mr. Aakash Chaudhry (Director & CEO) of Aakash Educational Services Limited (AESL). To 'look for opportunity in adversity is what these experts suggest. NEET 2021 preparation strategy of candidates must be up to the mark keeping in mind this is a one-time opportunity for them. This article on how students should prepare and strategize for NEET during COVID-19 by AESL experts, medical candidates will know best preparation tips & tricks, books refer to, activities to follow during the lockdown, and answers to other related queries. Also, advice on how to deal with anxiety during NEET 2021 lockdown preparations will help students and their parents/guardians to stay calm and motivated.
Read the extract of the interview with Aakash Institute MD and CEO for NEET preparations during the COVID epidemic below.
Careers360 - How should students make the most of the time in hand?
Answer - "Just studying is not important, studying under supervision is important and making a timetable is important," says Mr. J.C. Chaudhry. He adds students have a lot of extra time so they can prepare well as there is no scope of excuses anymore. It is also advised that parents also accompany their wards in their preparation for NEET and see if they are being taught well, how engaging the sessions are, and how actively does their child participate in the same. Students and parents have taken online learning very well and acceptance of online teaching has been accelerated such that the current scenario was earlier expected to be seen 5 years down the line.
Careers360 - What are the benefits of online classes?
Answer - With the rapid usage of online classes for NEET 2021 preparation there is more engagement with teachers in learning than it was earlier. This also helps in the enhancement of the teacher's skills and there is a lot of transparency with improvement from both sides. Since online the interaction is one on one too many with help of chat, also, in the chat there is no hesitation and students can freely ask any queries they want to be answered.
'The way the whole pedagogy around online coaching is designed, the team of teachers is not stopping effort after delivering content, they are reaching out to students to check whether they are attending or not, parent-teacher meetings are being conducted online for students, this proves parents are also very keen', says Mr. A Chaudhary.
Careers360 - Candidates are in a state of dilemma and panic due to the continuous postponement of the NEET exam and related events. What advice do you have?
Answer - While preparing for NEET 2021, it is essential that candidates control their nerves, keep their minds calm, and make the best use of remaining days. They should not panic, there should not be demoralization. It is important that NEET aspirants set goals and work to achieve them. There should not be too much discussion about the pandemic and postponement.
COVID-19 won't go from brains even after lockdown, people will not interact with each other much as they will have this conception that every other person might be suffering from the same. In places like Kota, there are 200-250 kids in one class, so social distancing is not a practical solution there. Also, in this scenario, parents should look forward to sending their kids to such coaching centres which are near their house to avoid wastage of time and maintain social distancing.
Careers360 - Which are the best books for NEET preparation?
Answer - The first and most important recommendation is NCERT. Only when candidates have covered the NCERT they should move ahead with other available options. For Biology, K N Bhatia is a good book as it is detailed and exhaustive. Similarly for other subjects also, there are best books for NEET 2021 as recommended by experts.
Careers360 - How can candidates score 600+ in NEET 2021?
Answer - The aspirant must be thorough with the syllabus and should also know in which topics they can do better. This knowledge of their strengths and weaknesses will come to them only after they are halfway through NEET preparations 2021. The one in which they have confidence should be taken up first as this will help them gradually answer those questions correctly and keep up their enthusiasm. In the vice-versa case, there are chances that they get depressed and leave questions that otherwise could have been answered well.
Careers360 - Is there a possibility of online tuition replacing offline?
Answer - Mr. A. Chaudhary suggests that 'Significantly, younger kids can get more transition in online classes than older kids'. However, Mr.J C Chaudhary suggests that ' If there is the availability of offline classes then that should be the candidate's first preference' According to them, henceforth, purely classroom teaching won't remain the same, a hybrid model will come in effect where candidates are attending both online and offline classes for preparation for NEET 2021.
Careers360 - How beneficial is taking coaching for preparation for NEET 2021?
Answer - If the candidate is self-motivated then coachings can be avoided, they are just brand names and a matter of parent's satisfaction that their ward is giving optimum time to studies while preparing for NEET 2021. There is also evidence that taking coaching leads to a lot of wastage of time in commuting.
A candidate who is good at understanding and self-disciplined can take video lectures at much less cost as there are one-on-one as well as group sessions. In the current scenario, aspirants will not be at a disadvantage of not having mobile phones, it always depends on how good they are in extracting the value out from a program. The experts discourage the use of mobile phones and instead recommend a bigger size of the screen. This is to avoid pain in the eyes and also because mobile has distractions like messages and calls and this will help their preparation for NEET 2021.
Careers360 - How many hours should candidates devote to studies and what should be their NEET 2021 preparation strategy?
Answer - Every child knows his strengths and weaknesses best, and can thus prepare his/her routine with 15-20 minutes of meditation for positivity. Physical exercise is important during this time to keep the body moving. Selection has no relation with time, candidates should continue studying until the mind and body are in coordination. It is not time, but, concentration and focus that matters. Till the time aspirants are able to understand what they are studying they should continue with studying.
Careers360 - What advice do you have to give class 11 aspirants?
Answer - Regularity is very important in life, so candidates must revise daily, this revision should include everything that has been taught to them in school. The habit of procrastination must be done away with especially while preparing for NEET, candidates must be regular in studies. Mr.J C Chaudhary says 'time lost will never come back, so utilize time in hand well, candidates coming out successful now will be better than earlier years because of the situation they have faced'. This is their time to ace the exam with flying colors.
Careers360 - What advice do you want to give to the parents?
Answer - If parents are themselves stressed, candidates get more stressed. They have to take care of the emotions of candidates and give the right kind of regime on a daily basis while they are preparing for NEET 2021. Monitoring of the candidates and their device and screen time. Parents need to take a step forward and learn about technology and not be distant spectators. It is essential that they be involved and vigilant and take active participation.
Careers360 - Should NEET 2022 batch candidates wait for the classes to start?
Answer - It is advised that such aspirants do not wait for classes to start, most institutes are offering online coaching now, till the govt gives a nod to offline teaching they should join online classes. The moment classes are allowed to shift offline they should move to hybrid modules, keeping in mind the rapid spread of COVID-19. Waiting is not advised, because in an entrance exam there is a definite need of being in touch, thus waiting is not the wisest thing to do
Also Read:
Questions related to NEET
Showing 110672 out of 110673 Questions