NEET 2021 Topper Interview: Suyash Arora (AIR 5)
NEET 2021 Topper Interview: After a long wait, the NEET 2021 result was finally announced on November 1 by the National Testing Agency (NTA). By scoring 715/720, Suyash Arora from Panchkula, Haryana bagged All India Rank (AIR) 5 in India's single largest medical exam for undergraduate courses.
Stay up-to date with NEET News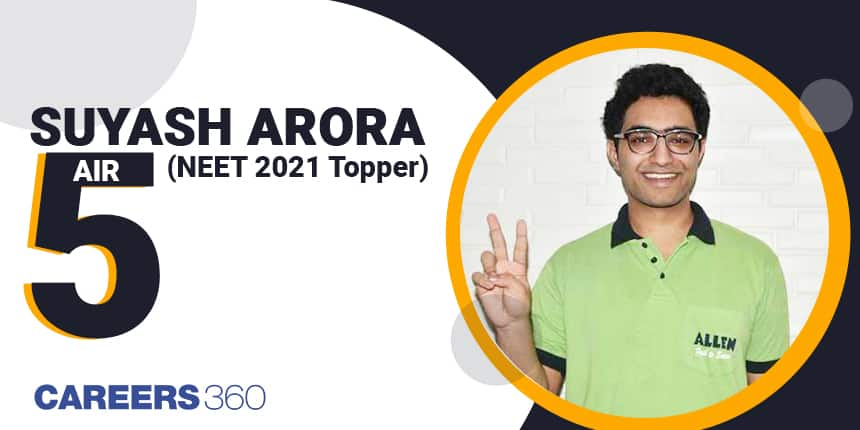 Dream of getting into AIIMS, New Delhi, Suyash says " My sister (AIIMS MBBS topper 2018) and mother supported me throughout my NEET 2021 journey.." Read the full interview of NEET 2021 topper Suyash Arora to know all the aspects of his preparation for the NEET exam.
Also Read | NEET 2021 Topper Interview: Tanmay Gupta AIR-1
Careers360: Congratulations on your NEET 2021 result! How are your feelings on being one of the NEET 2021 toppers?
Suyash: Thank you so much. I feel happy, relieved and grateful at the same time with my NEET 2021 result.
Careers360: What motivated you to choose medicine as a career? When did you decide to become a doctor?
Suyash::As you know, the medical profession is a profession where you get to help a lot of people and the reward associated with this profession is not found in any other job. You save people's lives and it's the biggest reward anyone could ever ask for.
Careers360: Is this your first attempt? When did you start your preparations for the NEET exam? How did you go about it?
Suyash: Yes, this is my first attempt. I have started my NEET preparations from Class 11
Careers360: How did you prepare for both your board exams and NEET?
Suyash: The trick is to balance the studies. Additionally, the NEET 2021 syllabus is quite similar to the boards so it wasn't a big of a deal. But yes I had to allocate some time to self study.
Careers360: How did COVID second wave affect your NEET preparation? What was the most striking thing during this preparation?
Suyash: COVID did affect my preparation for NEET 2021 but I had a strong support system, my teachers, friends, family all helped me to recover from any lows and kept me motivated throughout my entire NEET preparations.
Careers360: Did you take any coaching for NEET 2021? How was the coaching affected because of the lockdown during the second wave and how did you keep in touch with your teachers for doubts and regular lessons?
Suyash: Yes, I was a classroom student of Allen Kota and a distance learning program student of Aakash Institute. I also did a few test series just to keep my NEET UG preparations on hand. Speaking of COVID-19 second wave, as I mentioned my teachers were very supportive and they did not let my preparation get affected.
Careers360: How much time did you devote to self-study because coaching can only teach you but you have to do the work?
Suyash: During my NEET 2021 preparations in Class 11 and 12, my self study time was 4 to 5 hours. However, during the last days of the NEET UG preparations, I did increase it to 8 to 9 hours.
Careers360: Which subject is your weak one and in which are you strong?
Suyash: I am not sure if I can classify between weak and strong, but my most favorite subject was NEET 2021 Physics and I feel that I am really good at it. And Organic Chemistry did remain a problem for me for quite a while but my teachers did help me to understand the concepts and solve the questions.
Careers360: How was the preparation different from the early days to just a month before the NEET exam?
Suyash: During the early preparation for NEET 2021 from Class 11 and 12, I studied a lot of things, basically tried to cover each and every topic. However, in the last few months of NEET UG preparations, I filtered the subjects of what's more important and relevant and focused on those topics. In the last month of preparations, I also focused on NEET 2021 mock tests and NCERT for NEET UG.
Careers360: What was your NEET 2021 exam day strategy?
Suyash: While practicing NEET mock tests, I got a rough idea on how much time I would spend on the NEET 2021 exam and how much time it would take me to revise the whole paper. And it went pretty much like that on NEET 2021 exam day. It took me almost 70 minutes to complete the paper and the rest of the time I invested revising the paper and checking whether I filled the NEET OMR sheet correctly.
Careers360: Which college is your dream college for studying medicine? What is your aspiration in the field of medicine and which specialization would you be interested in?
Suyash: All India Institute of Medical Sciences, AIIMS, New Delhi has always been my dream medical college. And I feel lucky that now there is a strong chance that I can get in. I have not decided on any specialization yet, as I would get to work in MBBS and AIIMS culture, I will get to know about it.
Careers360: How did your family support you and motivate you during this stressful lockdown period? How did you de-stress during your preparation?
Suyash: My sister (Mehak Arora) is already a fourth year medical student at AIIMS, New Delhi. She was NEET 2018 topper. She motivated and inspired me a lot. My mother has also supported me throughout my NEET 2021 journey.
Careers360: What would you suggest to future NEET aspirants in terms of preparation, attitude etc?
Suyash: I would like to tell the future NEET UG aspirants that you have to stay focused for a very long time. But at the same time, we have to take some time off from our studies to keep our mind fresh. Like I said, balance is the key. Talk to your friends and be relaxed. Your mind should work effectively rather than consistently.
Browse Medical Colleges by Cities

Also read:
Questions related to NEET
Showing 116787 out of 116787 Questions