Switch to Hindi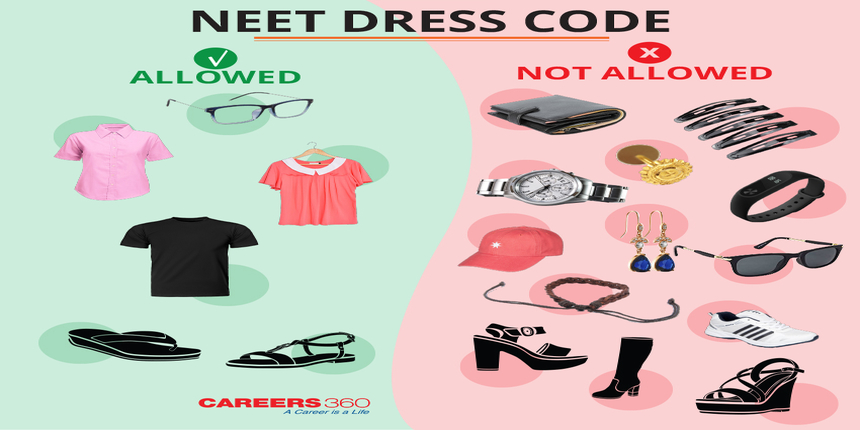 NEET Dress Code 2019 – Candidates appearing for NEET have been given a prescribed dress code by NTA and it has been mentioned in the official brochure too. Candidates are also required to mention in the NEET application form whether they intend to follow the dress code of NEET 2019 as prescribed. Students appearing for the exam have been asked to adhere to a certain dress code that mentions the clothes, footwear worn by students on the day of the exam and other accessories that go with the dress worn on the day like jewellery, belts, caps etc. NEET 2019 dress code has been mentioned in the brochure on page 52 along with the list of barred items that cannot be worn or carried to the exam hall. The NEET dress code 2019 will also be mentioned in the admit card of the candidates to point out what would be allowed and what would not be allowed on the day of the exam. NEET 2019 admit card release date is April 15, which can now be downloaded from the link available on this page. NEET will be conducted on May 5. Check the details of the NEET dress code 2019 below.

NEET 2019 Dress Code
Latest:[Know your Chances for NEET All India, Central, Deemed Universities and State Counsellings through NEET]- NEET College Predictor
Clothes: Candidates must wear light clothes. Full sleeved clothes should be avoided. In case candidates come to the exam in a cultural test, they must report an hour before the reporting time to allow for proper frisking.
Footwear: Shoes must be avoided. Slippers, sandals with low heels are permitted. any footwear that causes obstruction in searching or frisking will have to be removed by candidates before entering the exam hall
Reasons behind the strict NEET dress code:
MBBS Companion 2019
Get all information regarding medical admissions through College Predictors, Almanac, and E-books
Know More
The dress code prescribed for NEET is to ensure that no irregularities, malpractices or cheating occur during the exam. The dress code is prescribed and enforced strictly if past trends and examples are taken into consideration
Other items that are barred in NEET exam:
Along with the NEET dress code 2019, a list of items have been detailed that are banned and candidates carrying them run a risk of being debarred from the exam. To detect these, metal detectors will be in place at all exam centres. The items are
Stationary items like textual material (printed or written), bits of papers, Geometry/Pencil Box, Plastic Pouch, Calculator, Pen, Scale, Writing Pad, Pen Drives, Eraser, Calculator, Log Table, Electronic Pen/Scanner etc.
Communication devices like Mobile Phone, Bluetooth, Earphones, Microphone, Pager, Health Band etc.
Other sundry items like Wallet, Goggles, Handbags, Belt, Cap etc.
Watches/Wrist Watches, Bracelets, Camera, etc.
Any ornaments
Any eatable item opened or packed 
Water bottle 
Any other item that could be used for unfairmeans/ by hiding communication devices like microchip, camera, Bluetooth device etc.    
NEET 2019 will be conducted on May 5 in offline mode from 2 to 5 pm in a single slot. The exam will be conducted in around 154 exam cities. Candidates will be required to report by 12.30 pm for frisking and checking purposes. 
NEET Dress Code 2019 - Male Candidates
To follow the NEET 2019 dress code correctly, male candidates should make sure that they wear half sleeve shirts/t-shirts as full sleeves are not allowed and must be avoided. Clothes should be light which means that zips, pockets, big buttons and any elaborate embroidery should not be there. So candidates must wear simple clothes

Trousers will be the preferred dress code of NEET 2019. Kurta pajama is not allowed for male aspirants.

Shoes are not allowed therefore male candidates are advised to wear slippers and sandals.
Watch below the NEET 2019 Dress Code Video for Exam Day:


NEET Dress Code 2019 – Female Candidates
Female candidates should avoid clothes with embroidery, flowers, brooches and buttons. The clothes should be light and have half-sleeves. It is advised to strictly adhere to the prescribed dress code of NEET to avoid being debarred or run into unncessary problems at the exam centre.

As per NEET 2019 dress code, Salwars and trousers are suggested for women candidates.

All female aspirants are advised to wear slippers or sandals with low heels as shoes are not allowed in the examination hall.

Female aspirants are advised to avoid wearing jewellery like earrings, ring, pendants, nose ring, necklace or any kind of metallic item while appearing for NEET 2019. The metal detectors may cause problems and according to the NEET dress code, these are not allowed.
Regulation for candidates opting for Customary Dresses 
Customary dress refers to a traditional dress or an attire pertaining to a specific religion. Burqa or head scarves come under this section. As per the Delhi High Court order, Sikh candidates will be allowed to carry traditional kangha kara and kirpan with them. These articles will be considered as a part of the customary dress. While filling NEET application form 2019, candidates are asked whether they intended to wear the customary dress or any other clothing which is contrary to the NEET dress code 2019. 
Candidates opting for customary dress are advised to indicate in their NEET application form about this and have to report to the exam centre at least an hour before 12.30 PM which is the last reporting time for the exam this year.
Must read: Delhi HC relaxes dress code norms for Sikh candidates
The rules laid down by NTA regarding the NEET dress code 2019 should be followed mandatorily by the test-takers since it will help them pass the frisking procedure. The authorities will use highly sensitive metal detectors for security purposes. It is advisable for candidates to follow the NEET 2019 dress code carefully to avoid 'unfair means' or misconduct charges against them.
NEET 2019 Dress Code FAQs
Question: Is there any dress code for NEET 2019?
Answer: Yes, there is a strict dress code and it is compulsory to carry NTA NEET admit card along with adhering to dress code. 
Question: Do you intend to wear a customary dress contrary to the dress code while appearing?
Answer: Customary dress can be worn on the day of the exam. Make sure you download NEET admit card and carry it along on the day of the exam.
Question: Are girls allowed to wear leggings for the NEET exam?
Answer: No, the female NEET test takers are only allowed to wear salwar and trousers. 
Question: Will I be allowed to take NEET exam, if I wear jeans?

Answer: Yes, jeans are allowed but it should not be fashionable, big pockets or zips.
Question: Can I wear dupatta along with my suit during the NEET 2019?

Answer: No, the dupatta is not allowed. Female aspirants should only wear light t-shirts/shirts/tops and trousers/salwars.
Question: Is tattoo allowed in NEET 2019?
Answer: No, tattoo is strictly prohibited in the medical exam as per the NEET dress code 2019, specified by NTA.
Question: Can we use calculator in NEET exam centre?
Answer: As mentioned in the prospectus, calculators or any other electronic devices will not be permitted in the exam hall.
Question: Is watch allowed in NEET 2019 hall?
Answer: No, candidates are advised not to wear watches while appearing for NEET exam day.
Question: Are scooty keys allowed in NEET 2019 exam centre?
Answer: Scooty keys and any other belongings of an aspirant like wallets, bags etc. are not allowed and no arrangements will be made to keep the belonging of candidate.
Question: Can I wear 3/4th sleeves clothes on the day of NEET exam?
Answer: It must be noted that full sleeves or 3/4th sleeves should not be worn by aspirants on the exam day. Only half sleeves t-shirt/shirt are acceptable.
Question: Is floral print clothes can be worn on NEET day?
Answer: No. According to the norms of dress code, clothes with flowers embroidery or other designs should not be worn.
Question:  Are nail paint allowed on the exam date?
Answer: The fashions like nail paint, nail art or sort of designs are not allowed.
Question: Is burkha (abiya) can be worn on the day of NEET?
Answer: Yes, candidates who follow a respective religion/custom and wear the customary dresses like Burkha, Kirpan, Kada etc. However, such aspirants should report at the exam centre an hour before the reporting time for verification.
Question: Are safety pins not allowed to carry on NEET 2019 exam day?
Answer: No, the safety pin, wallets, bags, or anything except the admit card, valid ID proof, passport size photograph are not allowed in the examination hall.
Question: Can I wear spectacles in the NEET 2019 examination hall?
Answer: Yes, students who wear the spectacles on the regular basis are allowed to wear on the exam day. While, the goggles or fashionable glasses are restricted.