NEET 2019 last minute preparation tips by Anurag Tiwari – Aakash Institute
NEET 2019 last minute preparation tips - With barely a week or so left, it is virtually the fag end of NEET 2019 exam preparation. Interestingly, at this phase, pressure and anxiety of the impending exam can get amplified, which is why it is important to retain one's equanimity. But equanimity can only be achieved if one is clear about one's preparation plan for remaining days, and also knows how to balance between working hard and not overdoing it. And in case of NEET aspirants who are unperturbed by the gravity of the situation, even they need to know the basic tenets to be followed at this juncture, like what items to focus on, the need to do revision and solve sample papers. Or else the big day would not turn out the way it should be. It is why we bring you last minute NEET preparation tips by Aakash, so that you are in control of your preparation.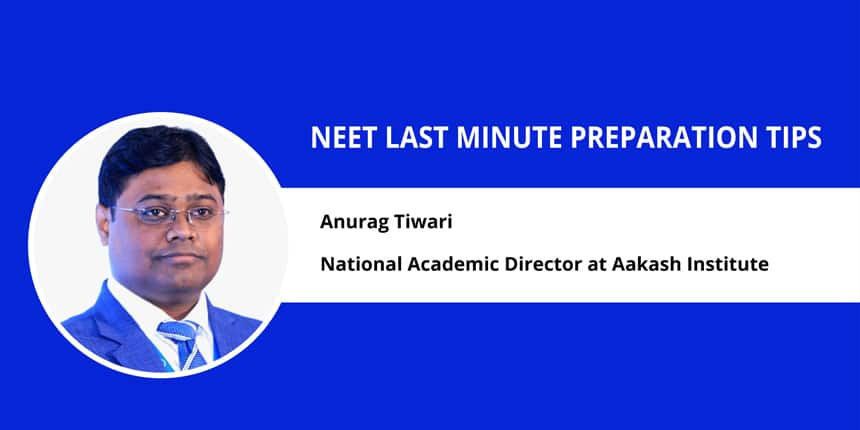 We got in touch with Anurag Tiwari, National Academic Director at Aakash Education Services Ltd., who shared his expert insights into how the candidate should conduct himself/herself at this juncture, what topics they need to read and right way to do revision.
The candidate by going through the last minute NEET 2019 preparation tips by Aakash will also learn time management, which is such a concern.
A brief about NEET 2019
National Eligibility cum Entrance Test (NEET) UG is conducted by NTA for admission to MBBS/BDS courses in medical and dental colleges in India. The exam is conducted in pen-and-paper based mode with questions being asked from physics, chemistry and mathematics. NEET 2019 is set to be held on May 5, 2019. NEET 2019 admit card is already released on April 15.
Read the interview and last minute NEET 2019 preparation tips by Aakash below:
Follow a well-planned Study Schedule
With barely a week left, it is imperative for students to formulate a well-planned study schedule. They should divide their time strategically so that they are able to devote more time to the weak areas. In addition, students should avoid long hours of study by infusing it with short breaks. This will help refresh their mind and result in productive learning.
Solve Mock Tests
Students should solve full-length mock tests and preferably in a proctored environment. Since NEET 2019 is going to be conducted during the afternoon, students are advised to solve mock tests during the same time frame which will help acclimatize their body clock with the exam timings and attune their alertness and concentration levels accordingly. This will not only strengthen students' preparation method but also build up their confidence level. Moreover, after every mock test, students can analyze and identify the errors committed by them and work on it. Mock tests also help students to evaluate the time spent on each section and structure it accordingly.
Refer to Video Lectures
In the techno-savvy world we live in, access to the internet is easy. Students can use video lectures to clarify their doubts and learn complex concepts. Moreover, the human brain tends to process visuals faster than text. Students can use these lectures to revise and visualize important topics.
Time management
When it comes to cracking NEET, time management plays a critical role. Students need to utilize each and every minute wisely so that they are able to attempt all the 180 questions within 180 minutes. For that, they need to work really hard on their speed. They should solve as many mock tests and previous year papers as possible on the NEET Exam pattern. This can help improve their speed. Apart from that, they can set a timer while attempting questions which can help them to assess how much time is taken to solve a question. This will help them devise strategies to improve their speed and accuracy.
Revision Strategy
The trick to crack one of the coveted medical exams lies in the right revision strategy. Students should practice a time-bound subject-wise and topic-wise MCQs to enhance their speed and accuracy which is utmost required for cracking NEET. This strategy will help them cover the syllabus and strengthen their conceptual clarity. Apart from that, students should go through the NCERT textbooks which contain effective and in-depth knowledge of every topic. Besides these, they can go through their notes, refer to coaching modules if any and revise all the formulae and diagrams.
Reach out to teachers
If you still have doubts or if there is any concept that is still not clear to you, then reach out to your teachers. Don't be shy of asking questions and clarifying your doubts as it is an important part of your preparation. Whenever you get stuck or have questions, just pen them down and approach your teachers immediately. Their guidance and tips can help you crack the tough nut with ease.
Keep stress at bay
Apart from preparing for the exam, it's important for students to deal with the exam stress so that their preparation doesn't get affected by it. They should keep anxious thoughts at bay and not let them interfere with their learning. With that, they can indulge in regular exercise or do yoga to help calm the mind.
Having said that, in order to succeed it is important for students to have faith in their abilities. As Martin Luther King, Jr puts it, "Faith is taking the first step even when you don't see the whole staircase." Reflecting on his achievements, one can determine that it was his belief in self that made it possible for him and many others to indelibly impact the world in positive ways.
Apart from that, it is recommended to have a silent, clutter-free zone and an environment with minimal distractions while studying. Students should maintain a healthy diet, exercise and sleep well, and adopt a positive attitude towards the impending exam.
Things to keep in mind on the day of the exam:
Avoid heavy meal before the exam as it tends to make you lazy and lethargic.

Do not study just before the exam. Try to give your brain at least a 2-hour break from studies before you leave for the exam. This will restore the alertness and energize your brain.

If you feel anxious and stressed before the exam, try listening to some light music as it can have a soothing effect on your mind.

As NEET 2019 will be conducted in the afternoon, make sure you are enough hydrated. Keep sipping water, lemonade or fresh fruit juice.

Do not learn anything new at this point as it will only further confuse you and waste your time.

Read the questions carefully and do not rush through them.

Manage your time well. Do not get stuck on a particular option.

In case of doubt, shift your focus from locating the correct answer to eliminating the wrong options first. This will save your precious time.

Be cautious while marking your answers. Do not leave it for the end.

Be confident and positive.
Questions related to NEET
Showing 102090 out of 102090 Questions