NEET 2020 Latest Updates by HRD Minister
NEET 2020 latest updates by HRD Minister - National Testing Agency (NTA) under Ministry of Human Resource and Development (MHRD) conducts the National Eligibility cum Entrance Test - NEET exam, a single entrance test for admission to undergraduate medical and dental courses. As per the latest updates on NEET UG by HRD minister, Dr. Ramesh Pokhriyal 'Nishank' has tweeted that a committee has been formed with DG NTA and other experts to review the COVID-19 situtation and conducting NEET exam. The report of the circumstances needs to be submitted by July 3, 2020, for which details are mentioned below. Earlier, the Center announced that all the remaining CBSE exam has been canceled, after this decision, there was a high chance of any updates regarding the status of NEET 2020 conduction by the HRD Minister soon. However, as per the latest update by HRD Minister, Dr. Ramesh Pokhriyal 'Nishank', NEET 2020 new exam date is July 26, which earlier was to be held on May 3. Also, in a live session, informing NEET 2020 latest update HRD minister said that a total of 16.84 lakhs aspirants have been registered for the NEET UG exam for taking admission to 82,926 MBBS, 26,949 BDS, 52,720 AYUSH, and 525 BVSc & AH seats offered in respective colleges of India. In the latest updates of NTA NEET 2020 by HRD minister, the preparation app - National Testing Abhyaas - is now available in the Hindi language.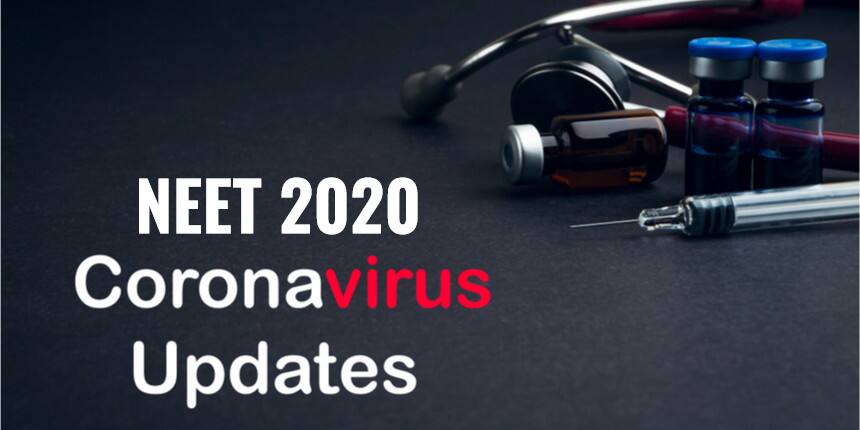 As per the MHRD revised schedule, barely in a month is left for conducting NEET 2020 and students must work hard to prepare for the exam. However, the cases of COVID-19 are still at a hike and as per the AIIMS Director, Randeep Guleria, it will be at its peak by mid-July. Therefore, the demand to postpone or cancel the NEET 2020 exam is spreading all over the country by the aspirants, parents, experts at a rapid speed but no decision regarding the postponements has been made by the MHRD. As per the reports, HRD minister updates on the NEET exam will be announced, as early as possible. According to the opinions, due to the increasing number of COVID-19 cases, postponement of NEET 2020 by HRD minister should be the latest updates, as students' health is important than exams.
NEET latest updates by HRD minister - meeting with NTA officials
As per the latest updates of NEET, HRD Minister met senior officials from NTA to hold discussions over the examination schedule amid Coronavirus. However, there has been no announcement on postponement of NEET UG entrance exam, even after students rally on social media platforms with hashtags like #postponeneetjee and #noexamsincovid. Check the details below Despite all, aspirants are advised by HRD ministers and education experts to focus on their NEET 2020 preparations. For this HRD Ministry has also released a mock test app, 'Abhyas', that let students prepare for the exam comfortably from their homes.
Candidates seeking for any information regarding NEET 2020 latest updates by HRD Minister can go through the article below, as any latest changes will be updated in this article below.
NEET 2020: Live news and update by HRD Minister
Candidates can go through the below mentioned live updates of NEET 2020 by HRD Minister. These NEET 2020 live updates by HRD minister will be updated, as soon as the information will be provided.
July 2, 2020: The education minister of India has tweeted to NTA DG to make a committee with other experts to review on NEET postponements considering the parents and students demand on postponements and COVID-19 cases. Check the official tweet below.
Looking at the prevailing circumstances & requests received from students & parents appearing for #JEE & #NEET examinations, a committee consisting of @DG_NTA & other experts has been advised to review the situation & submit its recommendations to @HRDMinistry latest by tomorrow. pic.twitter.com/xByKLUqAIc

— Dr. Ramesh Pokhriyal Nishank (@DrRPNishank) July 2, 2020
June 27, 2020: HRD Minister confirmed on in an interview that, as of now, there are no changes in the NEET 2020 new exam date, as authority will try to conduct on the pre-decided date.
June 25, 2020: The Center has made the decision to cancel the remaining CBSE exam. After this decision, there are high chances to see an update soon by the HRD Minister over the NEET 2020 exam.
June 23, 2020 (1:00 PM): As the hearing of the Supreme Court's on the pending CBSE Board exams 2020 has been adjourned and the important decision will be taken on June 25. HRD Minister might issue any update on NEET 2020 after the SC decision.
Note: As per the reports, a new NEET 2020 exam date will be announced after Tuesday the MHRD due to COVID-19 fear across the nation.
June 23, 2020: HRD Minister might give any update regarding conducting the NEET pen and paper-based exam. However, no NEET 2020 latest updates by HRD minister has been provided, as soon as it will be released, it will be updated on this page.
June 21, 2020: The union minister for Human Resource Development (HRD), Ramesh Pokhriyal 'Nishank' has announced that NTA has launched the Hindi tests feature in National Tests Abhyas mobile app. This will now help Hindi language candidates to prepare well for the exam.
June 18, 2020: Education Minister holds review meeting with UGC, AICTE, CBSE, and NTA officials on various issues related to education during the ongoing COVID-19 pandemic. In the meeting, it was discussed how NEET 2020 and other exams will be held, transportation of aspirants, safety at exam centres, tackling with the crowd and infected students, complete scanning of test-takers, and other details. However, no information has been released on NEET postponements due to Coronavirus. Meanwhile, Twitteratis took to Twitter with trending hashtags #noexamsincovid and #postponejeeneet. Also, the memes were shared for postponing NEET UG. Check some of the tweets below.
Since students safety is your priority. Not responding to tweets is very dissapointing.#postponeneet #HealthOverNEETjee
The only demand is to postpone NEET, JEE till normalcy considering interest of larger section.@yugayatri @the_hindu @HRDMinistry @republic #HealthOverExams pic.twitter.com/aARqNXwAGU

— Rajeev Mishra (@rajeev_mishra_) June 18, 2020
Thanku @Neerajkundan sir for your overwhelming support.#NoExamsInCovid #postponejeeneet @lokeshchugh09 @nsui @DrRPNishank @DG_NTA @HRDMinistry @MoHFW_INDIA @drharshvardhan https://t.co/h2BuPreEMi

— Nikhil Deshmukh (@Zomverse) June 22, 2020
Not only this but to prove that it is actually safe to give exams they should open parliament and courts. You should first walk on the path to show that it is actually safe. Just like SHREE RAM JI first walked on Ram setu then others followed.#postponejeeneet #Noexamsincovid https://t.co/nxx6KippEi

— Sunita (@Sunita49753522) June 22, 2020
May 19, 2020: For better NEET 2020 preparation HRD Minister has launched National Testing Abhyas, a mobile app, with one test paper being uploaded every day. Aspirants can answer the test as per the NEET 2020 exam pattern. After the exam, an analytical review of their performance will be provided.
May 15, 2020: The HRD minister Ramesh Pokhriyal, on May 15 has released a notice regarding the re-opening of the NEET 2020 correction window for all the registered candidates till May 31.
May 5, 2020: The Education Minister of India, Dr. Ramesh Pokhriyal Nishank, in his live session today has announced that the NEET exam date is July 26, 2020, along with 16.84 lakh aspirants taking the exam for admission to medical, dental, AYUSH, veterinary and other colleges.
Upcoming event of NEET 2020
If NTA will conduct the NEET 2020 exam as per the revised schedule, then the upcoming event will be the releases of the admit card. Authorities will release the admit card of NEET, tentatively on July 11 at ntaneet.nic.in. As per the NTA recent notice, NEET admit card 2020 release date to be announced 15 days before the exam. In order to download the NEET admit card, candidates need to enter the required credentials along with a security pin.
Frequently Asked Question (FAQs) - NEET 2020 Latest Updates by HRD Minister
Questions related to NEET
Showing 83637 out of 83638 Questions