NEET 2020: One Examination, Different Opinions
NEET 2020: One Examination, Different Opinions - National Testing Agency (NTA) conducts the National Eligibility cum Entrance Test (NEET) for admission to undergraduate medical dental colleges nationwide. NEET 2020 has been a topic since the COVID-19 outbreak as a large number of students will be appearing for the offline examination which will be conducted in a single shift. However, the current situation demands social distancing and proper sanitization. Amidst the 'Stay home stay safe' slogan, another slogan that is taking a toll is 'Life must go on'. NEET is a one-time opportunity for medical aspirants to secure a seat for themselves in the government and private medical colleges of the nation.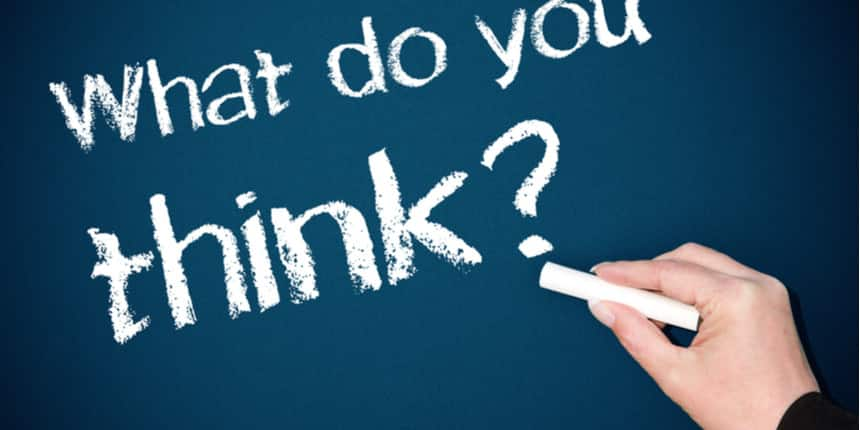 COVID-19 has made the scenario very stressful for students, parents, government and exam conducting authorities. The nation stands divided among those who demand NEET's further postponement and those who want it to be conducted on the scheduled date, which is September 13, 2020. For details on what's going on and how the scenario is affecting the preparations of aspirants refer to the article that follows, titled 'NEET 2020: One Examination, Different Opinions'.
NEET 2020: Latest Updates
August 21, 2020 - NTA has released the NEET 2020 COVID 19 advisory, which is also known as SOP for smooth conduct of the examination. The SOP comprises a set of standards and the operating norms between the conducting authority and centres conducting the exam.
August 20, 2020 - NTA has released an official notice confirming the exam date of NEET 2020. The authorities also notified students that NEET admit card 2020 is to be released soon. NEET exam centre city, where candidates can appear for the test has been allotted to them, as per their preferences filled. NEET 2020 admit card is expected to be released 15 days prior to the exam date.
August 18, 2020 - Students' advocate Alakh Alok Srivastava has written a letter to PM Modi and education minister Ramesh Pokhriyal 'Nishank' demanding the postponement of NEET exam, the reasons for postponement and what measures can be taken if exam is conducted.
August 17, 2020 - 11 petitioners from 11 states had filed a plea seeking postponement of NEET exam, however, SC has dismissed the plea. In the official order, the Supreme Court stated that the career of so many students cannot be put in uncertainty for so long. The court also said NEET will not be postponed and will be conducted as per the schedule.
NEET 2020 - One Examination
As aforementioned, candidates should be aware that NEET is the single undergraduate level medical entrance examination. This makes NEET the 'One Examination' for undergraduate medical admission nationwide. According to the authorities, a total of 16.84 lakh candidates have successfully filled NEET 2020 application form. The admission to 82,926 MBBS, 26,949 BDS, 52,720 AYUSH and 525 BVSc & AH offered in colleges of India will be through NTA NEET. Therefore, candidates are sure to face intense competition from fellow students nationwide. Also because this year admission to the undergraduate medical seats at AIIMS and JIPMER will also be through NEET.
NEET 2020: One Examination, Different Opinions
The national level medical entrance examination is seeing massive conflict of opinions where the majority is demanding postponement of NEET amid COVID-19. However, there are some who want NEET to be conducted on the scheduled date so that they are done with the exam and the regular postponements and can begin their academic session. The opinions have also seen both widespread protest and support. Some of the significant approaches towards the conduct or postponement are given below for the reference of candidates.
NEET 2020 Postponement - Politicians, Influencers and Previous Years toppers unite
The topic of postponement has united people from all fields which include top politicians, famous influencers and previous year NEET toppers. Social media is flooded with tweets and posts from such people urging the government to postpone NEET 2020. The tweets come with hashtags like #ProtestAgainstExamsInCovid, #CancelExams, #PostponeNEET. Some of the politicians, influencers and previous year toppers who came forward in the support of postponement are
Dr. Subramanian Swamy (Rajya Sabha MP)

Mamta Banerjee (Chief Minister of West Bengal)

Chirag Paswan (representing Bihar's Jamui constituency in Parliament)

Tejaswi Yadav (Bihar's Opponent Leader)

Kapil Sibal (Congress Party)

Dolly Singh (Youtuber, Influencer)

Bhuvan Bam

Ashish Chanchalani

Nalin Khandelwal (AIR 1, NEET 2019)

Stuti Khandelwal (AIR 71, NEET 2019)
These are some of the people who are vehemently opposing exams in September. There are many others who join them in this protest. 11 petitioners from 11 states had filed a plea for postponement which was dismissed by the Supreme Court of India.
#PostponeNEET - Supreme Court leaves the decision to the Government
On the matter of postponement, Hon'ble Supreme Court of India, gave its verdict that it will not interfere in the topic. The decision has been left in the hands of the government to whether or not exams should be conducted in the month of September. The authorities also dismissed various pleas filed by different petitioners seeking postponement of the examination.
NEET 2020: One Examination, Different Opinions - Floods in Assam and Bihar
It is known to all that the states of Assam and Bihar are facing heavy floods wherein life and infrastructure are at stake. People are barely being able to manage a living and are stuck at various places. In such a scenario it will be difficult for registered candidates to reach their examination centre and appear for the exam. In a condition where mobility is difficult, reaching exam centres, which is 40-50 km far for some candidates, will be a difficult task.
NEET 2020: Different Opinions
If we browse through social media we will find that there is also a certain section of society composed of students and their parents who are demanding NEET 2020 to be conducted on the scheduled date. Such people are completely frustrated with the regular postponement which is giving rise to their anxiety levels. They want to be done with the exam without any further delay, so that the academic session for this year is not hampered anymore.
Reaching exam centre: Not everybody's privilege
One of the major drawbacks that students are going to face if the exam is conducted on the scheduled date is that most of them will either have to travel too long or will not be able to reach the centre on time. This is because, despite the authorities to attempt to provide most of the candidates their first choice as the exam city, there are still many who have their exam centres far from home. A major chunk of this category students are the one who hail from the backward areas or villages. Firstly, they are not having much access to the internet, then, due to COVID-19 transportation facility is not proper which will be a hindrance for them in reaching exam centres.
Also, there are chances that male candidates are sent alone for the exam by their parents, but the case is not the same for most of the female aspirants. Either one of their parents will have to accompany them or keeping their safety in mind and give it priority, they might have to miss giving exams this year.
Also read:
How to prepare for NEET 2020 in 15 days
Frequently Asked Question (FAQs) - NEET 2020: One Examination, Different Opinions
Questions related to NEET
Showing 102086 out of 102086 Questions