NEET PG 2018 Topper – How Rachit Agrawal topped the exam
NEET PG 2018 Topper - As per the NEET PG result announced by the National Board of Examinations (NBE), Rachit Agrawal has emerged as the NEET PG 2018 topper, scoring 975 marks out of 1200. With 1,28,917 candidates appearing in the exam, and around 60,000 qualifying, topping NEET PG was no easy task for the young Gujarat-based MBBS student. Agrawal, who is currently completing his internship, pursued his MBBS at Pandit Deendayal Upadhyay Medical College, Rajkot. An interview with the NEET PG 2018 topper reveals that he has been an excellent student right from school, and while he was sure he would score good marks in NEET PG, he never expected to get the highest score. It was all about being consistent and making a diligent effort to crack the exam for the NEET PG 2018 topper. To know how to crack one of India's most competitive medical postgraduate exam, read here the various strategies and preparation methods followed by Rachit Agrawal in this NEET PG 2018 topper interview.

LATEST - CBSE has declared the NEET 2018 result; To check results, Click Here.
Stay up-to date with NEET PG News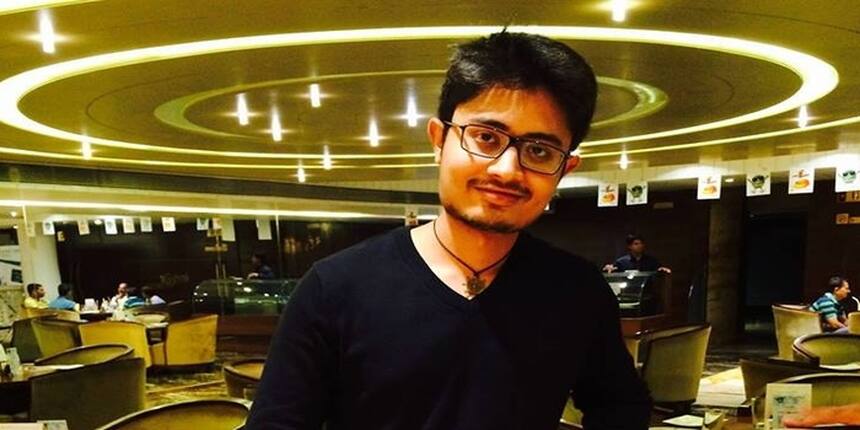 Interview excerpts:
Popular Online Medicine Courses and Certifications:
Careers360: What would you say were the main factors which contributed to your stupendous achievement of emerging as a topper in NEET PG 2018?
Rachit Agrawal: I would attribute my success to my family, who have always been a constant source of inspiration for me. Apart from them, my professors in college and my friends, all of whom have been a wonderful source of support.
Students also Liked:
Careers360: Which subjects did you focus on while preparing for NEET PG?
Rachit Agrawal: I made sure that I covered all the subjects but specifically focussed more on a few of them like Pharmacology, Pathology and PSM (Community Medicine) which are very crucial as they carry a lot of weightage. Being familiar with the basics in each subject and studying everything thoroughly is extremely important.
Careers360: How did your family support you? What kept you motivated while preparing?
Rachit Agrawal: Right from the beginning, all my family members have supported me in whatever I have chosen to study and my father also gave me full freedom to select the stream of my choice. I had however already made up my mind in wanting to pursue MBBS and then a good specialization post that. My brother had already appeared for the PG medical entrance a few years ago and managed to secure a very good rank. He also acted as a major source of motivation for me.
Careers360: Please tell us something about your family.
Rachit Agrawal: My father, Dr. Dilip Agrawal, works as an Opthalmologist. He is originally from Madhya Pradesh but has been settled in Rajkot for the last three decades. My mother is Mrs Arti Agrawal. My brother, Dr. Rahil Agrawal, is a Radiologist and currently works with the Manipal group as a senior resident doctor.
Careers360: Did you appear for any other PG medical entrance?
Rachit Agrawal: No, I haven't appeared in any other exam. My internship only ends on March 10 so I wasn't unable to spare time for any other PG exam which was being conducted before this.
Careers360: What are your plans now? Which specialization do you intend to pursue and from where?
Rachit Agrawal: I have known from the very beginning that I do not want to become a surgeon. As of now, I am still unsure about which branch to pursue and am trying to decide between Internal Medicine or Radiology. I want to take admission in Maulana Azad Medical College, Delhi as I think it's a great college.
Careers360: Any message or preparation tips for future NEET PG aspirants?
Rachit Agrawal: It is important to stay focused right from the beginning of your preparations. Develop knowledge of each subject you study in MBBS and ensure that you test this knowledge regularly. It is equally important to both study hard and study smart.
Other insights shared by the NEET PG 2018 topper
Using Social media as a time management tool
Rachit Agrawal started preparing for NEET PG four years ago when he was still in the second year of his MBBS course. The topper of NEET PG 2018 knew that he needed to score well to get a college and branch of his choice. In this process, according to the 23 year old, he discovered the benefits of social media. As revealed by him in an interview, "Social media can be of great help if used properly. We had different WhatsApp groups where I use to discuss and solve problems. I also extensively used Facebook to get guidance from faculties across the country,". Rachit's story is a source of inspiration not only for those who are preparing for NEET PG but also NEET UG aspirants who are preparing for the undergraduate entrance exam while simlutanesouly preparing for their Class 12 exams. As per the NEET PG topper, he was able to pursue his studies despite having to complete a 10 hour daily shift in his internship, something that all students struggling with time management can learn from.
Medicine as a career choice
Rachit's story suggests he always an exemplary student when it comes to academics and he was also strongly determined to pursue a career in medicine. The NEET PG topper 2018 has repeatedly asserted in various interviews, "I always wanted to be in the medical profession. Becuase it is not only noble, but also a secure profession". It wasn't always a walk in the park for the NEET PG 2018 topper as he said, "The study and internship schedule was gruelling, but in the end it was worth it. I never aimed for a rank but knew I would score well. Being the top ranker is a good feeling." He made sure that he studied for atleast five hours a day over the course of his NEET PG 2018 preparation.
Preparation Strategy
As per the preparation strategy suggested by Rachit for future NEET PG aspirants, his internship period was the time where he gave the maximum focus to his studies. "This exam is all about how much knowledge you gained during internship and the efforts you put in understanding the same. I used to study for 9-10 hours in last six months of my internship," Agrawal shares in his NEET PG topper interview.
Tips for future aspirants
Rachit started early in his preparations as he believed that it would really helped him later on in the whole process of successfully cracking NEET PG. "Only hard work and dedication will help. There are 20 subjects and you need to focus right from the moment you begin MBBS, more specifically during the one year of internship," he says.
Questions related to NEET PG
Showing 5852 out of 5852 Questions