NEET PG 2020 Topper Interview: Dr. Kartik Aggarwal (AIR 3) advises to keep yourself motivated
NEET PG 2020 topper interview - National Board of Examinations (NBE) has announced the result of the national level entrance examination for post graduation, ringing in light NEET PG 2020 toppers. The eve of January 30, 2020 marked great importance in the life of Dr. Kartik Aggarwal from Hisar, Haryana an AIR 3, topper of NEET PG with 1000 out of 1200 scores. Dr. Aggarwal is a student of SMS Medical College, Jaipur and is currently serving the internship period. Having his roots in a lower middle class family from the village of Gangwa in Haryana, Dr. Aggarwal credits all his success to his family. NEET PG is conducted every year for admission of medical and dental graduates into postgraduate courses nationwide. NBE conducted NEET PG 2020 on January 3, in online mode and released the result of the same on January 30. Medical aspirants can check the article below titled 'NEET PG 2020 topper interview' for an insight to the preparations of AIR 3, Dr. Kartik Aggarwal.
Stay up-to date with NEET PG News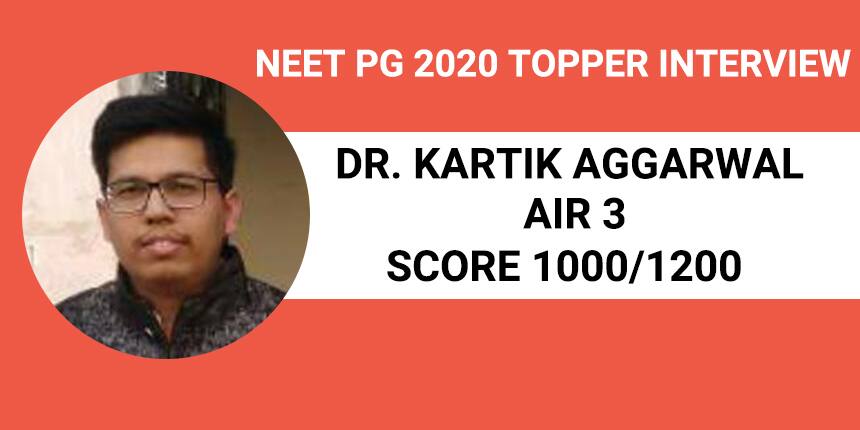 Latest: NEET PG 2020 scorecard has been released on February 5, check here
Read the extract of NEET PG 2020 topper interview as given to Careers360.
Careers360: Congratulations on emerging as a NEET PG 2020 topper! How are you feeling about your NEET PG results?
Answer: I am feeling extremely happy, it's a dream come true moment
Careers360: Tell us something about your background.
Answer: I am from Hisar, Haryana. I belong to a village named Gangwa. I belong to a lower middle class family and my family has done a lot of hard work. That motivated me in life, that I have to do something so that they do not struggle anymore. I have a younger brother and elder sister. My younger brother is pursuing BMS.
Popular Online Medicine Courses and Certifications:
Careers360: What motivated you to pursue medicine as a career?
Answer: There is no doctor in my immediate family but in far relatives, my uncle is a doctor. He is an Orthopaedician. This inspired my family that they should also have a doctor in their family. From there that started.
Careers360: From where did you complete your MBBS?
Answer: I completed my MBBS from SMS Medical College, Jaipur
Careers360: How did your family support you in your journey?
Answer: My family supported me to a level that I can't describe in words. They have done a lot for me.
Careers360: Could you share with us your overall and subject-wise score in NEET 2020?
Answer: My overall score is 1000 out of 1200.
Students also Liked:
Careers360: Did you appear for any other PG Entrance exam?
Answer: No, this is my first entrance exam. Also, my first attempt.
Careers360: How did you prepare for NEET PG 2020?
Answer: It started from the very beginning of my MBBS from the day I entered my medical college. Actually I am very fond of knowing everything. I don't want my patients to suffer because of my lack of knowledge. This kept me motivated and helped me work harder and harder.
Careers360: How much time did you devote to self-study vs. coaching?
Answer: I did the entrance exam preparation more seriously in the internship period. In that year I had 10 months so I started more rigorously. I used to study 10 -12 hours, at time 13 hours a day. I took offline coaching from Jaipur DBMCI and I also joined Marrow in the late final year. Both self study and coaching are required, but self study is a must.
Careers360: Which was the most difficult section in the examination?
Answer - I can't tell you about section wise difficulty because questions come in a jumbled up manner. However, the exam was lengthy with a lot of clinically oriented questions.
Careers360: How did you tackle your weaknesses and strengths?
Answers: There were some subjects I find to be strong like Pathology and Anatomy. I took my strong subjects at the last. I rather focused on subjects like Surgery.
Careers360: What are your hobbies? Did you engage in them during the preparations?
Answer: I like to gossip with my friend, they have lots of ups and downs, talking to them kind of recharges me.
Careers360: What factors would you attribute this success to?
Answer - I owe all my success to my family. They have done a lot for me. I have got their support at every step of my preparation.
Careers360: Any particular college and specialization you have in mind for admission?
Answer- I want to pursue MD as my career. I wish to pursue it from Maulana Azad Medical College, Delhi.
Careers360: Any message or advice for future medical aspirants?
Answer: Keep on doing hard work, focus on your preparations, and don't get disappointed by disheartening results. This is because if you are doing hard work and you are focused, you will reach there, today or tomorrow.
Questions related to NEET PG
Showing 5853 out of 5853 Questions