NEET PG 2020 Topper Interview: "Do not pressurise yourself to study" says Dr. Shiv Kumar Sharma, AIR 1
NEET PG 2020 Topper Interview (Dr. Shiv Kumar Sharma, AIR 1): The date of NEET PG result on January 30, has been imprinted as a day of pride for NEET PG topper 2020, Dr. Shiv Kumar Sharma. Currently residing in Jaipur, this NEET PG topper always wanted to become a doctor. A son of Sanskrit professor in Rajkiya Sanskrit College, Jaipur, Dr. Shiv Kumar Sharma has obtained an emphatic 1013 marks (out of 1200) in NEET PG 2020 exam, which was held on January 5. In conversation with Careers360, the NEET PG topper highlighted the importance of self-study. He advised not to take pressure to study. Instead, he asked the future NEET PG aspirants to understand the concepts rather than studying it. Read the full NEET PG 2020 topper interview of All India Rank 1 to know about his journey of preparation and magnificent success.
Latest - NBE has released NEET PG scorecard 2020; download using login credentials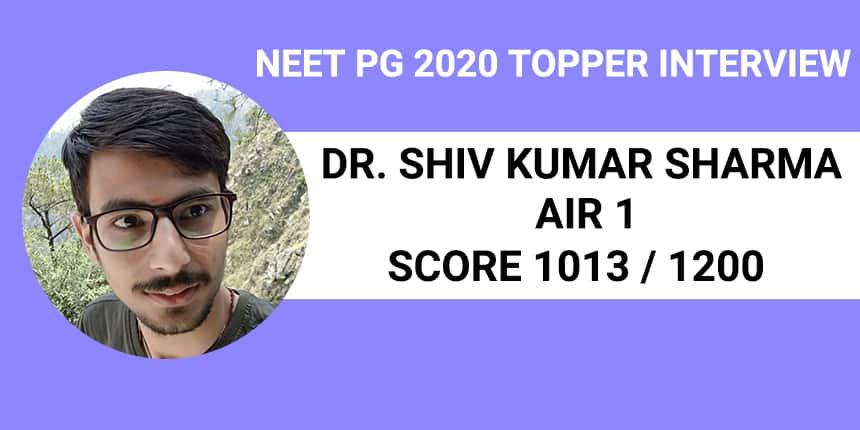 Read the extract of NEET PG 2020 topper interview below.
Careers360: Congratulations on emerging as a NEET PG 2020 topper! How are you feeling about your NEET PG results?
Answer: I was not at all expecting to be declared as AIR 1 of NEET PG topper. I was so stressed a day before NEET PG exam that I could not even sleep. I had no idea of the questions asked in the NEET PG 2020 exam.
Careers360: Tell us something about your background.
Answer: I belong to Dausa district in Rajasthan, but currently living in Jaipur. My father is a professor in Rajkiya Sanskrit College, Jaipur and my mother is a housewife. My younger sister is pursuing MBBS from Rajasthan.
Careers360: What motivated you to pursue medicine as a career?
Answer: From the beginning my mother used to encourage me to be a doctor. From my initial age, I used Doctor (Dr.) as my prefix. Took Biology as the main subject in Class 11 and appeared for the National Eligibility cum Entrance Test - NEET exam. Now I will be pursuing PG.
Careers360: From where did you complete your MBBS?
Answer: I will be completing my MBBS from SMS Medical College, Jaipur, within two months after the completion of rotatory internship.
Careers360: How did your family support you in your journey?
Answer: My mother, father and sister are my stress busters for life. The entire year for NEET PG 2020 preparation is an isolation. During that stage, the family members are the one who stand beside you for everything.
Careers360: Could you share with us your overall and subject-wise score in NEET 2020?
Answer: My overall score is 1013, while the subject-wise scores will be displayed in the NEET PG 2020 scorecard, which will be available from February 3.
Careers360: Did you appear for any other PG Entrance exam?
Answer: No, I have not appeared for any other examination as of now. I have filled forms but since there is a bond amount of 5 lakh so I have not decided anything.
Careers360: How did you prepare for NEET PG 2020?
Answer: There was nothing fix. As an intern as much time I got in the entire day I used to devote myself to studying. I did not pressurize myself to study. I used to study only when I wanted to.
Careers360: How much time did you devote to self-study vs. coaching?
Answer: Took foundation course from DBMC Institute, Marrow all my preparations were from on the basis of these.
Careers360: What was your exam day strategy for all specializations?
Answer: No, as I said I could not sleep well the night before the examination.
Careers360: What are your hobbies? Did you engage in them during the preparations?
Answer: Whenever I felt stressed or wanted to relax I spent time with family and used to talk to friends or watch funny videos on youtube.
Careers360: What factors would you attribute this success to?
Answer: With no doubt, my family is the first one to whom I dedicate this success to. However, my seniors also helped me a lot during my preparations.
Careers360: Any particular college and specialization you have in mind for admission?
Answer: Not thought about it yet. Will confirm it after the completion of internship.I will work in every field in see which one should I specialize in
Careers360: What do you think about the merging of AIIMS and JIPMER with NEET 2020?
Answer: Its good instead of three exams there will be one. Toppers can take admission anywhere. Conduction of exams will not be done at multi level and students will be in lesser stress. Cutoff will also be low so it will become easy.
Careers360: Any message or advice for future medical aspirants?
Answer: Do not lose hope and don't get scared about results because once you come in the field of medicine then you must know there will be a lot of exams.
Careers360: What do you think about the National Exit Test (NEXT) introduced by National Medical Commission (NMC) Bill?
Answer: NEXT will be the same as NEET as per my knowledge. Just that a bit more clinical aspects will be added and more focus on internship will be there.
Questions related to NEET PG
Showing 4851 out of 4851 Questions