NEET PG 2021 Expert Tips on Best Books
NEET PG 2021 Expert Tips on Best Books: Medical aspirants after completing their MBBS degree often wish to explore in the field of medicine and thus, appear in NEET PG. Careers360 brings this article on NEET PG 2021 best books by Gaurav Tyagi, Founder, Career Xpert to help candidates crack the test.
Stay up-to date with NEET News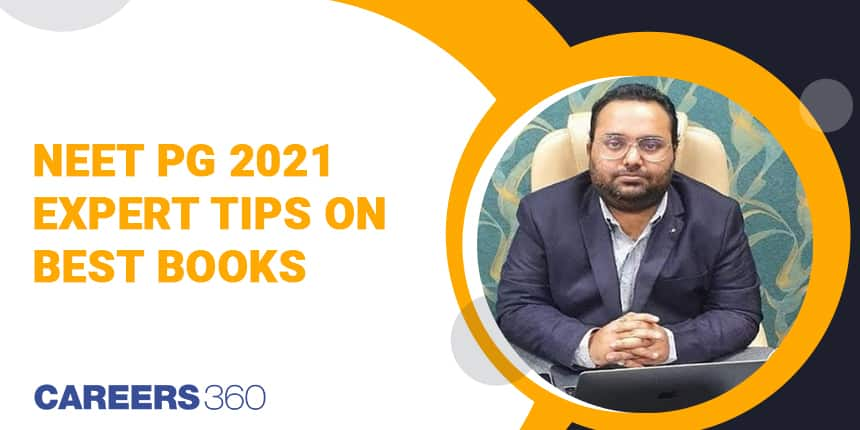 The National Eligibility, cum Entrance Test for postgraduate, or NEET PG is a national level medical test conducted by the National Board of Examinations (NBE). And since more than 1 lakh aspirants register for the medical test, graduates must put their best foot forward and use the best strategy to score well. This article on NEET PG 2021 expert tips on best books will save candidates' time and help them choose the appropriate subject-wise study material for the exam.
Through NEET PG 2021, admission to 12,690 Master of Surgery (MS), 24,360 Doctor of Medicine (MD), and 922 PG Diploma seats will be granted. Registered candidates must read the article on NEET PG 2021 expert tips on best books for related information.
Popular Online Medicine Courses and Certifications :
The syllabus of NEET PG 2021 is divided into 3 major sections i.e. Pre-clinical, Para-clinical, & Clinical sciences that were taught during MBBS. These 3 sections are further divided into various subsections. NEET PG syllabus comprises subject areas as per the Graduate Medical Education Regulations issued by MCI. The syllabus of NEET PG is not prescribed word by word by NBE, candidates can thus refer to the syllabus prescribed by MCI.
NEET PG 2021 Best Books By Expert
"The biggest secret for students is to prepare in the manner in which they will be evaluated for the exam and for this they need to understand the objective of the exam." says expert Gaurav Tyagi.
Adding to this, the expert has shared some of the best books for NEET PG 2021 preparation, for candidates to score well and crack the exam in one go. Mentioned in the table below are the NEET PG 2021 best books by expert.
Topic

NEET PG 2021 Expert Tips on Best Books

Anatomy

Human Anatomy- B D Chaurasia's

Atlas of Human Anatomy EBook- Frank H. Netter

Self-assessment and review of Anatomy- Rajesh Kaushal or MCQ book by Dr. Raviraj

Pharmacology

Review of Pharmacology- Gobind Rai Garg, Sparsh Gupta

Essentials of Medical Pharmacology- K. D. Tripathi

Pharmacology MCQ for All India Postgraduate Medical Entrance Examination Dr. Chetan D.M., Dr. Chandrasekhar V.M., Dr. Sujatha Barangi, Dr. Raghavendra H.L

Pharmacology Review-S.R. Saif

Biochemistry

Self-Assessment and Review of Biochemistry (PGMEE)- Rebecca James Perumcheril

Textbook o, Self-Assessment & Review Microbiology & Immunology

Biochemistry for Medical Students- Vasudevan DM

Forensic Medicine

Review of forensic medicine- Sumit Seth

Smart Study Series: Forensic Medicine and Toxicology- Dr. Gaurav Aggarwal

The Essentials of Forensic Medicine and Toxicology- K.S. Narayan Reddy

Pathology

Review of Pathology and Genetics (PGMEE)- Gobind Rai Garg, Sparsh Gupta

Textbook of Pathology with Pathology Quick Review and MCQs- Harsh Mohan

Microbiology

Review of Microbiology and Immunology (PGMEE)- Apurba Sankar Sastry, Sandhya Bhat K

Self-Assessment and Review Microbiology and Immunology- Chaurasia Rachna

Complete Review of Microbiology & Immunology- Sonu Panwar and Sameer Faujdar

Pediatrics

Ghai Essential Pediatrics Vinod K. Paul

Self-Assessment and Review of Paediatrics- Arvind Arora

Self- Assessment and Review of Pediatrics and Neonatology- Sushanta Bhanja

Medicine

Self-Assessment & Review Medicine (Part A & B) (PGMEE)- Mudit Khanna

Complete review of medicine for NBE- Deepak Marwah or Mudit Khanna

Surgery

Surgery Sixer for NBE- R Rajamahendran

Surgery Essence (PGMEE)- Pritesh Singh

SRB's Clinical Methods in Surgery- Sriram Bhat M.

PSM

Community medicine (PSM)- Vivek Jain

Physiology

Guyton & Hall Physiology Review- John Hall

Essentials of Medical Physiology- A.B.S. Mahapatra

Review of Physiology (PGMEE)- Soumen Manna

Crisp Complete Review Of Integrated Systems Physiology- S Krishna Kumar

OBS and Gynae

Self-assessment and review of obstetrics & Gynecology- Sakshi Arora

ENT

ENT for the entrance exam- Manisha Sinha and Sachin Budhiraja

Ophthalmology

Self- Assessment and Review of Ophthalmology (PGMEE)- Sudha Seetharam

Review of Ophthalmology 6th Edition- Ruchi Rai

Quick Review Of Ophthalmology- B Ram Gopal

Comprehensive Ophthalmology 5E- Dr. A. K. Khurana

Textbook of Ophthalmology for Paramedical Courses- S. B. Gupta

Orthopedics

Essential Orthopaedics (Including Clinical Methods)- Maheshwari

Orthopedics Quick Review All Topics- Mehra Apurv

Essential Orthopaedics Principles & Practice: 2 Volumes- Manish Kumar Varshney

Fundamentals of Orthopedics- Mukul Mohindra, Jitesh Kumar Jain

Radiology

Review of Radiology- Rajat Jain

Dermatology

Review of Dermatology- Saurabh Jindal

Anesthesia

PROAFS Anesthesia for NBE- Profs by Vivek Jain


Students also Liked:
As per the paper pattern of NEET PG 2021, a total of 200 multiple-choice questions will be asked wherein, candidates will be given 3 hours 30 minutes to solve the questions. NEET PG 2021 exam pattern further states that for every correct answer, four marks will be awarded while one mark will be deducted for a wrong attempt.
Questions related to NEET
Showing 116711 out of 116711 Questions