NEET PG 2023 Topper Interview: The National Board of Examinations (NBE) announced the result of the National Eligibility cum Entrance Test for Postgraduate or NEET PG 2023 on March 14. By securing 716 marks in the postgraduate medical exam, Dr Jui from Mumbai has secured All India Rank (AIR) rank 7.
In this article, Dr Jui has shared the strategy that helped her crack the exam and become one of the NEET PG 2023 toppers. She further gives some advice for future NEET PG aspirants on how they can prepare for the exam. Interested candidates can read further to know the complete interview of NEET PG 2023 AIR 7 Dr Jui.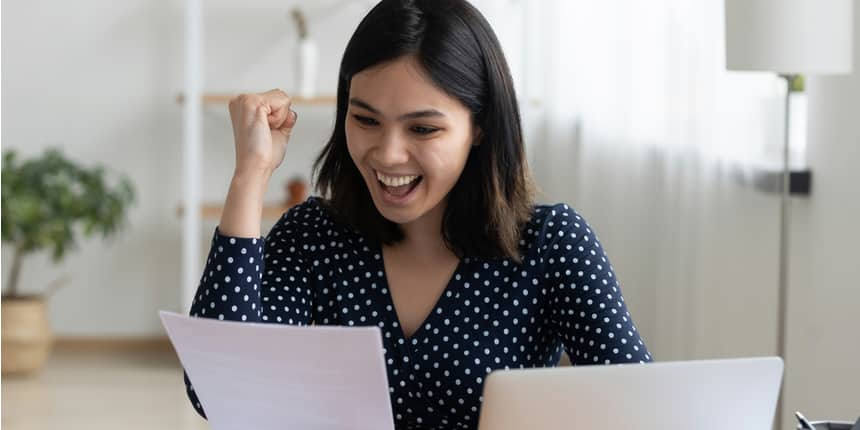 NEET PG 2023 Topper Interview- Dr Jui, AIR 7
Careers360: Congratulations on emerging as a NEET PG 2023 topper! How are you feeling about your NEET PG 2023 results?
Dr Jui: It feels amazing, it feels very unreal. It feels like I'm dreaming.
Careers360: Tell us something about your background.
Dr Jui: I'm from Mumbai. I did my MBBS from Seth GS Medical College and KEM hospital and this was my first attempt.
Careers360: What or who motivated you to pursue medicine as a career?
Dr Jui: My entire family are doctors, all are Ob-Gyn which motivated me.
Careers360: Where did you complete your rotatory internship?
Dr Jui: I am still doing my internship at KEM hospital.
Careers360: Did you appear for any other PG medical entrance examination?
Dr Jui: No, this is my first attempt.
Careers360: How did you prepare for NEET PG 2023?
Dr Jui: I used Marrow as my primary source to study for NEET PG. I used to watch the videos and make my own notes. During my internship, I utilised the custom modules.
Careers360: Did you take any mock tests to prepare for NEET PG 2023 preparations?
Dr Jui: I gave Marrow Grand Tests right from the beginning. I made sure to give as many GTs as possible because that is the only way I could see my progress. I also gave the NEET Mock.
Careers360: Did you have any specific exam day strategy?
Dr Jui: I made a notebook separately where I wrote down all the mistakes that I made in Grand Tests, and I went through this notebook one day before the exam, along with brushing up on PYQs.
Careers360: What are your hobbies and did you find time to engage in your hobbies throughout your NEET PG 2023 preparations?
Dr Jui: I really enjoy dancing. I danced in my college quite a bit. I enjoy singing and painting as well and these are the things that helped me escape from the preparation every now and then.
Also read: How to prepare for NEET PG with a job?
Careers360: Any message or advice for future medical aspirants?
Dr Jui: It's very important that we first protect our mental health. I want to emphasise that I did not push myself for a top-10 rank. I was happy to get whatever rank I could get because I knew I had put my best efforts in. I was not going to compare myself to everybody around me because everybody has their own journey.