NEET PG is a National level postgraduate medical entrance examination which is conducted by the National Board of Examinations (NBE). Through NEET PG, admission is granted to Doctor of Medicine (MD), Master of Surgery (MS) and PG Diploma seats in various government, private, Deemed/Central, ESIC and AFMS medical institutions across India. The postgraduate medical entrance test is conducted in computer-based mode annually. Aspiring candidates must be MBBS graduates and must have completed the mandatory internship before the required time frame.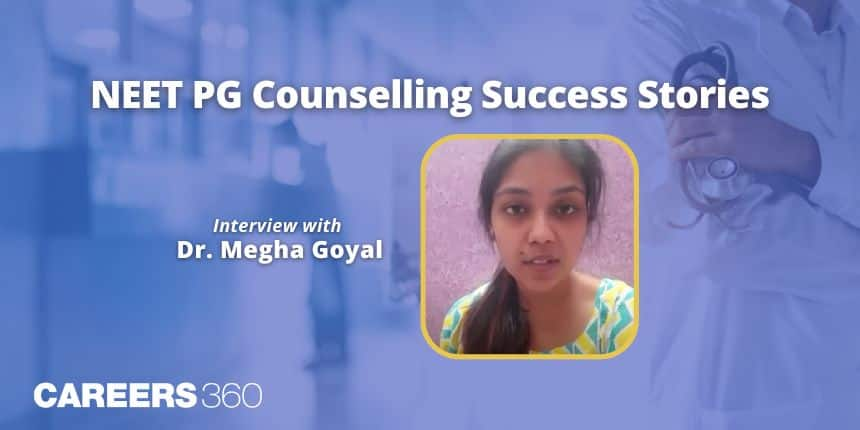 NEET PG Counselling Success Stories: Interview with Dr Megha Goyal
Careers360 in an interview with Dr Megha Goyal brings you her success story on how Careers360 counselling companion helped her throughout the tough process of NEET PG counselling, finally making her a part of JJM College. Read the full interview of Dr Megha Goyal here.
Also read:
Full video of Dr Megha Goyal in conversation with Careers360
Careers360: Can you please tell us something about yourself and your achievement and is this your first attempt?
Dr Goyal: This is Dr Megha Goyal from Guntur, Andhra Pradesh. I secured a rank of 11157 in NEET PG 2022 but after I got this rank this was my second attempt. I really wanted to be done with this exam process and wanted to join in the best possible college that I can get into.
Also read: Colleges accepting NEET PG scores
Careers360: How did you come to know about Careers360?
Dr Goyal: While I was looking for data, I started searching online about what are the colleges available for me and then I came across Careers360 as one of the platforms. So, I went and had a call with them and they told me about all the services they are providing.
Careers360: Was the guidance given as per your choice?
Dr Goyal: The team provided me with the guidance about what is the next step to be taken because the school counselling process is like a bigger task than preparing for NEET PG Exam. I had quite a few calls with the Careers360 team and they explained to me the whole process.
Careers360: What is the process being followed to get the students placed and do you like the process followed?
Dr Goyal: Yes, the team helped in understanding the steps of counselling, documents that need to be prepared and different options I have. They curated a list for me and also they gave suggestions about the things I can look for in the state counselling. This year's counselling there were quite a lot of delays from the state counselling especially the Karnataka PG medical counselling.
Careers360: How does your counsellor motivate you?
Dr Goyal: Careers360's counsellor was of really great help. She gave me the confidence that I can let go of the DNB that I am getting and wait for state counselling and can get into MD/MS because by the time I was getting this DNB I had no other seating in hand. I wasn't really sure if it will be a wise choice to let go off what I am getting in the hope of something that I am not sure I will get or not but the team assured me with the data of last year that I do have good chances of getting into MD/MS and so I waited for the state counselling.
Careers360: In which branch got admission after the one-to-one counselling with our team?
Dr Goyal: For this year's counselling there were quite a lot of delays from the state counselling, especially the Karnataka state counselling which I was aiming for because of the high court case. I was getting DNB Institute but looking at last year's NEET PG cutoffs, I was somewhere sure that I will get a good college. The OBG branch is one of the branches that I was hoping for.
Careers360: Are you happy? Will you recommend Careers360's counselling package to your connections?
Dr Goyal: I have been able to get into this college. Finally I got MS OBG In JJM College Devangere and I'm really happy. I am so thankful to the team, thank you to careers360 for helping me in this journey. Thank you.