NEET 2017 Preparation Tips: Expert interview with Aakash Chaudhry
Less than 40 days remain for NEET 2017, scheduled to be conducted on May 7, 2017 and aspirants are expected to be in the final stages of their preparation. As part of a special series on tips and useful information required to crack NEET, Careers360 presents an exclusive interview with Aakash Chaudhry, Director of Aakash Educational Services Pvt. Ltd.
Related Post -
NEET 2019
NEET Eligibility Criteria 2019
NEET Application Form 2019
NEET Admit Card 2019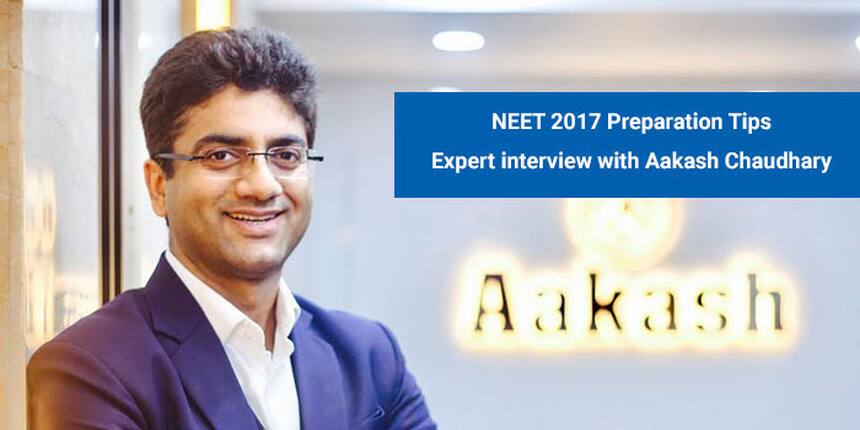 In this interview, the exam expert advises you to revise study material thoroughly and shares other last minute tips. "Aspirants should develop smart preparation strategy, learn formulas and understand the basic concepts," Mr Chaudhry says, while also highlighting the three factors essential for good performance in the national level entrance exam – speed, accuracy and confidence.
Read the full interview below to know how best to prepare for NEET 2017 in the final four weeks before the exam.
Careers360: How does implementation of NEET benefit candidates? Please share your insights on its pros and cons?
Aakash Chaudhry: NEET will be especially challenging for those students who have never been exposed to competitive exams and whose syllabus in Classes XI and XII is not aligned with CBSE. However, it should also be considered that previously, students had to apply for medical seats by attempting multiple examinations. Syllabus differences, date clashes, different exam patterns, distance to the exam centre - all of these and other factors made it a burdensome experience for most medical aspirants attempting these different exams. At least now, the single entrance system has taken away a lot of stress and is also a financial relief to the parents. It has benefited the weaker sections of the student fraternity. Also, it favors a merit-based system of selection. Due to these reasons, a single medical entrance exam is definitely a welcome decision.
Careers360: What generic changes are required in preparation strategy for NEET 2017 as compared to earlier state level and institute level exams?
Aakash Chaudhry: Give equal weightage to each and every topic from Class 11 and Class 12 for NEET preparations. Though NCERT syllabus should be your primary focus area, do not limit your preparation approach to that alone. Make sure you prepare each and every topic of various subjects from NCERT as well as popular competitive reference books. Have a comprehensive strategy with well-defined short-term and long-term goals in your exam preparations. For example, topics to be done on weekly and monthly basis, in addition to the number of practice tests for various subjects and sub-topics to be taken on fortnightly and monthly basis.
As you delve further into any given topic, note down critical formulae that you encounter in each and pin them right in front of you. Make individual notes for each and every topic. Analyse the problem-solving techniques for various numerical problems and formulate a rough design to approach such questions. If there is more than one method to approach the same problem, make sure you practice both of them till you are adept. Devise a rough and quick method to reach solutions and revise these rough approach methods often.
As the overall difficulty of the NEET question paper is generally expected to be higher than AIPMT question paper, it is advised to have a dedicated and thorough preparation for NEET 2017 examination with mock papers and paper of NEET 2016 examination.
Careers360: What should be the ideal preparation strategy for different subjects? Could you please share separate strategies for Physics, Chemistry and Biology?
Aakash Chaudhry: As only three weeks are left for NEET 2017, I would suggest the following subject-wise plan for the same:
Physics: On an average, 85% of the questions asked in NEET have an easy or average difficulty level. A large share of such questions is formula-based. Make a chapter-wise chart of all the formulae in Physics and pin it in front of your study table. It will be beneficial if you also learn all the relations as doing so will save a lot of time during the final exam. Emphasise on topics such as 'System of Particle and Rotational Motion', 'Current Electricity', 'Semiconductor Electronics', 'Dual Nature of Radiation and Matter' and 'Optics'.

Biology: Prepare 'Human Physiology', 'Plant Physiology', 'Cell Biology', and 'Biomolecules' from Class XI syllabus according to previous questions in NEET and AIPMT examinations. Moreover, 'Animalia' and 'Plantae' must be given special attention as they are comparatively tough topics. The main emphasis, however, should be on characteristics of non-chordate and chordate phyla along with their examples. Also, memorise the common and scientific names of the organisms. Exercise as many numerical problems from 'Genetics' as you can along with the pedigree chart. You must also establish a strong understanding conceptually about 'Biotechnology' and 'Ecology'.

Chemistry: Chemistry is often regarded as the toughest subject by students. On the contrary, it is one of the easiest if you can develop an understanding at the basic level. This can be done by strengthening your concepts through elaborate revision of chapters and individual topics. Begin your preparation with 'Physical Chemistry' and treat each and every topic as a chapter in itself. Later, apply your concepts on MCQs and question banks. In 'Inorganic Chemistry', before starting a topic, look up to previous years' question papers to understand which are the topics from which the maximum questions are asked. Repeat the formula chart activity (include formulae of important chemicals and minerals) as done in physics and memorise them daily. Frequently revise topics such as coordination chemistry and p-block chemistry to ensure maximum retention. Keep on trusting NCERT as far as Inorganic Chemistry is concerned. Other topics demand a clarity of concepts. Here, you can take assistance from study materials for additional references. It might take extra effort but you must maintain your confidence and consolidate your concepts. Approach easier sections first and then move on to difficult portions.
Careers360: Any last-minute tips for students?
Aakash Chaudhry: I would recommend the following key tips to be followed in the last few days before the exam -
Be thorough with the basics – The key to crack an entrance examination is to have clear concepts and to be thorough with the basics. Be thorough with the NCERT Books, especially of Biology & Chemistry of class XI and XII as this is the basic & most important component of your preparation.

Efficient revision of important topics – As the syllabus is vast; one needs to know the most important topics to draw the best output. Revise the chapter in accordance with its importance in NEET. Do not try to give any extra time to those chapters in which you are very weak because it is very difficult to do justice to these topics in the short time available.

Prepare visual charts – It is easier to recall something which can be visualized. Revision of notes prepared in the form of summary sheets, flow charts, formulae sheets etc. during this period will be good. Prepare them and keep them in a place where your eyes can regularly catch them.

Develop an examination temperament by solving previous years' question papers and mock tests – It is very important to practice with a few mock test papers of NEET level along with previous years' AIPMT papers, depending on the time left for the final exam. A comprehensive analysis of answers after the test will also help you to review and rectify your weaknesses. These tests will also help you in understanding how you should manage your time in different sections of the paper so that you do not get stressed. Stress appears only when you mismanage your time.

Identify repetitive questions and practise them – While solving the previous years' test papers, identify the repetitive questions and practice them thoroughly.

Practise the best study techniques - It is essential to have the best environment for studying so that you can concentrate without any distractions. Splitting of larger chapters to smaller blocks can enable you to complete it easily and if possible try to get your doubts cleared then and there rather than combining all of them together.
Stay tuned to www.medicine.careers360.com for more information on NEET
Questions related to NEET
Showing 83466 out of 83467 Questions