NEET 2022 Preparation Tips by Gaurav Tyagi, Founder of Career Xpert
NEET 2022 Preparation Tips - The National Testing Agency (NTA) conducts the National Eligibility cum Entrance Test (NEET) every year for admission to MBBS, BDS, AYUSH, BVSc, and AH degree programs. The NEET 2022 exam date by NTA has not been announced yet. However, aspirants must have started their NEET 2022 preparation to ace the exam with ease.
Stay up-to date with NEET News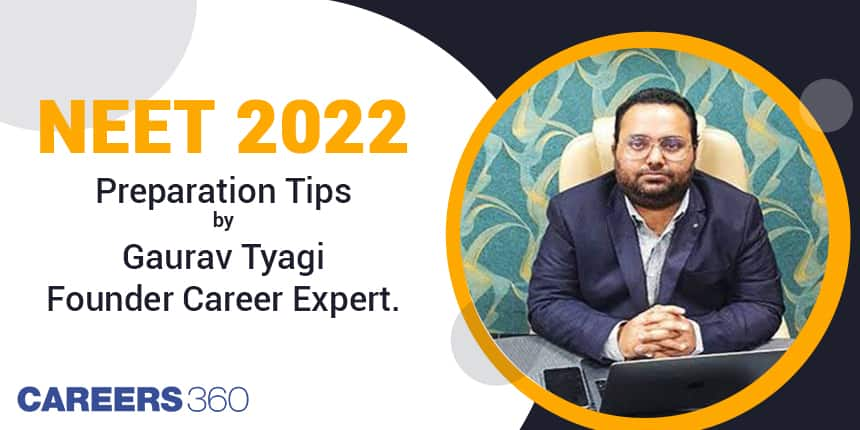 NEET exam not only tests aspirants' academic performance but also involves their zeal and determination to pursue a career in medicine. Thus to qualify for the entrance exam, aspirants have to be ready with better preparation strategies for NEET-UG 2022.
In order to bring to you tested tips and tricks to crack NEET 2022 and for the correct approach for the preparation, Careers360 got in touch with Gaurav Tyagi, Founder of Career Xpert. Read the articles on NEET 2022 preparations, to know the strategy by experts, topics to revise, and other important guidelines to prepare.
Understand the NEET 2022 exam pattern
First and foremost one should be well equipped with the NEET 2022 exam pattern before appearing for the exam. It would benefit the candidate to plan for the NEET 2022 preparation. The paper pattern comprises the details like the total number of questions in the NEET 2022 question paper, mode, duration, and all other relevant details.
NEET 2022 paper pattern
| | |
| --- | --- |
| Particulars | Details |
| Name of the examination | National Eligibility cum Entrance Test (NEET) |
| Mode of the examination | Offline |
| Duration of the examination | 180 minutes |
| Total number of questions asked | 200 (180 to be attempted) |
| Total marks | 720 |
| Negative marking | Yes |
NEET 2022 - Section-wise number of questions
| | | |
| --- | --- | --- |
| Sections | Number of Questions | Total Marks |
| Physics Section A | 35 | 140 |
| Physics Section B | 15 | 40 |
| Chemistry Section A | 35 | 140 |
| Chemistry Section B | 15 | 40 |
| Botany Section A | 35 | 140 |
| Botany Section B | 15 | 40 |
| Zoology Section A | 35 | 140 |
| Zoology Section B | 15 | 40 |
Know the NEET 2022 syllabus
Candidates need to be familiar with the NEET syllabus 2022, as it acts as a base for preparation of the examination. They should also be aware of the sections,chapters, and concepts that are in the NEET syllabus so that they can formulate and strategize according. The NEET syllabus 2022 comprises of three subjects which are Physics, Chemistry and Biology (Botany & Zoology).
NEET 2022 Syllabus for Physics
Class

Important Topics

Physics topics class XI

Physical-world and measurement

Kinematics

Laws of Motion

Work, Energy, and Power

Motion of System of Particles and Rigid Body

Gravitation

Properties of Bulk Matter

Thermodynamics

Behaviour of Perfect Gas and Kinetic Theory

Oscillations and Waves

Physics topics class XII

Electrostatics

Current Electricity

Magnetic Effects of Current and Magnetism

Electromagnetic Induction and Alternating Currents

Electromagnetic Waves

Optics

Dual Nature of Matter and Radiation

Atoms and Nuclei

Electronic Devices
NEET 2022 Syllabus for Chemistry
Class

Important Topics

Chemistry topics class XI

Some Basic Concepts of Chemistry

Structure of Atom

Classification of Elements and Periodicity in Properties

Chemical Bonding and Molecular StructureStates of Matter: Gases and Liquids

Thermodynamics

Equilibrium

Redox Reactions

Hydrogen

S-Block Element

P-Block Elements

Organic Chemistry

Hydrocarbons

Chemistry topics class XII

Solid State

Solutions

Electrochemistry

Chemical Kinetics

Surface Chemistry

General Principles and Processes of Isolation of Elements

P- Block Elements

D and F Block Elements

Coordination Compounds

Haloalkanes and Haloarenes

Alcohols, Phenols, and Ethers

Aldehydes, Ketones and Carboxylic Acids

Organic Compounds Containing Nitrogen

Biomolecules

Polymers
NEET 2022 Syllabus for Biology
Class

Important topics

Biology topics class XI

Diversity in Living World

Structural Organisation in Animals and Plants

Cell Structure and Function

Plant Physiology

Human physiology

Biology topics class XII

Reproduction

Genetics and Evolution

Biology and Human Welfare

Biotechnology and Its Applications

Ecology and environment
How to study for NEET 2022?
Planning is easy, it's execution which is tough. It's essential to study it the right way and from the right material.
NCERTs, is the go to book for NEET 2022 preparation, it's the base for the preparation and one shouldn't ignore it at any cost.

NEET coaching materials, which could could provide you opportunity to practice questions on the actual NEET pattern. Below we will provide you with a list of study materials you can refer.

Previous year NEET question papers, better not ignore them. It's of utmost importance that you go through previous year question papers.

NEET mock tests 2022, remember to self assess yourself regularly and for that taking regular mock tests is important. It helps one to anaylse them to know their own weakness and strengths.
NEET 2022 preparation tips - Subject-wise
Physics: For physics, solve as many questions as you can. Additionally, create a chapter-wise formula sheet that comprises all formulas and laws discussed in the chapter.

Chemistry: For chemistry, learn diagrams and chemical equations by heart. After completing every chapter, create a sheet for chemical equations and formulas to be used in solving the questions.

Biology: For Biology, learn diagrams by heart to understand a topic. Pictures help you retain the information more effectively. Diagrams are an important factor for NEET 2022 preparation.
Important preparation tips for NEET 2022:
Remember to divide you study time into small portions of 2-3 hours each. Take small breaks. This will help you in concentrating effectively and efficiently.

NEET examines your basics. Make sure to keep your basics strong. Solving complex problems requires you to have strong fundamentals.

As said previously going through NCERT is of essence. Don't skip or ignore it as it acts as a basis for your preparation.

Self-study holds the ultimate power, coaching and school teaching comes secondary.

Cut down on pointless distraction, managing your time is very important. If you wish to de-stress from the pressure pick up a hobby.

Attempt mock tests and previous year question papers. Also don't forget to review your mistakes and solve the queries.

Measure your learning and performance. Take tests regularly so as to check your knowledge, speed, accuracy and time management skills

Take proper sleep of 7-8 hours. Compromising with sleep will result in lack of concentration and will affect your retaining power.

Stay healthy. Health is important in times of preparation. Stay hydrated and take nutritious food. Don't take the stress.

Stay positive and determined to achieve your goal. Believe in yourself and make sure to follow the tricks and tips to crack NEET.
Questions related to NEET
Showing 116907 out of 116907 Questions