NEET Preparation Tips 2019 by Surendra Babu Vikrama, Executive Dean of Sri Chaitanya
NEET Preparation Tips 2019 - Candidates appearing for National Eligibility cum Entrance Test (NEET) this year will be covering the last lap of their extensive study schedule by now. With less than a month left for the country's biggest medical entrance examination, candidates will be gearing up for the last minute preparations. The competition, no doubt, is intense and thus it is wise to not leave any stone unturned. To boost the confidence and provide proper guidance to the candidates, Surendra Babu Vikrama, Executive Dean of Sri Chaitanya coaching institute has provided detailed preparation tips which can be incorporated in the study schedule to reap positive results. The opinion and suggestions by the expert will help candidates in improvising their strategy to score maximum marks and minimising the mistakes. NEET is scheduled to be conducted on May 5, 2019, in the pen and paper based mode in 154 cities across the country.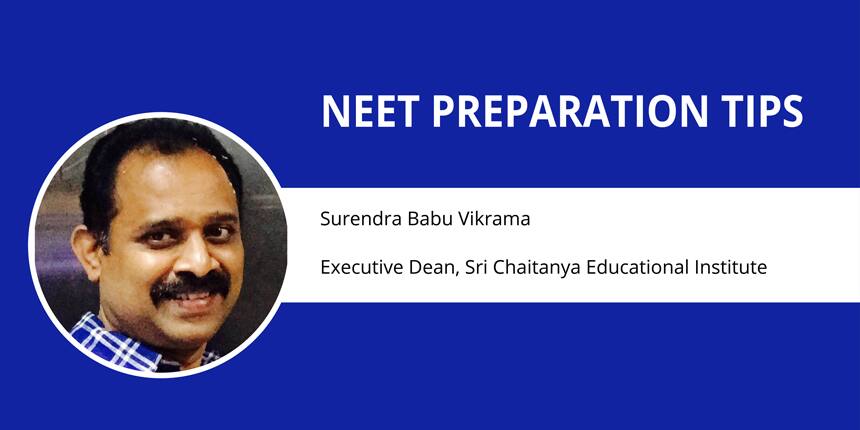 NEET Preparation Tips 2019 - Chemistry
In the Chemistry section, 35 out of the total of 45 questions asked are direct and single concept questions. Each question carries 4 marks and 1 mark is deducted for every wrong answer. Surendra Vikrama suggests "Keeping this in mind, candidates must attempt the strongest concepts first and leave the ones that will take a longer time for last." Chemistry is further subdivided into physical, organic and inorganic chemistry and it has been noticed in previous year papers that nearly 12 to 13 questions come from each subunit. As per the NEET preparation tips by Sri Chaitanya, more than 80% of total questions are NCERT based so first candidates should ensure that the 80% is dealt with and later on the focus should be on the rest of the 20%.
When asked about the strategy to tackle various sections of chemistry, Surendra advises "Regular and diligent practice is required in physical and organic chemistry." Inorganic chemistry, in particular, contains a lot of direct questions that come straight from the NCERT. "In physical chemistry learn your formulae thoroughly and do not leave anything out. Learn the theoretical portion of physical chemistry as they are often tagged in numerical question. In organic chemistry, do thorough learning of reactions by writing them." he adds. Proper and in-depth understanding of each concept is crucial as per NEET 2019 preparation tips by Sri Chaitanya. 
NEET 2019 Preparation Tips - Physics
Since in physics the majority number of questions are based on the concepts of subjects, the students are advised to practice the conceptual topics. As per the NEET 2019 preparation tips by Sri Chaitanya, Physics is such a subject that decides the rank of students so it is necessary to carefully write the physics exam, especially in the reading of questions and in doing calculations. 
When asked about the mantra of dealing with the tough portion of Physics syllabus, Surendra advises "the students should focus thoroughly on the multiple concepts based questions and the application of it so as to revise the concepts quickly." The students should give priority to easy topics with more weightage like modern physics, waves, gravitation, heat transfer, optics etc. NCERT exemplar, exercise - I and exercise - II questions are very much useful in improving knowledge of Physics, which is necessary to crack NEET 2019. "The students should distribute their exam time such that proper time (about 75 mins) is given to physics part of the paper," he suggests.
NEET Preparation Tips 2019 - Biology
As biology constitute 50% of the paper so students should be strong enough in the biology part. According to the NEET 2019 preparation tips by Sri Chaitanya, students should start their NEET 2019 from biology questions and should try to complete it within 50 minutes to one hour, so that they can save time for physics and chemistry.
Surendra points out "Once you complete biology in best way your confidence would be high enough and it will help students to deal with physics and chemistry question." Biology is often taken for granted by the students, as it is relatively easy among the three sections. "Students should not deal biology in hurry just to save time for physics and chemistry because biology question also offers you (+4) marks if you attempt a correct answer," he adds. 
The text of NCERT diagrams & their labelling, table's & their data should be learnt & memorised in thoroughly. The NEET preparation tips 2019 by Sri Chaitanya suggest that if any fact of NCERT contradicts with other standard books, students should blindly go with NCERT fact. Students should essentially go through exemplars provided by CBSE/NCERT for question practice.
Physics 

Chemistry 

Biology 

Atoms

Atomic structure 

Living World 

Dual Nature of Radiation and Matter

Stoichiometry 

Biological Classification of    Fungi, Virus, Viroids, Prions




Nuclei 

States of Matter 

Plant Kingdom

Semiconductor devices and gates

Chemical Equilibrium 

Morphology of Flowering Plants 

Electromagnetic waves

Ionic Equilibrium 

Cell and

 Cell Division 

Ray Optics/ Physical Optics

Thermodynamics 

Sexual Reproduction

Waves 

Solutions 

Strategies of Food Enhancement 

Current Electricity 

Chemical Kinetics 

Microbes in human welfare 

Moving Charges and Magnetism 

Solid State 

Biotechnology 

Electromagnetic Induction

Electro Chemistry 

Structural Organisation in Animals 

Units and Measurement

Metallurgy 

Digestion and Absorption 

Motion in a straight line and Motion in Plane 

Biochemicals

Breathing and Exchange of Gases

Work, Energy and Power

Chemistry in Everyday life 

Body Fluids and Circulation

Centre of Mass application 

Polymers 

Locomotion and movement 

Rotational Dynamics 

Noble Gases 

NEutral control and Coordination

Oscillation 

Environmental chemistry 

Chemical Coordination

Gravitation and Electric Charges 

Periodic Table 

Human Reproduction 

Kinetic Theory of Gases 

Chemical Bonding 

Genetics

Thermodynamics

Hydrogen and it's Compound 

Evolution

Heat Transfers 

S-Block, P-Block Elements 

Ecosystem 

Capacitors 

Complex Compounds 

Biodiversity 


Chemistry 
Books for physical Balaji and OP Tandan. For the chapters other than physical NCERT book is preferred.

For inorganic chemistry strictly follow NCERT textbooks.

For complex compounds inorganic chemistry by GRB, Balaji, Pradeep series books.

For organic chemistry first, go through NCERT books then GRB, Balaji, Pradeep series books and go through GRB hand book for typical questions.    
Physics 
NEET objective physics book Vol I and Vol II ( GRB publishers) 

NCERT Class 11 Physics 

NCERT Class 12 Physics 

NCERT Physics Exemplar of Class 11 and 12

Previous question papers book of MTG or Arhant for practice
Biology 
NCERT – Textbook and Exemplar
Trueman's objective & MTG for practice.





Candidates who have successfully filled NEET application form can download 

NTA NEET admit card

 2019 from April 15 onward. To download the admit card, one has to login using application number, date of birth, and security pin. NEET 2019 will be conducted in offline mode on May 5.
Questions related to NEET
Showing 84296 out of 84296 Questions