NEET 2022 Preparation Tips - Best Books, Important Topics, Syllabus, Paper Pattern
NEET 2022 Preparation Tips - The National Eligibility cum Entrance Test (NEET) will be conducted in offline mode, by NTA. One who is aiming to pursue a career to save millions of lives irrefutably takes a NEET preparation by a candidate who is diligent, hardworking, and passionate about the medical profession.
Stay up-to date with NEET News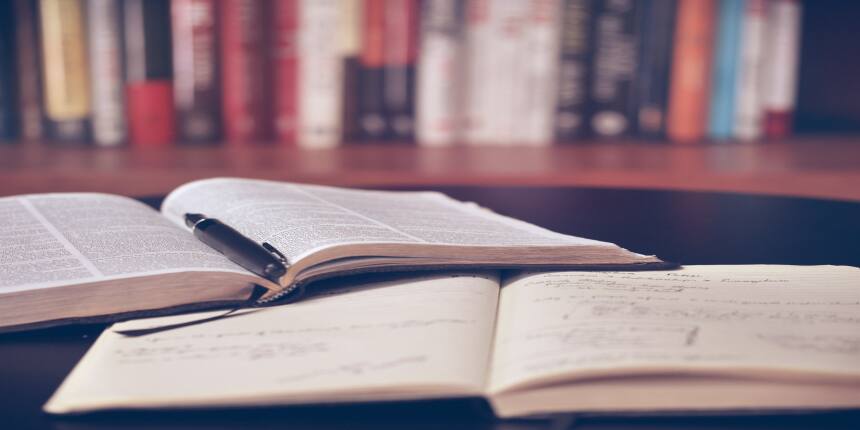 Candidates striving to practice medicine in the country essentially sit for the National Eligibility cum Entrance Test (NEET). By qualifying NEET 2022, candidates open up the chances of getting admission to the medical and dental colleges of India. It is imperative for the aspirants to put their best step forward when appearing for NEET 2022 exam. To help the candidates in the NEET preparation 2022, Careers360 brings to you tips on how to prepare for NEET exam. The article will acquaint the candidates with quintessential last-hour preparation tips to crack the NEET exam 2022.
Candidates can know how to prepare for NTA NEET in the best possible way so as to increase their chances of qualifying for the exam. The NEET 2022 preparation tips will guide the aspirants to strategize the study schedule, manage time, clear doubts, and everything that is necessary to qualify for the entrance examination.
NEET preparation 2022 - Study schedule
Making a smart and pragmatic study schedule is the first step towards building a comprehensive plan on how to prepare for NEET exam. Candidates should build a work schedule in which they should concentrate on finishing the syllabus at the set target time. It is necessary to stick to the schedule to avoid piling tasks for later.
Realistic targets should be set according to the capacity of a candidate. Aiming for superficial targets will only lead to disappointment and consequently, it will affect your performance. "Well, this is quite obvious that a study schedule has to be there for the preparation of any competitive exam. In particular, if we talk about NEET then there are four subjects – Physics, Chemistry, Botany and Zoology. It is required to prepare a tentative study plan to cover all the subjects effectively" says Shailendra Maheshwari, Director of Career Point, Kota.
Prepare for NEET 2022 knowing the paper pattern
As per the paper pattern, the NEET UG Exam covers three disciplines: physics, chemistry, and biology (Botany & Zoology). As per the latest update in NEET UG 2022 pattern, aspirants have to solve 180 questions, out of 200 questions in 200 minutes. The NEET 2022 total marks will be the same as 720. The syllabus covers the entire NCERT curriculum for Classes XI and XII and includes Physics, Chemistry, Zoology, and Biology.
The NEET 2022 question paper will be divided into two sections - Section A and B. Section A will include 35 questions while Section B will have 15 questions. Of these 15 questions in Section B, candidates need to answer 10 questions.
Preparation tips for NEET 2022 - Know the syllabus
The syllabus forms the base of the study schedule which a candidate needs to be well versed with. The entire preparation would be of no use if the candidates are not aware of the sections, chapters, and concepts that are in the NEET syllabus. Knowledge of each detail of the syllabus will be crucial for formulating a strategy in NEET preparation tips 2022. Dividing the time to be spent on each section can be done only when a candidate knows the syllabus thoroughly.
NEET preparation 2022 - Best Books
One of the greatest tips on how to prepare for NEET can be referring to the best possible books. Even though it goes without saying that NCERT books are the most important ones which have to be prepared thoroughly, other relevant resources can also help you through the entire syllabus. Aspirants should keep some points in mind while selecting the best books for NEET 2022. The material should be helpful in clearing the basic concepts and topics and it should also help you to devise a strategy to solve questions quickly. Candidates can check the list of NEET books here.
Physics
Concepts of Physics by H. C. Verma

Objective Physics by DC Pandey

Fundamentals of Physics by Halliday, Resnick, and Walker

Fundamental Physics by Pradeep

Problems in General Physics by IE Irodov

Physical Chemistry by OP Tandon
Chemistry
ABC of Chemistry for Classes 11 and 12 by Modern

Concise Inorganic Chemistry by JD Lee

Dinesh Chemistry Guide

Practise books by VK Jaiswal (Inorganic), MS Chauhan (Organic), and N Awasthi (Physical)
Biology
Biology Vol 1 and Vol 2 by Trueman

Objective Biology by Dinesh

Objective Botany by Ansari

Pradeep Guide on Biology

GRB Bathla publications for Biology
NEET 2022 Preparation tips - Previous year exam analysis
Leading coaching institutes will be releasing the analysis of the examination done by the academics experts. Nevertheless, the previous year's analysis of the NEET exam will help the candidates in preparation for NEET 2022.
Previous year toppers and the experts suggest that the paper last year was of moderate difficulty level.

Among all three subjects, Biology was the easiest to attempt and Physics was relatively tough. The difficulty level of Chemistry was identified as a moderate level.

In the section of Physics, theoretical questions were easier to attempt and numerical questions were more difficult.

In last year's biology section of the NEET question paper, candidates who appeared for the examination suggested that the Zoology section was easier than Botany.

Mechanics and Electrostatics were the two prominent topics in the physics section.

While in Chemistry, students found question paper was dominated by reactions. A large number of reaction-based questions were asked in the section of Chemistry and Biology contained questions from both Botany and Zoology.

Due to a moderate level of difficulty of the NEET question paper, there was a significant drop of cut-off. The cutoff scores for the general category are 710-147 in the year 2020, it was 701-134 in the year 2019.
NEET preparation 2022 - Subject-wise important topics
There is always a dilemma of focussing on numerous topics rather than wasting time on less important topics. NEET 2022 chapter-wise weightage is evaluated on the basis of the analysis of the previous year's question papers which will help in the preparation of the exam. The chapter-wise weightage of NEET also allows the candidates to identify the importance of a topic and the number of marks it is likely to fetch.
NEET Physics important topics
The important topics of physics for NEET 2022 are, Thermodynamics, Waves & Sound, Capacitors & Electrostatics, Magnetics, Electromagnetic Induction, Kinematics, Gravitation, Fluid, Heat, Optics & Modern Physics are some of the high weightage topics that students need to focus on.
Chemistry NEET chapter-wise weightage
The following topics are essential – Mole Concept in Physical Chemistry and Organic Chemistry, Chemical & Ionic Equilibrium, Electrochemistry, Coordination Chemistry & Chemical Bonding in Inorganic Chemistry. Apart from these, Chemical thermodynamics, chemical kinetics, biomolecules, and polymers can also be of high weightage. Also, the periodic table should not be ignored by the students.

Biology NEET 2022 topics
When compared to the rest half part, the biology portion carries the most weight. This portion contains 100 questions, 90 of which must be answered (both from the Botany and Zoology sections). The biology section carries the maximum weightage compared to the rest of the section. Few topics are like Morphology of flowering plants, Sexual Reproduction in Flowering Plants, Biotechnology and its Applications, Cell Cycle and Cell Division, Biodiversity and Conservation, Human Reproduction, Photosynthesis in Higher Plants can be of high weightage.

NEET preparation 2022 Tips - Related topics
To boost the NEET exam 2022 preparations, candidates can check the following articles by Careers360.
Important Links of NEET Preparations
Frequently Asked Question (FAQs) - NEET 2022 Preparation Tips - Best Books, Important Topics, Syllabus, Paper Pattern
Question: What should be the daily routine to crack NEET 2022 with good rank?
Answer:
In order to succeed, NEET 2022 aspirants must have a solid strategy which will guide you through the preparation journey. A daily routine for different people can be different, the key is to find what works best for you. Studying early in the day often helps. Regular intervals in the study schedule help in the long run. Candidates must study and practice for NEET 2022 with unwavering focus.
Question: What are the best books for NEET 2022?
Answer:
A majority of questions asked in NEET are from the NCERT textbooks. To fetch maximum marks, NCERT books of Class 11 and 12 must be thoroughly read. Candidates can also refer to Concepts of Physics by H. C. Verma for Physics, Biology Vol 1 and Vol 2 by Trueman for Biology and Physical Chemistry by OP Tandon for Chemistry. Practising test papers will also help in understanding concepts.
Question: How do I crack NEET 2022 by self-study?
Answer:
Self-study requires a lot of self-motivation as well. The preparation for NEET 2022 can be a tedious task thus making a pragmatic time-table to study through can be very helpful. Keeping a close tab on the mistakes done and improvements can prove to be beneficial. Making notes after concluding a chapter will allow to you revise the important topics and retain it for longer.
Question: Is NEET a tough exam?
Answer:
NEET is relatively a moderately easy exam, however, the number of applicants with respect to the number of seats available is very high making it tough to get admission. To get an MBBS seat it is very important to secure a good rank in NEET 2022.
Question: Is NCERT enough for Biology section?
Answer:
NCERT is without a doubt the best source to learn Biology. The text of NCERT diagrams & their labelling, table's & their data should be learnt & memorised in thoroughly. Students should essentially go through exemplars provided by CBSE/NCERT for question practice.
Question: How many hours should I study for NEET?
Answer:
Experts and toppers suggest that every day at least 5-6 hours of sincere study can be fruitful in achieving a good score in NEET 2022.
Question: Will NEET be a computer-based test?
Answer:
As per the latest notification, NEET 2022 will be conducted in pen and paper-based (offline) mode.
Questions related to NEET
Showing 120039 out of 120039 Questions