Top 10 medical courses in India - Medical courses in India are becoming increasingly popular for their quality education and abundant career opportunities. India is home to some of the best medical colleges in the world, offering a range of courses from Bachelor's degrees to Doctorates.
India is becoming a hub for medical education with a host of medical courses available for aspiring doctors. Medical courses in India have been gaining immense popularity over the years owing to the availability of quality education and the scope for a rewarding career.
The top 10 medical courses in India are MBBS, BDS, BAMS, BHMS, and B.Sc. Nursing, B.Sc. Medical Technology, B. Pharmacy, BPT, B.Sc. Biotechnology, and B.Sc. in Allied Health Sciences. Each of these courses offers students a comprehensive study of the medical field and prepares them to serve the healthcare industry in various capacities.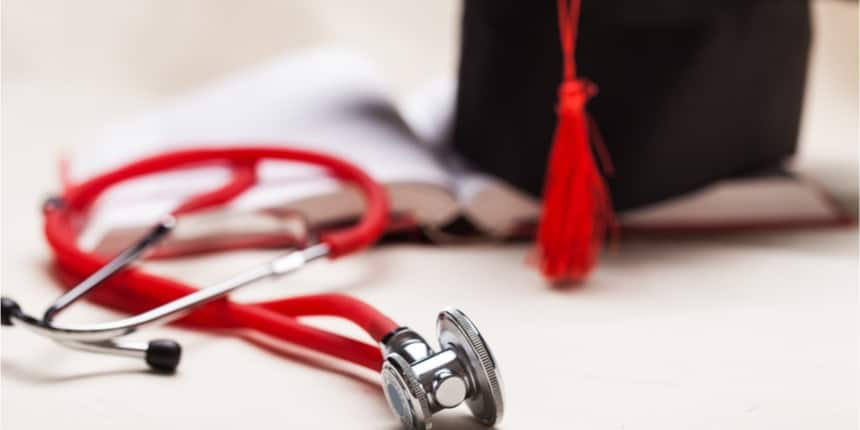 Top 10 medical courses in India: Courses under Medical Science
The healthcare industry is one of the industries which is always on the boom. The rapid development in this sector is fastly becoming a hub for lucrative job opportunities and promising careers. Candidates after pursuing medical courses in India can grab better job opportunities and get paid handsome salaries.
Since job opportunities in the medical sector are on a high boom, candidates should know about the top 10 medical courses across the country. The medical courses are offered in various specialisations which include the medical, biomedical, or paramedical sciences, pharmacy, nursing, allied health, health, etc. Candidates are required to study these medical courses with full honesty as they are going to serve the people of the nation.
Candidates after pursuing medical courses in India are not only benefited financially but the status and reputation of the medical practitioner are also high. The country sees the medical practitioner after completing their medical courses as a form of god, especially in any pandemic situation. There are lots of medical courses in which a candidate can opt for their future career. However, candidates can go through the article below to know about the top 10 medical courses in India, that one can opt for.
List of Top 10 Medical Courses in India
| | |
| --- | --- |
| S no. | Medical courses |
| 1 | MBBS |
| 2 | MS |
| 3 | MD |
| 4 | BAMS |
| 5 | BHMS |
| 6 | BPT |
| 7 | B.VSc |
| 8 | BUMS |
| 9 | BSMS |
| 10 | BNYS |
Bachelor of Medicine, Bachelor of Surgery (MBBS) is one of the predominant medical graduate degrees for becoming a doctor. Approximately every candidate has thought of medical courses, their first choice is to opt for MBBS as a medical course. It is a combination of two professional degrees in medicine and surgery offered by the government and private colleges of the country. This is a 5.5-year duration course with Basic, Pre, and Paramedical subjects. In the duration of five and a half years time span, students must complete a 12-month compulsory rotatory internship, which includes serving in hospitals.
Entrance exam: National Eligibility cum Entrance Test (NEET)
MS (Master of Surgery) is a postgraduate degree and it is mandatory for students to complete their MBBS degree before proceeding with their MS degree studies. Master of Surgery is a three-year postgraduate medical course designed for aspirants to have comprehensive knowledge and skills in surgical training. Candidates pursuing an MS degree will go through the high-quality health care details and the advancement in the cause of science and medical fields through detailed research & training.
Top entrance exam: NEET PG
MD (Doctor of Medicine) is a postgraduate degree, aspirants after pursuing an MBBS degree can opt for this degree. To excel in the field of medicine, experts highly recommend candidates opt for a Doctor of Medicine or MD degree for specialization in post-graduation. These specializations include Radiotherapy, Anatomy, and General Medicine. The degree duration of an MD is three years.
BAMS is a professional medical course that focuses on the study of Ayurvedic medicine. The degree is awarded to students after successfully completing 5 and a half years of study including one year of internship. A graduate of BAMS is allowed to give medical treatment in some states of India after registering at a government-approved licensing authority. The course of BAMS provides complete knowledge about 'Ashtanga Ayurveda' along with scientific advances in modern medicine along with extensive practical training.
Entrance exam: NEET
BHMS is an undergraduate degree in Homeopathy in India and it is awarded after the study for a duration of 5 and a half years which includes a one-year internship. Candidates choosing BHMS as their medical course can gain knowledge of Homeopathy medicine along with the treatment. Candidates can opt for various specializations like Homeopathic Pharmacy, Paediatrics, Psychiatry, Skin specialist among others to treat patients with Homeopathic knowledge.
Entrance exam: NEET
Bachelor of Physiotherapy or BPT is an undergraduate programme that deals with the structure of the human body. Bachelor of Physiotherapy (BPT) is a 4-year undergraduate course along with 6 months compulsory internship program that is also required to practice as a qualified physiotherapist. Physiotherapy is the branch of medical sciences that deals with the study of physical movement and working to prevent any kind of disabilities. The field of Physiotherapy is very challenging and vibrant, as the same exercise or massage is not applicable to all patients, all have to be treated differently. So, a Physiotherapist should do their therapy treatment with full calmness.
Entrance exam: Respective institutes entrance exam
Bachelor of Veterinary Science - B.VSc
B.VSc is an undergraduate course that provides academic as well as practical knowledge in assisting or working as a veterinary doctor in the laboratory. The course duration of B.VSc is 5 years.
Veterinary is a branch of medical science that deals in the prevention, diagnosis, and prevention of disease, disorder, and injury in animals. The practitioner after completing the B.VSc course called a vet or an animal doctor.
Entrance exam: NEET
In the field of Unani Medicine and Surgery, BUMS is an undergraduate degree programme. BUMS degree is a 5.5 years duration course that comprises 4.5 years of academic sessions and one year of internship. This undergraduate programme can also be pursued through distance education. Central Council of Indian Medicine (CCIM) regulates BUMS education and training in India.
Entrance exam: NEET
Bachelor of Siddha Medicine and Surgery - BSMS
Bachelor of Siddha Medicine and Surgery is an undergraduate program in the Siddha System of Medicine. The duration of BSMS is 5.5 years which includes a one-year internship. BSMS is the most ancient among the AYUSH (Ayurveda, Yoga and Naturopathy, Unani, Siddha, and Homeopathy) systems. Central Council of Indian Medicine (CCIM) governed the education of BSMS under the department of AYUSH.
Entrance exam: NEET
Bachelor of Naturopathy and Yoga - BNYS
Bachelor of Naturopathy and Yoga is a 4.5-year undergraduate degree program. Aspirants have to complete the one-year Compulsory Rotatory Residential Internship for successful completion of the degree. Aspirants use to study the field of integrative medicine, which covers the study of both naturopathic medicine and modern science. Candidates qualifying 12th with science as compulsory subject can apply for this course.
Entrance exam: Respective institutes entrance exam
Also read:
NEET Rank & College Predictor
Check your NEET expected rank and MBBS/BDS/AYUSH admission chances
Check Now