'Vested interest' behind misinformation campaign on NEET 2016, says NEET petitioner Sanklap Charitable Trust


After successfully fighting for NEET in the Supreme Court of India, the NEET writ petitioner Sankalp Charitable Trust has alleged that a section of lawmakers and private players with 'vested interest' are spreading misinformation campaign on the national level common medical exam despite a clear judgement on the matter by the apex court.

Related Post -
NEET 2019
NEET Eligibility Criteria 2019
NEET Application Form 2019
NEET Admit Card 2019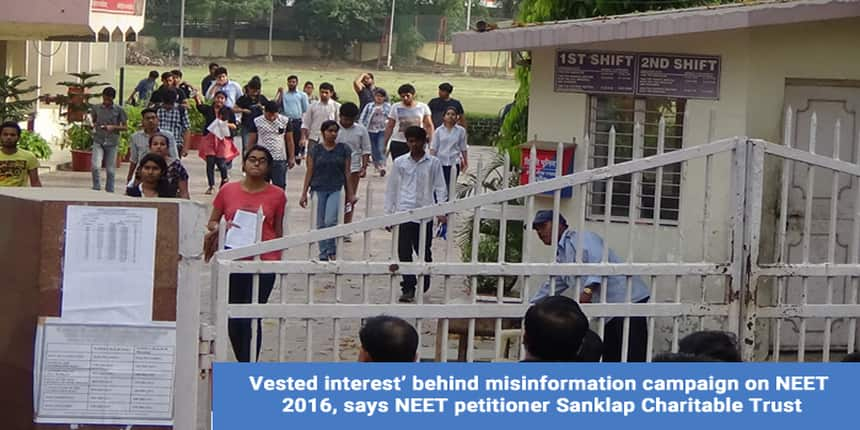 The mentor of Sanklap Charitable Trust Dr. (Major) Gulshan Garg whose writ petition led to implementation of NEET from current academic year said he was saddened with recent developments where the Centre is considering filing a review petition for deferring NEET by a year. Read the full story here.


"Despite the SC judgement for implementation of NEET, vested interests are making all efforts to scuttle the common medical exams for current academic session," Dr Garg said, adding, none of the objections raised by states and private players stands scrutiny.
He alleged that a misinformation campaign is being run on NEET which is leading to confusion among medical aspirants and their parents. "The real and hidden agenda is to protect the private and vested interest that have been deriving benefit of corrupt system by charging capitation fee running into crores. They are the one who will be worst hit by holding NEET," he said.
[Click here to Enroll Complete NEET Preparation Package to Crack NEET Exam or call at 011-40360360 to talk expert counsellors]
Citing a report published in the Tribune newspaper on May 13, 2016, which highlights that as many as 80 parliamentarians are having direct stake in running of the Medical Colleges, Dr Garg said that "The NEET will strike at the very root of capitation fee which generates huge amount of black money."
As per MCI, the total number of seats for admission in MBBS in 2015 is 49, 990 out of which 25, 330 are in Government Sector and remaining 24, 660 are in private sector. The admission in Government medical colleges take place either on the basis of AIPMT or Common Entrance Test conducted by State Governments. For remaining 24, 660 seats more than 100 tests are conducted by private bodies.
"The entrance exams conducted by private colleges are mere eyewash and only those who pay capitation fee get admission in these institutions," Dr Garg said adding, "The extent of the capitation fee in the medical colleges can be gauged from the fact that invariable each student in private medical college has to pay Rs. 1 crore and if it is multiplied by 24, 660 seats, it would come to around 25, 000 crores."
On NEET 2016 question booklet language
Dr Garg also said that raising objection on bi-lingual test paper is just an excuse from lawmakers to defer the NEET implementation.
Many state governments have advocated that NEET 2016 question booklet should be in vernacular language so that candidates from different regions can easily comprehend it. Also, during discussion in the both houses of Parliament many members said that language barrier in many states may put students from these states at disadvantage in a national level test which is only in two languages – Hindi and English.
Dr Garg said that response of test papers in vernacular language has not been encouraging in the past and therefore it does make sense to object NEET for this.  "NEET 2013 was conducted in vernacular but not a single candidate who appeared in vernacular languages could get the admission. This information was provided by the Central Board of Secondary Education (CBSE) before the Supreme Court while hearing on NEET," he claimed.  
MBBS is taught only in English and as per MCI Regulations a candidate is eligible for admission to MBBS only when he has cleared the paper of English in class 12.
So far as seats in Government colleges are concerned, 15% seats are filled by AIPMT which is conducted by CBSE primarily in English language. This year as many as 12 states including M.P., Haryana, Orissa, Delhi, had already decided to admit 85 per cent state-quota seats from AIPMT state merit list only.
On NEET Syllabus and State-quota seats:
He also said that syllabus of NEET is based on knowledge of Physics, Chemistry and Biology which is similar to state board syllabus.  Last but not the least, he added that the students of one state will not be competing with the students of other States for state quota seats as there will be separate merit list for each of the states.
Stay tuned to medicine.careers360.com for more news and feature related to NEET 2016
Also Read:
Centre to approach SC on deferring NEET as lawmakers demand ordinance
NEET 2016: Centre listens states' concerns over NEET; assures justice for students
Questions related to NEET
Showing 84296 out of 84296 Questions