'Where there is will, there is way.' says Rakshita Gadia a NEET 2021 aspirant
'Where there is will, there is way.' says Rakshita Gadia a NEET 2021 aspirant - Amidst Coronavirus pandemic, where self isolation or obeying the rules of lockdown is one of the most primary solutions given by the health experts. The regular postponements in the events of NEET 2020 just not affecting the aspirants from this year but also affecting the students who are going to appear for the 2021 session. With this delay in the NEET 2020 exam conduction due to COVID-19, there will surely be less time left for aspirants for preparation who are going to appear for next year. The chaos and panic in the minds of NEET aspirants due to these exam events postponement can be easily seen, as social media is flooded with questions regarding how to prepare for neet in a better manner. So, this COVID-19 does not affect their preparation to crack NEET. These queries and confusions regarding the NEET preparation will definitely have some effect on students.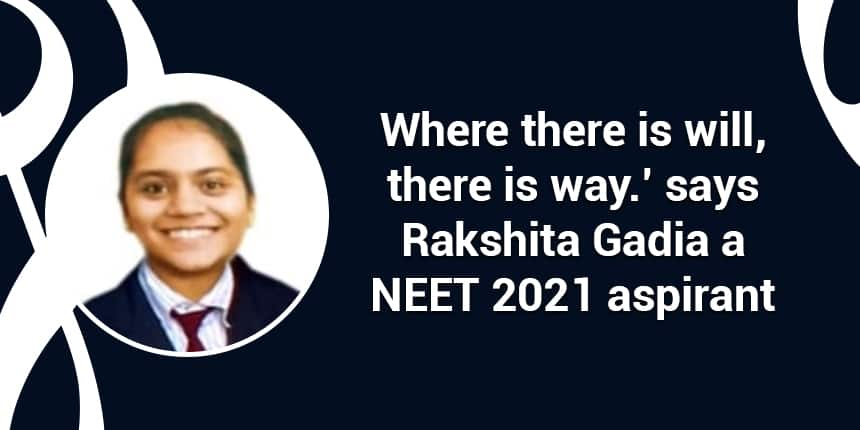 In order to know the effect of postponement of the NEET 2020 exam and experience of students during this lockdown, Careers360 team interacted with Rakshita who is going to appear for NEET 2021 as she is going to appear for her board exam this year. The scenario is totally different for her because she has to focus on her board exam along with that keeping in mind that she will be having less time for preparing for NEET 2021 due to this COVID-19, she has to focus on that also. Aspirants can go through the article to know how Rakshita is strategizing for her NEET 2021 preparation despites of this outbreak and what are the challenges she is facing during her preparation.
Careers360 - Tell us something about yourself, education, background, family and others.
Rakshita - My self Rakshita Gadia, studying in class 12, belongs to a well educated middle class family and has an ambition to become a successful doctor.
Careers360 - What is your preparation strategy for NEET especially for the lockdown?
Rakshita - As we all know, lockdown period is going on but a smart student always sees its positive side and prepares his/her for exam. My strategies during this period are to donate my maximum time towards studies.
Careers360 - Can you share your daily routine of NEET preparation?
Rakshita - I get up early in the morning at 6 AM. Then I divide my studies in different slots of 2 hours for each subject. One hour in the morning is for solving mock tests and the last hour before sleep is for analyzing my performance. Three hours in the evening given to regular revision of the topics and NCERT reading.
Careers360 - According to you, What are the advantages and disadvantages/challenges of lockdown in your NEET preparation?
Rakshita - Looking for the disadvantages is not the solution to anything and the advantages of lockdown in NEET preparation is I am getting more time to revise my concepts regularly.
Careers360 - Are you attending any online classes for preparations?
Rakshita - I am regularly attending the online classes and the doubt session periods of careers360 to enhance my performance.
Careers360 - What kind of stresses you are experiencing during lockdown and how are you dealing with it?
Rakshita - Some difficulties and stresses are also there because live interaction with teachers boost my confidence and I am lacking in this. Also as the syllabus is so vast and I have to regularly revise my 11 with 12, so somewhat this hectic schedule I have to face. I also want to share my personal views that guys avoid procrastination and rote learning. Understanding of concepts is very essential and I mainly use charts to revise my topics and stick it to the walls to memorize it ever longer. For learning formulas I made my own videos by recording the formulas reciting by me etc.
Careers360 - How do you keep yourself motivated for your NEET preparation during this lockdown period?
Rakshita - 'Where there is will, there is way.' Goal is very important and this encourages me to cope up with this. I also watch some motivational videos that keep me motivated.
Careers360 - What are your views on the continuous postponements of exam related events?
Rakshita - Postponing the exams for me doesn't sound good because it makes us lethargic.
Careers360 - As it can be seen in the current scenario that doctors are facing from certain sections of people and how they are brutally treated by the masses. How do you see it and how does it affect your determination?
Rakshita - Doctors are working as GOD during this day but some people don't understand their sacrifice. As a future medical student rather than demotivating, it enhances me to get into this particular field to make people understand and make them aware about their unconditioned service towards the nation. So my view regarding this coronavirus is 'Never let a crisis go waste'.
Questions related to NEET
Showing 83628 out of 83629 Questions