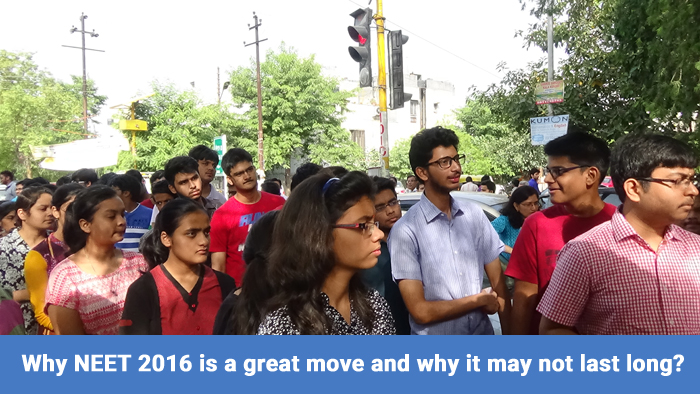 Supreme Court of India has ordered to conduct the National Eligibility Cum Entrance Test (NEET) for admission year 2016. With this judgement all other entrance exams for admission to government colleges, deemed universities, private medical colleges, minority and linguistic minority colleges, stand scrapped. Mahesh Sarma, Editor, Careers 360 writes here in this special column writes on "Why NEET 2016 is a great move and why it may not last long?"
Careers360 Editor's Column:
I had sat through a briefer than brief discussion on the NEET judgement in a TV show. What stuck me was the focus on the opposition to a common entrance exam.


World over, students get admitted to a college based on a single test more or less. It is only in India that on an average an engineering/medical aspirant writes anything between 50 -100 entrance exams run by different institutions/ associations/ state governments.


Logically it makes eminent sense to conduct one entrance exam and allow institutions to devise an admission policy on the basis of the score earned. It saves lots of money, stress, energy and time. But 70 years down, we are nowhere near implementing such a solution. The opposition comes from three major sources.
a) State governments like Tamil Nadu who admit students based on their score in 10+2 board exams and have abolished entrance exams. The stated reason is that an entrance exam would discourage rural population who do not have access to coaching.
b) Minority institutions who have been allowed constitutional protection under19 (1) (g), 25, 26, 29(1) and 30 of the constitution. And, but for section 30 all other institutions too get the same level of protection. Both minority and non-minority institutions argued that their rights under these sections are violated.
c) Select private and deemed universities as well as central/INI institutions like JIPMER/AIIMS /KMC who conduct their own tests. They argued about their special needs.
The first argument does have some merit. But Tamil Nadu can circumvent the same by reserving say 50% of its 85% quota for rural students. And the best among them then could get admission based on the same NEET. In fact Maharashtra has home district wise, home university wise, caste wise, disability wise (multiple categories) quota to distribute its seats. It is doable.


The other two arguments are fundamentally banal. Nothing prevents a minority institution/central institution to admit its student of choice from its language/religion/caste from amongst those who qualified for NEET.
But what it would prevent is any back door entry; and by extension the ability to take donations or additional fees. Once NEET is in place, even within the minority, one can only admit a student who has scored highest in the exam. This would close the doors on the ability to generate black money. And that is the biggest elephant in the room.
One cannot also blame the institutions fully. The ridiculously low fees set by stupid fee regulation committees leave no space for these institutions to run their colleges professionally.



Will this judgement stand?
This order is an interim measure. It came because Justice Dave is hearing the petition. But the constitution bench would hear the issues in detail.
This is a great opportunity for the central govt. to come up with a regulation that satisfies issues of equity, excellence and non-discrimination, but still uses a common entrance exam. But considering the govt. we have it might be wishful thinking.


What the bench decides one can never be sure. The best legal brains that money can buy will be brought to bear and the full ammunition of the legal luminaries would be used to get a verdict that nullifies the common exam. Too much money is at stake.
What is the struggle of the 200 million youth of the country before Rs 8000-9000 crore of black money generated each year?
The battle has only begun. NEET would only work, if the state either funds all students/or allows colleges to charge what the market bears. Let us wait and see!
Download here the copy of SC judgement on conducting NEET – Click Here
Read More:
NEET to be implemented for 2016-17; AIPMT renamed as NEET 2016 - phase 1
CBSE announces dates for NEET 2016; May 1 AIPMT is now NEET phase 1
CBSE to conduct NEET for 2016-17 admission; SC asks for exam schedule on April 28
Supreme Court clears way for common medical entrance examination across India
Stay tuned to medicine.careers360.com for more news and feature related to AIPMT 2016
MBBS Companion 2019
Predict chances in 3000+ colleges, Know All India Counselling & Admission process etc.
Know More
Questions related to NEET