Will NEET 2020 September Exam be cancelled?
Will NEET 2020 September Exam be cancelled - Despite the prominence, due to hike in the COVID-19 cases, the National Eligibility cum Entrance Test (NEET) is postponed twice this year. Now, NEET 2020 will be conducted on September 13, in offline mode. A total of 16.84 lakhs aspirants will be appearing for NEET exam to take admission to around 1,63,150 MBBS, BDS, AYUSH, and BVSc & AH seats. However, as per the reports, more than 25,000 coronavirus cases are being reported on a daily basis, therefore, the probability of NEET 2020 September exam cancellation is still uncertain.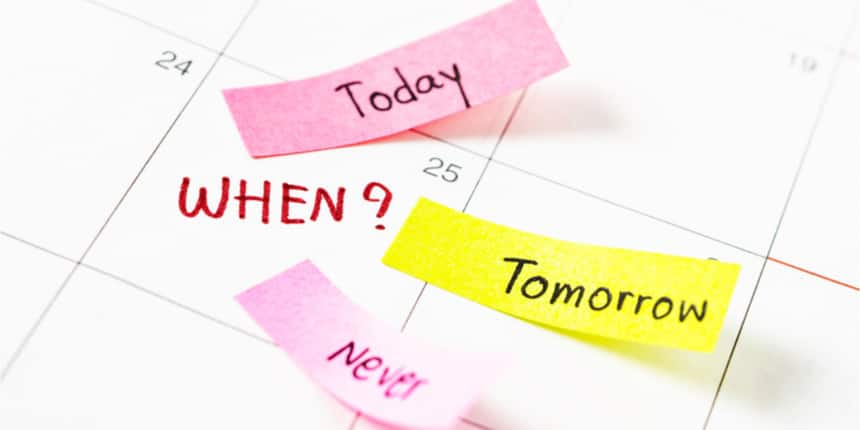 Earlier, NEET 2020 postponement has been done twice, still no one has a clue of whether NEET entrance test will be conducted or not. But putting end to all questions like "Will NEET 2020 September exam be cancelled?", "Will NEET 2020 will be postponed again?" or " Will NEET 2020 be postponed after September 13?" which were trending over Quora, Twitter, Facebook and other social media platforms. Supreme Court says NEET 2020 will not be postponed further as it will be conducted as per the schedule because they cannot put the careers of the students in jeopardy for long.
Earlier, seeing the number of aspirants appearing for pen and paper mode exam, nation-wide number of COVID-19 cases and following social distancing norms at and around the centre, conducting the NEET exam in September was a hot-button issue. Keeping such issues in mind, it was highly expected that authorities might cancel/postpone NEET September 2020. Also, to aid aspirants, Ramesh Pokhriyal 'Nishank' also mentions NEET latest updates 2020 by HRD minister. In order to go through all the aspects over NEET 2020 cancellation or postponement aspirants are advised to go through the article below.
Latest: NEET to be conducted on September 13 says SC; Admit card of NEET 2020 to be released soon!

Chances of NEET 2020 September exam being cancelled or not?
The probability of both the conduction and cancelation of NEET 2020 September exam is high.
As per the condition, due to more than 4 lakh active COVID cases (as per MoHFW), can be the reason to cancel the NEET exam to be held on September 13, 2020.
However, on the other hand, National Eligibility Entrance Test - is a single entrance exam for granting admission to undergraduate medical/dental/AYUSH/veterinary admission. As of the single and biggest entrance exam, NTA might not take any decision to cancel it, but can try to conduct the NEET in September only, by taking all the possible measures. Aspirants can go through the below mentioned details to know the chances of NEET 2020 September exam conduction or cancellation.
Chances that NEET September 2020 will be cancelled
As of today, it is very tough to predict the chances of NEET 2020 exam conduction or postponements. India is on a verge of hike in the cases of COVID-19, and all state governments are implementing their own lockdown rule as per the scenario in their area. As the fear of the COVID-19 is still revolving around the country. So, it might be possible that the NEET September exam will be cancelled and postponed to the new exam date. In addition to that, the question arises that will NTA DG exam day guidelines of social distancing, masks, barricading and other possible measures be followed by NEET test takers and their parents/guardians for pen and paper based exam? The probability of the NEET 2020 September exam being cancelled is higher.
Chances that NEET will be conducted in September
However, seeing the other side, NTA might not take any decision to cancel it, but can try to conduct the NEET in September only, by taking all the possible NEET 2020 guidelines by NTA DG, Vineet Joshi. As per the reports, NTA may double NEET test centres in view of COVID-19 and such strict regulations can be implemented.
As per the report of the World Health Organisation (WHO), more than 150 countries engaged in making the COVID-19 vaccine, and many of them have shown positive growth. In India from July 21, 2020, AIIMS has also started its clinical human trial of Covaxine. Seeing the positive result on the vaccine and the rapid growth in the patient's recovery rate, it might be chances we have better news over Coronavirus in the month of September. So, candidates may have to appear for the exam with new NEET 2020 exam guidelines by DG NTA, Vineet Joshi. But due to the increasing number of cases in India and travel restrictions, it is still a question of doubt whether NEET 2020 will be cancelled in September or not.
NTA take on the cancellation of NEET 2020 September exam
Like the past NEET postponements, National Testing Agency (NTA), hasn't announced any of the notification regarding the cancellation or postponements of the exam. However on social media platforms like twitter, facebook aspirants are asking the MHRD Minister to postpone or even cancel the NEET 2020 September exam. Twitter is also with the hashtags #postponeneet #cancelneet2020
Twitteratis on #cancelNEET movement
#postponeneetandjee
#PostponeNEETandJEE

When will be jee/neet exams ???

— ingenious & real (@postponeneet) July 15, 2020
As per the twitter poll, many aspirants want to postpone NEET 2020 to November or December.
My total area became containment zone
And probability that I will also became covid positive
So if I get covid positive will government give me a chance to appear in exam or my attempt will gone 🥺🥺🙏🏻#postponeneetandjee

— Ajinkya (@Ajinkya08137651) July 18, 2020
Keam .exam students tested covid positive..#PostponeNEETandJEE pic.twitter.com/MMbx8P9aS3

— ayisha s (@ayishas4) July 21, 2020
Social media influencers queries on NEET cancellation/postponements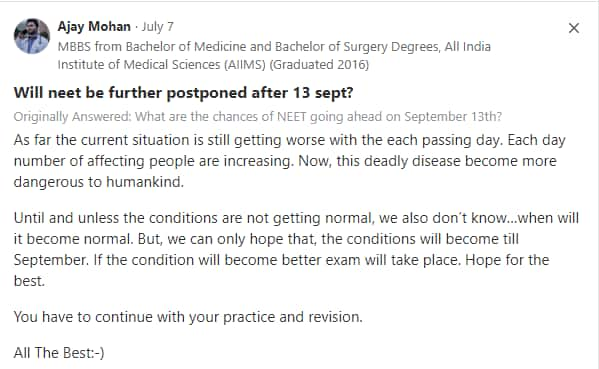 NEET 2020 exam date and COVID cases trends
Seeing the regular growths in the COVID cases, the chances of NEET 2020 postponements or cancellation from September is also increasing. The exam was earlier to be held on May 3, 2020. If we look at the number of the COVID-19 cases in India on May 3, it was around 40,000. As per now, before the earlier schedule of July 26, the reported cases have hiked up to around 12 lakhs cases across the country.
According to an article published in "The Hindu" While speaking to PTI, President of Public Health Foundation of India, K. Srinath Reddy, said that, "India may see COVID-19 cases peaking in the mid-September, if there will be strong public health measures and people take all precautions." He further added that "Different places (States) would peak at different times." The peak of the cases might be one of the reasons to cancel the September exam and postpone it to a NEET new exam date.
NEET exam day schedule and COVID cases trends
| | |
| --- | --- |
| NEET 2020 exam schedule | COVID cases |
| May 3, 2020 | 40,000 |
| July 26, 2020 | Around 12 lakhs before 4 days |
| September 13, 2020 | More hike as per the experts |
What can be the reason for the NEET 2020 September exam cancellation?
The current scenario which is worsening day-by-day has become the black cloud over the NEET 2020 conduction, as due to this it has been postponed twice the year. We all are hoping to see a rapid improvement in the situation of the country due to COVID-19, but in case the NEET 2020 September exam will be cancelled. The below-mentioned points will be the determining factor in NEET postponements.
Hike in the number of COVID-19 cases

Traveling restrictions during the exam day

Increase in the crowd at the exam centres

Aspirants who are infected with Coronavirus

State own restrictions of contaminated areas

Aspirants belonging to the contaminated zones among others.
NTA update on the conducting of NEET 2020 September exam
NTA is trying to take whole measures and conducts the NEET 2020 as per the latest schedule. In regards to NEET 2020 conduction in September, NTA has tried to find the assistance of the experts from All India Institute of Medical Sciences (AIIMS) with devising a Standard Operating Procedure (SOP) for the NEET exam.
In order to maintain social distancing norms and conduct the NEET 2020 exam smoothly in September, As per the SOP, AIIMS has specified the exam day guidelines for both inside and outside the examination hall, which can be checked below.
Guidelines while entering the NEET examination hall
Candidates must come with a face mask on and bring gloves and a small hand sanitiser, along with the NEET admit card and ID.

A time slot for reporting will be indicated on the admit card for NEET 2020.

Examinees will enter the exam centre in batches of 30 which comprises 15 girls and 15 boys.

Their temperature will be checked at the entry gate.

There will be no physical frisking - a departure from standard protocol.

Over 9,000 hand-held metal detectors will check for listening devices

Bluetooth and wifi presence will be jammed

Admit cards need to show for verification and briefly masks need to be removed in order to ensure that it is not an impersonation.

Seperate room for aspirants with above normal temperature
Guidelines for inside the NEET examination hall
Deep sanitization of each exam centre before and after the exam.

Sanitizers placed at several points.

The seating plan will ensure social distancing.

There will be videography/CCTV live streaming and two invigilators per 12 applicants

Attendance and handwriting samples will be taken at the seat.

Fresh surgical masks will be provided, candidates have to use while writing the exam.

Stricter washrooms and drinking water management.

Bring your own transparent water bottle

Candidates will be accompanied by invigilator to washroom

All exam staff will come with masks and gloves

No disposable cutlery will be permitted;refreshments to bring from home
What will be the effects if NEET 2020 exam is cancelled?
If the situation cannot be controlled till September, it is highly expected that the NTA might take any decision to take an entire whole year off and not grant any single medical admission through NEET 2020 exam. This will be a very harsh decision which will affect many of the NEET aspirants preparation strategy and mind. Aspirants who are writing the medical entrance test for the first time will have to drop a year due to NEET 2020 cancellation, While the droppers, unwantedly have to skip one year which leads to various dissatisfaction.
Why should the NEET 2020 exam not be cancelled?
As the speculations over NEET 2020 September exam postponements and cancellation is high. Aspirants should be aware of why the NEET 2020 exam should not be cancelled. In order to know the effect of NEET postponements or cancellation, aspirants are advised to go through the below-mentioned points.
Delay in the NEET 2020 exam might take the cutoffs higher

If NEET 2020 is cancelled it will create unbalances and may lead to unwanted complicated situations.

If NEET 2020 exam will be cancelled, then aspirants of this year will have to compete with the NEET 2021 aspirants, which increases the level of the competitions.

One entire year of medical UG education will be taken off which affects a lot.

If no aspirants will be admitted this year due to NEET cancellation, the faculty of the first years will practically have nothing to do, which might create the situation of layoffs.

The mental health of the NEET aspirants will be affected a lot.
Also read:-
Frequently Asked Question (FAQs) - Will NEET 2020 September Exam be cancelled?
Question: Will NEET 2020 September Exam be cancelled?
Answer:
If the situation will be worse, there will be chances of NEET 2020 September postponement or cancellation.
Question: What is the new revised exam date of NEET 2020?
Answer:
The revised exam date of NEET is September 13, 2020.
Question: Is there any announcement of NTA on NEET 2020 re-postponements?
Answer:
No NTA has not given any updates on NEET 2020 re-postponements.
Question: Will authorities conduct NEET, home-based?
Answer:
NTA has not specified any of the information regarding the NEET to be a proctored examination.
Question: What to do if the NEET 2020 exam is re-postponed?
Answer:
Instead of focusing on the exam date, candidates should focus on their NEET preparation.
Question: How to make these NEET events postponements?
Questions related to NEET
Showing 88814 out of 88814 Questions