Will NEET 2021 be held in June/July? - NEET Exam Date is August 1
Will NEET 2021 be held in June/July? - As per NEET 2021 latest news, the National Testing Agency (NTA) has announced the NEET UG exam date. NTA will conduct NEET exam on August 1, 2021 in an offline mode across the country. Owing to past year trends, the expected NEET 2021 exam date by NTA was May 2. Owing to delay in announcement of NEET exam date 2021, students had bombarded social media like Facebook, Twitter, Quora, Careers360 QnA with questions such as 'Will NEET 2021 be held in June/July?', 'Is NEET 2021 postponed?' , 'When will the NEET 2021 exam be held?' , 'What is NEET 2021 registration date by NTA' and 'Is NEET 2021 twice.'
Stay up-to date with NEET News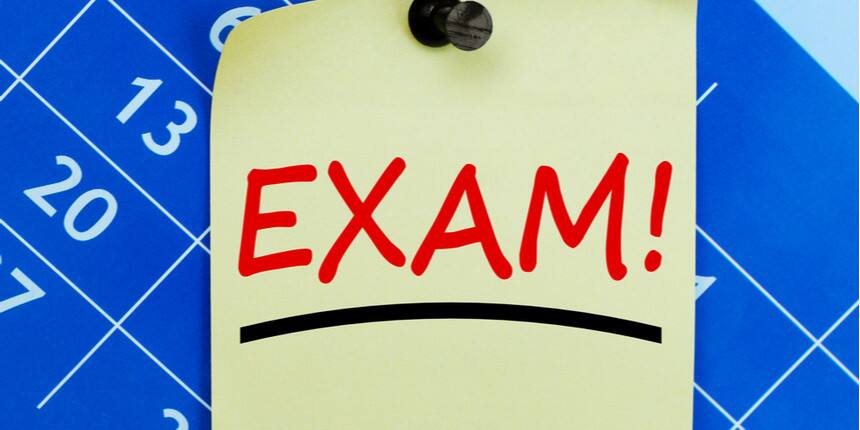 NEET by NTA is an all India entrance test conducted for admission to undergraduate medical courses in the country. Through NEET 2021, a total of 83,075 MBBS, 26,949 BDS, 52,720 AYUSH, 525 veterinary seats will be filled. Since, NEET is the only exam conducted for UG medical seats, the competition is fierce. As many as 15 lakh students apply for NEET UG.
| | |
| --- | --- |
| Event | Dates* |
| NEET 2021 notification | March 12, 2021 |
| | To be announced soon |
| NEET 2021 exam date | August, 2021 |
*Tentative dates
Will the NEET exam be conducted in June/July 2021?
The exam date of NTA NEET has been announced by NTA at nta.ac.in. The NEET 2021 date by NTA is August 1. The NEET 2021 application form release date will be announced by NTA soon. Earlier, NEET 2021 was expected to be held on May 2, as the UG medical entrance test is always conducted on the first Sunday of May. It was expected that NTA NEET 2021 will be postponed by a month or more and be conducted in June/July.
The main reason for postponement in NEET exam was the delay in CBSE Class 12 board exams. The Education Ministry had released the schedule for Class 12 board exams, which is May to June 2021. And as per past year trends, NEET entrance test is always conducted after the completion of CBSE board exams.
Students demand clarity on NEET 2021 date
With the delay of NEET exam date 2021, students and their parents/guardians were under the state of bewilderment on what will be NEET exam date or will NEET 2021 exam be held in June/July 2021? Therefore, expressing their chaos and dilemma, the students had requested NTA and Ramesh Pokhriyal to announce the NTA NEET exam date to clear all speculations.
One requested to provide some clarity on NEET dates and syllabus.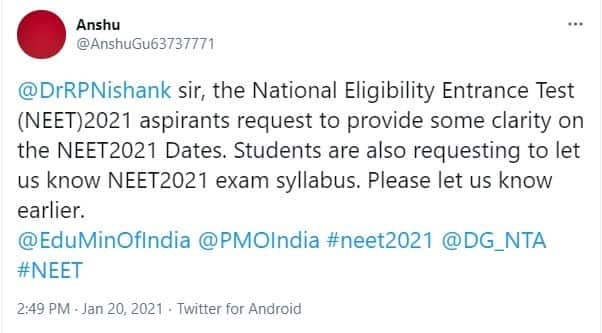 '
Another student asked that it is the last week of January and the NEET UG 2021 exam date has not been announced yet.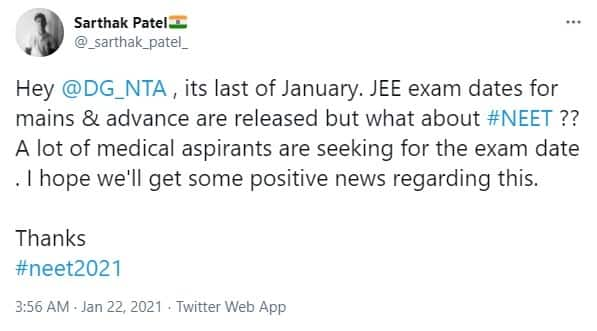 A West Bengal aspirant urged to conduct NEET exam after June since Class 12 board exams will be till June 30.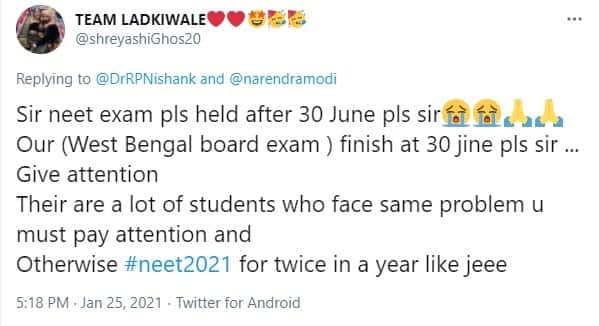 The tentative NEET 2021 exam date is May 2. However, NTA NEET 2021 is expected to get postponed by a month or two

Last year, NEET UG was held in September, 2020. This year, NEET 2021 is expected to be postponed at least till June/July.

What if NEET 2021 is conducted in June/July?
NEET 2021 will be held August 1 across the country. With NEET 2021 in August the aspirants will get more advantage to prepare well and score high in the medical entrance exam. However, considering the previous year facts, there will be a rise in NEET difficulty level, while the cutoff of NEET will be high.
Higher level of NEET preparation 2021: For last year, NEET UG was postponed thrice. Candidates had a surplus of three months to prepare for NTA NEET last year. This resulted in robust preparation by students and excellent NEET UG results. " During lockdown, I analyzed my weak areas by taking the tests regularly and improved my performance." said Guthi Chaitanya Sindhu, NEET 2020, AIR 6. NTA will conduct NEET 2021 on August 1 and it is expected that aspirants will prepare better and show higher than expected results in NEET UG.

Higher NEET 2021 score: In the last session of NTA NEET, due to extra time at hands for preparation, students set the benchmark and scored the perfect NEET score. NEET toppers, Soyeb Aftab, AIR 1 and Akansha Singh, AIR 2 scored 720/720 last year. A significant rise in NEET UG scores was observed in the previous year owing extra time for NEET preparation. For this year as well, if students get an extra month to prepare, the NEET 2021 score is expected to increase considerably.

NEET difficulty level: It is expected that the difficulty level of NEET 2021 will be on the moderate to difficult side. Last year, the difficulty level of NEET UG was easy to moderate. The Director of the Allen Career Institute, Brijesh Maheshwari had said "the difficulty level of NEET 2020 exam was low and high cutoff is expected.'' With the difficulty level of NTA NEET 2021 expected to increase this year, the extra time candidates have at hand can prove to be a blessing in disguise.
How to plan your preparation if NEET 2021 will be held in June/July?
The competition level in NEET 2021 is fierce. NEET topper last year secured the perfect NEET score 720/720. A total of 13.66 lakh candidates appeared in the NEET-UG test last year. Thus, it is important that candidates prepare well for the NEET 2021 exam. Having a well formed study plan, right set of books, and a detailed preparation strategy is must for cracking NEET UG. Before starting the preparation of NEET 2021, candidates must familiarise themselves with the syllabus, exam pattern, and nature of questions asked in the exam. Below mentioned are some links for NEET 2021 preparation.
NEET 2021 preparation
Frequently Asked Question (FAQs) - Will NEET 2021 be held in June/July? - NEET Exam Date is August 1
Question: Will NEET exam be conducted in an online mode?
Answer:
No, NEET-UG 2021 will be conducted in an offline mode across the country.
Question: Is the NEET application form 2021 released?
Answer:
No, the NEET 2021 application form has not been released yet.
Question: What is NEET 2021 exam date?
Answer:
NEET exam will be held on August 1, 2021.
Questions related to NEET
Showing 116707 out of 116707 Questions