AIIMS MBBS 2017 paper leaked, alleges VYAPAM whistleblower Dr. Anand Rai
The question paper of AIIMS MBBS 2017 Entrance Exam conducted on May 28 was leaked from an exam centre in Uttar Pradesh, VYAPAM whistleblower Dr. Anand Rai has alleged. Posting screenshots of the leaked questions on his social media pages, Dr. Rai has urged the AIIMS New Delhi Director to push for a CBI inquiry into the same. AIIMS MBBS 2017 was a Computer Based Test (CBT) conducted in two sessions, morning and forenoon. As per Dr. Rai, the question paper from both sessions was leaked from Dr. MS Saxena College in Lucknow.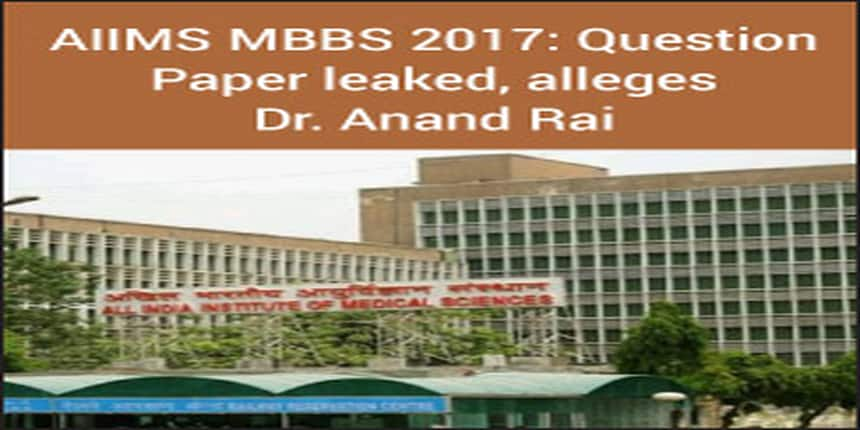 Also Read-
AIIMS MBBS 2018
AIIMS MBBS Important Dates 2018

Claiming that it is the same gang responsible for the VYAPAM scam which shook Madhya Pradesh a few years ago that is responsible for the AIIMS MBBS 2017 paper leak as well, Dr. Rai, in an open letter addressed to Prime Minister Narendra Modi, writes,"...as a doctor myself, (it) fills my heart with sorrow seeing the hard-working and meritorious students suffer like this cause of the Mastermind group mafias (sic)...".
Careers360 has contacted the AIIMS Assistant Controller of Examinations regarding these allegations and an official response from their side is awaited. Medical aspirants across the country will remain on tenterhooks until the news is confirmed, given that the screengrabs of the alleged leaked paper posted by Dr. Rai closely resemble what the official Computer Based AIIMS Question Paper would look like. The screengrabs contain various reason and assertion as well as matching column questions that were part of the AIIMS 2017 syllabus. In one of the screengrabs, a tab carrying the name 'AIIMS MBBS 2017' can be clearly seen.
Speaking to Careers360, Dr Rai confirmed that he received the screengrabs from an informer and that he has passed on all the evidence to the AIIMS Director. "It is difficult to ascertain how many people are involved and how many students have benefited from this leak. We also don't know to how many centres it spread. What I can say for sure is that the questions were leaked from both sessions of the AIIMS paper held on May 28 at this particular centre in Lucknow. Even my informer has had to go underground for some time and at this point only an intelligence agency can unearth further details. This is why I have forwarded all the evidence in my possession to Dr. Guleria (the AIIMS Director) and asked him to push for a CBI inquiry into the same," he said.
Conducted by the All India Institute of Medical Sciences (AIIMS) New Delhi, AIIMS MBBS is a Computer Based Test offering medical aspirants admissions to 707 seats across seven AIIMS institutions in the country, namely those located at New Delhi, Bhopal, Patna, Jodhpur, Rishikesh, Raipur and Bhubaneshwar. With the introduction of the National Eligibility cum Entrance Test from this year onwards, AIIMS and JIPMER (entrance conducted by the Jawaharlal Institute of Posgraduate Medical Education and Research, Pondicherry) are the only other examinations available to students seeking to pursue medical education in India. Unlike the CBSE-conducted NEET, the 2017 edition of which has been plagued by numerous controversies including that of a paper leak, AIIMS is known to be organized without major problems. That run seems to have come to a shuddering halt this year if the latest allegations are proven to be true. Interestingly, Dr. Rai has pointed out that the AIIMS 2017 paper has been leaked from the very same centre from which the NEET PG paper was also leaked this year.
Whether the AIIMS paper and the NEET paper were actually leaked will only be confirmed after extensive investigations are conducted by the appropriate agencies. Until then however, the frequency with which major medical examinations of the country have been subject to controversies, all within the span of a few weeks, will undoubtedly be a source of immense frustration and worry for all students hoping for a career in medicine.
The result of AIIMS MBBS 2017 is expected to be declared on June 14, six days after the CBSE's scheduled result announcement of NEET on June 8. The latter declaration is currently under jeopardy given the Madras HC's stay order in relation to the NEET question paper languages controversy. It remains to be seen if AIIMS MBBS 2017 will be dogged by legal proceedings as well. The Centre, CBSE and AIIMS along with the other responsible bodies would do well to address and lay these concerns to rest at the earliest.
Visit medicine.careers360.com for the latest articles and updates on AIIMS MBBS!

Get real-time alerts on exam & colleges at your fingertips with Careers360 App!
Click Here to Install or Give a missed call on 08080944727 to get app link.
Questions related to NEET
Showing 102090 out of 102090 Questions