AIPMT 2016 - NEET 2016 Phase 1 conducted on May 1; over 6 lakh candidates take exam
AIPMT 2016, which is now recognised as NEET 2016 Phase 1, has been conducted successfully on May 1, 2016 at 10 am at 1,040 examination centres in 52 cities across India and abroad. According to officials, around 6,67,657 candidates had registered for AIPMT 2016 for approximately 2,300 MBBS and 300 BDS seats in 200 medical and Dental colleges of India

Related Post -
NEET 2019
NEET Eligibility Criteria 2019
NEET Application Form 2019
NEET Admit Card 2019

The Central Board of Examination (CBSE) had replaced AIPMT 2016 with the National Eligibility cum Entrance Test (NEET) Phase 1 on April 28, 2016 following a Supreme Court order to scrap all state- level medical entrance tests. Read more on NEET FAQs.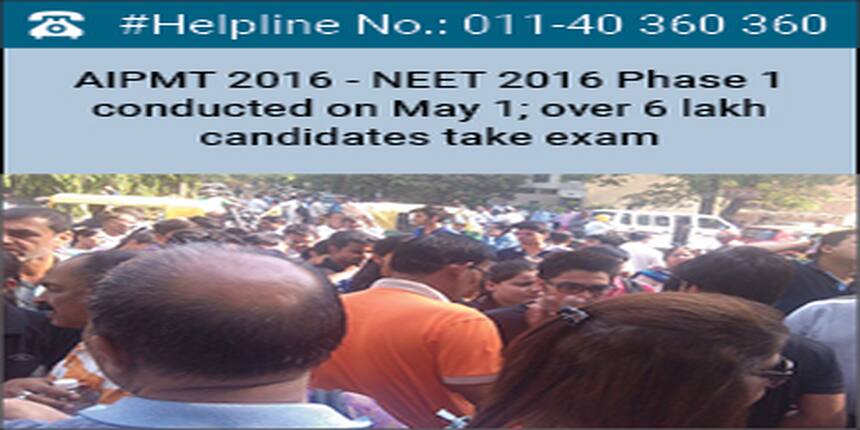 As per the SC order, "AIPMT 2016 to be held on 1st May, 2016 shall be phase I of NEET. Phase II of NEET for the left out candidates shall be held on 24th July, 2016 by inviting applications with fee. Combined result of both the tests shall be declared on 17th August, 2016. CBSE will provide All India Rank. Admitting Authorities will invite applications for Counselling and merit list shall be drawn based on All India Rank. All associated with conduct of Exam including Central Govt., State Govt., institutions, Police etc. will extend all necessary support to CBSE and permit security measures like use of electronic and communication devices Jammers etc. for timely and fair conduct of the NEET. Any difficulty with regard to implementation of orders of this Court the stake holders may approach this Hon'ble Court." Read the full Story.
Careers360 had reported live from AIPMT 2016 /NEET Phase 1 Exam Centres and brought to you all the latest updates on the exam.
Cheating controversies in the past has led to strict frisking across examination centres. As in last year, this year, too, students had not been allowed to enter the examination centres while clad in accessories like earrings, hairpins, belts and even shoes.  CBSE had earlier released a strict dressing code for medical aspirants which barred such items, though, unlike last year, the board allowed students to wear religious or customary dresses this time. Read CBSE relaxes AIPMT dress code.
Here's is a timeline of all the latest happenings of the examination:
1:00 pm- AIPMT/NEET 2016 Phase 1 conducted successfully
9:45 am – Chaos ensues as parents and exam centre authorities scuffle among themselves on denial of entry
9:35 am – Candidates denied entry as they were late.
9:30 am – Entry gates closed
8:45 am – parents help their daughters in removing ear-rings or any other jewellery.
8:40 am – The centre officials announced that no jewellery or any other items other than NEET 2016 Phase 1 Admit Card and identity proof would be allowed the exam centre.

It has already been notified to the students by CBSE, the exam conducting body to wear slippers and not carry any other belongings other than the identity proof and admit card.
8:30 am – Exam centre authorities put notice boards outside the centres and candidates start gathering outside these notice boards to check their roll numbers and seating plan.
8:15 am – Some candidates have come as early as possible to avoid rush and traffic.
8:10 am – Careers360 team reaches AIPMT 2016 / NEET exam centres.


NEET, erstwhile AIPMT is the coveted medical entrance exam conducted for admissions to undergraduate medical and dental programmes in the colleges of India.
As per AIPMT 2016 exam pattern, the exam was of three hours duration. The exam booklet had a total of 180 questions from three different sections, Physics, Chemistry and Biology. While Physics and Chemistry had 45 questions each, Biology section had a total of 90 questions equally divided between Botany and Zoology. For each correct response candidates will get 4 marks and 1 mark will be deducted for each incorrect response.
Also Read
AIPMT 2016 - NEET Phase I exam analysis
AIPMT 2016/NEET Phase I Student Reactions
AIPMT 2016 - NEET Phase 1 Exam Day in Pictures
Stay tuned to medicine.careers360.com for more news and feature related to AIPMT 2016
Questions related to NEET
Showing 101991 out of 101991 Questions