Budget 2017-18: FM announces two new AIIMS, 5000 new PG medical seats
Union Finance Minister Arun Jaitley announced plans to set up two new All India Institutes of Medical Sciences (AIIMS) and introduce 5000 new Post Graduate medical seats annually as part of the Union Budget for the fiscal year 2017-18. "Two new All India Institutes of Medical Sciences will be set up in the states of Jharkhand and Gujarat," said Jaitley, reflecting the Centre's increasing focus on improving the state of medical education and healthcare in the country. An equally crucial announcement for medical aspirants was regarding the expansion of Post Graduate medical seats. "We need to ensure adequate availability of specialist doctors to strengthen Secondary and Tertiary levels of health care. We have therefore decided to take steps to create additional 5,000 Post Graduate seats per annum," confirmed Jaitley in his speech.

Also Read-
AIIMS MBBS 2018
AIIMS MBBS Important Dates 2018
Stay up-to date with NEET News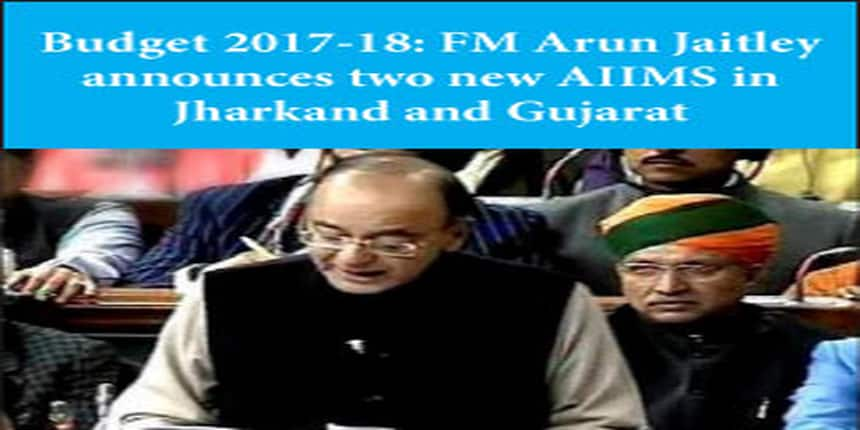 Focus on Post Graduate medical education
As per a press release issued post the budget by the Ministry of Health and Family Welfare, the expansion of postgraduate medical education is a priority issue for the Government. This is mainly because of a consistent shortage in the number of doctors per 1000 population as per WHO norms as well as the difficulty in getting qualified faculty for medical colleges.
With the country currently having around 18,000 PG medical seats in clinical subjects and with the assumption that around 100 new medical colleges will be set up in the next 4-5 years, it is understood that six to ten thousand additional faculty members will be required. "At the behest of the Central Government, the Medical Council of India has revised the teacher student ratio to increase PG seats in clinical subjects. The teacher student ratio shall be 1:3 for Professor and 1:2 for Associate Professor...The measure is expected to yield about 5000 additional PG seats in clinical subjects in the coming years," reads the Ministry's press release.
Highlighting his Government's outlook on medical education as a key focus area, Jaitley's speech also mentioned about the plans being made to introduce Diplomate of National Board (DNB) courses in big district Hospitals and encouraging reputed private hospitals to offer the same. He stated that steps would be also taken to strengthen Post Graduate teaching in select ESI and Municipal Corporation Hospitals. "We will work with the State Governments to take these tasks forward. The Government is committed to take necessary steps for structural transformation of the Regulatory framework of Medical Education and Practice in India", declared Jaitley in his speech.
Regarding the introduction of new AIIMS
With seven AIIMS currently functioning in the country, and with the 2017-18 Budget announcing new AIIMS for Gujarat and Jharkhand, a total of 15 new AIIMS are now in the pipeline, which will raise the total number of AIIMS in the country to 22 in the years to come.
Declared by an Act of Parliament as institutions of national importance, the All India Institutes of Medical Sciences are nationally renowned as India's premier autonomous public medical colleges. Until 2012 however, AIIMS New Delhi served as the sole fore-runner institute of excellence of its kind. Governed by the All India Institute of Medical Sciences Act, 1956, AIIMS New Delhi offered less than 100 seats annually for admissions to its highly prestigious courses.
A desire to increase nation-wide intake and also develop the scope of medical services on offer across all states led to the passing of the All India Institute of Medical Sciences (Amendment) Bill in both houses of the Parliament in September 2012. As per this, six new AIIMS were introduced as autonomously run bodies along the lines of AIIMS New Delhi. These AIIMS, established through the Pradhan Mantri Swasthya Suraksha Yojana (PMSSY) are located in the cities of Bhopal (Madhya Pradesh), Patna (Bihar), Jodhpur (Rajasthan), Rishikesh (Uttarakhand), Raipur (Chattisgarh) and Bhubaneshwar (Odisha). All these institutes were made operational in the same year. An approval for AIIMS Rae Baraeli (Uttar Pradesh) was also given and it has since been under construction.
In his Union Budget speech for the fiscal year 2015-16, Mr. Jaitley had announced the Centre's intentions to set up five new All India Institutes of Medical Sciences in the selected regions of Jammu and Kashmir, Punjab, Tamil Nadu, Himachal Pradesh and Assam. As part of the Prime Minister's Development Package for J & K, Prime Minister Narendra Modi also announced that Jammu and Kashmir would receive an additional AIIMS.
October 2015 saw the Union Cabinet approving proposals to set up 3 more AIIMS in Nagpur (Maharashtra), Manglagiri (Andhra Pradesh) and Kalyani (West Bengal) under the PMSSY. Approvals were also passed in the same year for a new AIIMS in Bihar and AIIMS Jharkhand.
In July 2016, the Cabinet gave its approval to set up another AIIMS in Uttar Pradesh, this time in Gorakhpur.
The locations of the existing AIIMS and their number of MBBS seats are mentioned in the below table.
Current AIIMS locations and MBBS seats-
S. No.

Location of AIIMS

Total Seats

Year of Establishment

1

Delhi NCR (New Delhi)

107

1956

2

Madhya Pradesh (Bhopal)

100

 

 

 

2012

 

3

Bihar (Patna)

100

4

Rajasthan (Jodhpur)

100

5

Uttarakhand (Rishikesh)

100

6

Chattisgarh (Raipur)

100

7

Odisha (Bhubaneshwar)

100
The locations of the new AIIMS and their anticipated MBBS seats are given in the below table.
New AIIMS locations and expected MBBS seats-
S. No.

Location of AIIMS

Expected Seats

Year of Announcement

1

Uttar Pradesh (Rae Baraeli)

100

2012

2

Jammu and Kashmir

100

 

 

 

 

 

 

 

2015

 

3

Punjab

100

4

Tamil Nadu

100

5

Himachal Pradesh

100

6

Assam

100

7

Jammu and Kashmir #

100

8

Maharashtra (Nagpur)

100

9

Andhra Pradesh (Manglagiri)

100

10

West Bengal (Kalyani)

100

11

Bihar

100

12

Jharkhand

100

13

Uttar Pradesh (Gorakhpur)

100

2016

14

Gujarat

100

Budget 2017-18

15

Jharkhand #

100

Budget 2017-18
# Second AIIMS in the same state
As per the structure of the existing AIIMS, all of the newly announced AIIMS are also expected to have a capacity of 100 seats each for their MBBS programmes. With the 707 seats currently available for annual admissions in the seven existing AIIMS (due to seven new seats being announced by AIIMS New Delhi from the academic year 2017-18 onwards), the opening of the new AIIMS is expected to make available 1500 new seats for medical aspirants. The AIIMS MBBS Entrance Examination conducted by AIIMS, New Delhi should serve as the unified entrance exam for admissions to all the new AIIMS as well.
AIIMS MBBS 2017 will be held on May 28 for admission to entrance seats in the 7 functioning AIIMS institutions. The last date to fill the application will be February 23, 2017.
Medical aspirants can follow all the latest news, updates and information on Post Graduate medical education and AIIMS at www.medicine.careers360.com
Questions related to NEET
Showing 116527 out of 116527 Questions