Centre to approach SC on deferring NEET as lawmakers demand ordinance
The Centre is planning to approach the Supreme Court to convince it for deferring implementation of National Eligibility-cum-Entrance Test (NEET) 2016 by a year after many lawmakers strongly urged for an ordinance to overrule the SC judgment replacing all state-level and private medical entrance exam with a single exam -NEET.

Related Post -
NEET 2019
NEET Eligibility Criteria 2019
NEET Application Form 2019
NEET Admit Card 2019

After the NEET 2016 judgement on May 9 where the SC bench refused to allow any state-level or private medical test except NEET, may opposition parties have raised concern over its feasibility for students who prepared for their respective state-level exam  based on their state syllabus. Many members of Parliament also said that language barrier in many states may put students from these states at disadvantage in a central test which is only in two languages – Hindi and English.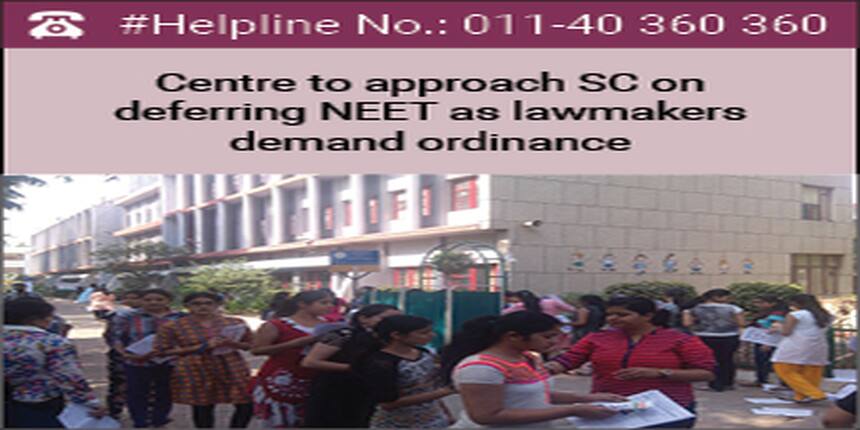 MPs from many opposition parties including Congress, Trinamool Congress, DMK, AIADMK urged the government to urgently address the issue and pass an ordinance to overrule the SC decision on NEET.


The government, however, said that it agrees with single national level admission test for MBBS and BDS programmes, but assured the parliament that it would try to convince Supreme Court to defer this idea by a year so that both students and institutions can get more time to prepare themselves accordingly.  
M Venkaiah Naidu, Parliamentary Affairs Minister, made the announcement in Lok Sabha on May 11, 2016 that the government agrees with the idea of NEET, but it will approach Supreme Court for its implementation from next academic year.  "We are for a common entrance examination, but not from this year. Give time, let the students prepare adequately and then go for the examination. This is the stand of the central government. We will try to convince the Supreme Court," Naidu said during zero hour in Lok Sabha.
Earlier, Congress leader Mallikarjun Kharge strongly criticised government over NEET 2016 and asked to postpone the common medical entrance exam by a year. "Defer the exam this year. By next year, all students will know that we have to take the common entrance test," he said during discussion on the issue in Lok Sabha. 
Many MPs also opined that students from state board study their courses in regional languages across and the national level exam NEET in English or Hindi, will be an injustice to them.
Sharing the concern of members, government assured the house that it would try to convince the SC to give a year time for NEET 2016 implementation so that students get time for preparation as per the NEET syllabus.
Earlier, on May 10, 2016 the Supreme Court had refused centre appeal regarding reconsideration of NEET 2016 even as many state governments had raised their concern and argued on the difficulties which students may face on NEET implementation for admissions in current academic year.
Stay tuned to medicine.careers360.com for more news and feature related to NEET 2016
Questions related to NEET
Showing 83353 out of 83354 Questions