Coronavirus (COVID-19): No decision to postpone NEET 2020 exam, says MHRD Secretary Amit Khare
NEET 2020 not postponed: With the regular reshuffling dates of almost all biggest entrance exams due to Coronavirus (COVID-19), the question which is stucking among all medical aspirants is whether the NEET 2020 also will be postponed or not? National Testing Agency (NTA) postponing the JEE Main dates has increased the pressure on NEET applicants as well.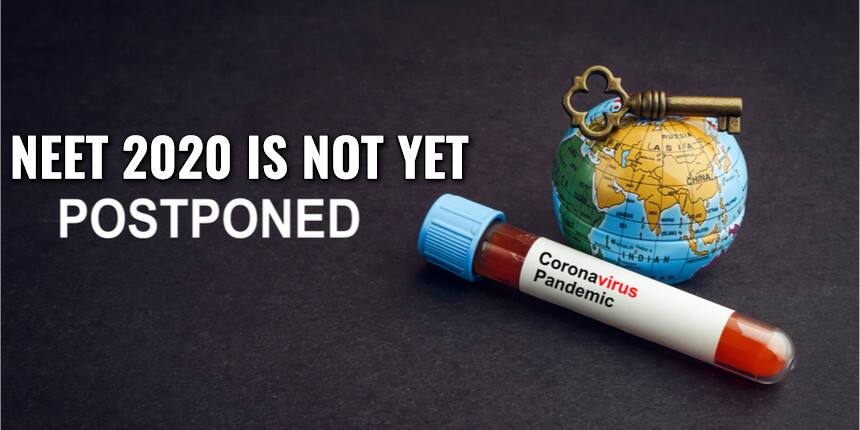 Through Facebook, Quora, Careers360 Q&A, WhatsApp and among others, students and their parents/guardians are inquisitive to get the answers to the questions that "Do you think NEET is also going to postponed due to Coronavirus after the JEE Main got postponed?", or "What are the chances of postponing NEET UG due to Coronavirus pandemic?"
It is being reportedly expected that the NTA NEET 2020 is scheduled to be conducted on May 3 and is still to be conducted on the same date. As per the NTA officials, National Eligibility cum Entrance Test is going to be held as per the schedule announced by the authority, with no postponement. However, they also said in an interview that they will look into the situation and will take the decision accordingly.
NEET is a single entrance exam for granting admission in various medical institutes across the country. About 15,93,452 aspirants have registered and applied for NEET 2020, and if it is postponed, it might hamper their preparations for the same.
What is the official take on NEET postponed due to Coronavirus?
The first official statement on NTA NEET postponement came from the Secretary of Ministry of Human Resource Development, Mr. Amit Khare. According to a media report, the HRD Secretary said that, "The decision to reschedule the NEET will be taken on the basis of the situation. For now, the NEET will be conducted as per schedule." Moreover, till now no official announcement has been made by NTA on whether NEET 2020 cancelled or not. Therefore, in this crucial time, aspirants are advised to continue their NEET preparations 2020 with more enthusiasm and confidence and not to panic.
NEET aspirants can check any official notices, by visiting the official website i.e ntaneet.nic.in or nta.ac.in. And for official information, aspirants are also advised to stay tuned at medicine.careers360.com. As any new updates or notifications will be notified to you on these Careers360 websites.
Twitterati demanding NEET 2020 postponement
A number of tweets has been posted by the twitteratis asking the Central Government to postpone NEET UG entrance exam sharing their thoughts and concerns towards medical students and doctors due to Coronavirus (COVID-19) pandemic. Check some of the most common tweets for NEET postponed.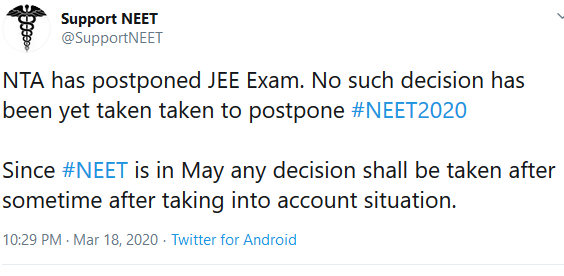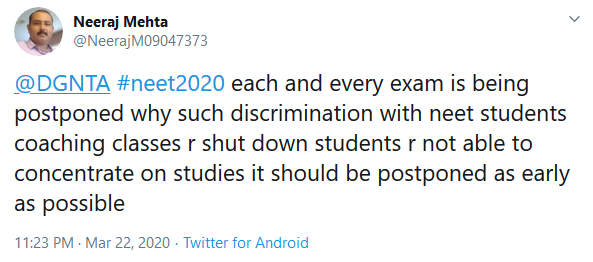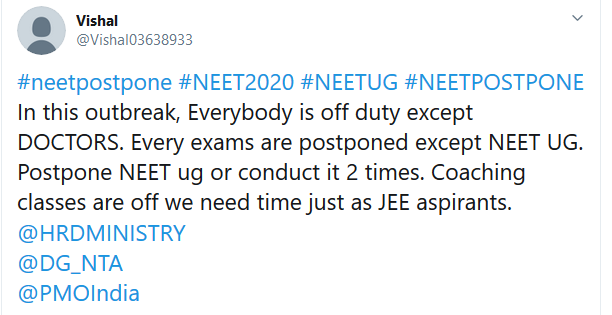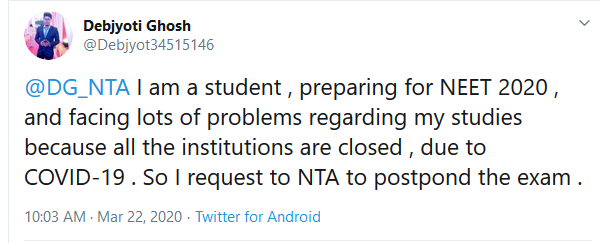 Questions on NEET postponement on social media
Many social media influencers have flooded the various platforms with relevant questions like - 1. Do you think that the NEET is also going to get postponed due to Coronavirus after the JEE Mains got postponed?

2. Is there a chance of the NEET 2020 getting postponed as the board exams and the JEE Mains are going to be rescheduled?

3. Will NEET 2020 be postponed due to the coronavirus situation?

What is the upcoming event of NEET UG 2020?
NTA Is going to issue the NEET admit card on March 27, 2020 at its official website i.e. ntaneet.nic.in. The exam dates along with the centres will be more clear after the release of NEET admit card 2020. Aspirants can download the NEET 2020 admit card, by entering their application number and date of birth. NEET applicants can go through the steps mentioned below to download the admit card of NEET.
Also Read-
Questions related to NEET
Showing 83627 out of 83628 Questions