Exit exam likely after MBBS, BDS to practice medicine in India
Medical students in India might have to clear a National Exit Test (NEXT) after MBBS to be able to practice medicine in the country, if a draft Indian Medical Council (Amendment) Bill 2016 proposed by the health ministry comes into force. In addition, NEXT may also be the basis for postgraduate admission, thereby, replacing NEET PG.
Latest Post -
NEET PG 2018
NEET PG Important Dates 2018
NEET PG Application Form 2018
NEET PG Admit Card 2018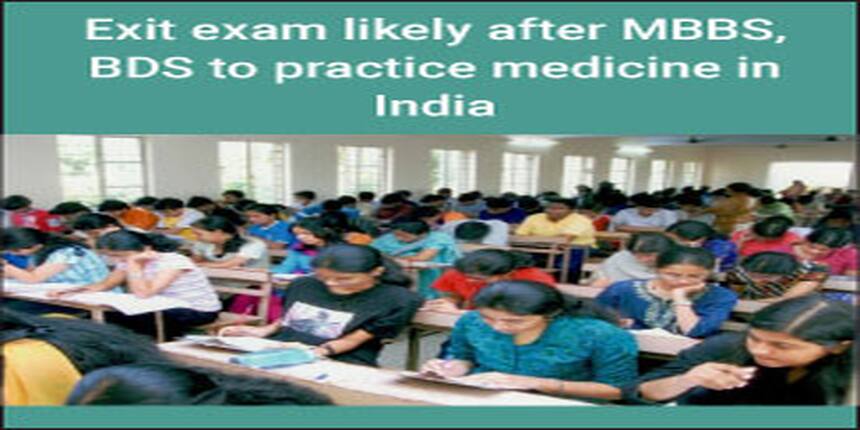 The proposed draft bill includes a new section-10E Exit Exam, which states the following:
(a)There shall be conducted a uniform national exit test (NEXT) to all medical educational institutions at the undergraduate level through such designated authority in English and in such manner as may be prescribed and the designated authority shall ensure the conduct of uniform national exit test in the aforesaid manner
(b) NEXT would substitute the uniform entrance examination at postgraduate level provided for in section 10D of the Principal Act.
Section 10 D provides for uniform medical entrance exams to all institutions at both undergraduate and postgraduate level separately.
The objective of introducing NEXT is to standardise medical education in India and at the same time do away with multiple PG-level medical entrance examinations. The NEXT exam, is being equated with Foreign Graduates Medical Exam, which graduates from foreign countries have to pass before they are given licence to practice medicine in India.
NEXT will go a long way in helping the aspiring medical students to make the right choice while selecting the college.
A central government official has been quoted as saying to a national daily that NEXT will be an outcome-based test. The results of how students from individual colleges have performed in NEXT will be made public. If a college has over 90% students clearing the test, it will automatically act as an indicator. Students can make an informed choice while selecting colleges, the official was quoted.
Dr. Sneh Bhargava, Medical Director, Sitaram Bhartia Institute of Science and Research (former Director AIIMS New Delhi) says that one national level exit exam is in the line of global standard of quality check for aspiring MBBS/BDS.
"I am of the view that there should be one national level exit exam because academic quality varies from college to college.  US already has this system and those who are good get into the profession while the rest are barred from practicing," she says favouring the proposed exit exam post MBBS.
Stay tuned to www.medicine.careers360.com for more news and feature related to NEET PG
Save
Questions related to NEET PG
Showing 4857 out of 4857 Questions