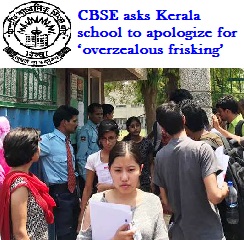 The Central Board of Secondary Education (CBSE) the organizing body responsible for conducting the National Eligibility cum Entrance Test (NEET) 2017, has responded to the controversy surrounding the frisking of women candidates in a Kerala exam centre by asking the Principal to issue an unconditional apology to one of the affected candidates. In an official release, the CBSE termed the incident where a young candidate was forced to remove her innerwear before appearing for the exam, as "extremely unfortunate". "The incident reported at TISK English Medium School, Kannur (Kerala) is very unfortunate and apparently due to the consequence of few overzealous female frisking staff of the school (exam centre) involved in the process. CBSE has advised the school principal to tender an unconditional apology to the candidate," the official release stated.

Related Post -
NEET 2019
NEET Eligibility Criteria 2019
NEET Application Form 2019
NEET Admit Card 2019
As per media reports, the school staff involved in the incident have been currently suspended until an inquiry is held. The incident was just one of many reported by media from across the country, with numerous candidates complaining about being forced to make last-minute alterations to their clothing and shoes.
While the CBSE had announced these strict exam day guidelines well in advance, most candidates were still taken aback by the forceful, unnecessary and in many cases 'indecent' nature of frisking that took place. Parents were left tense and fuming at the arbitrary application of rules, with many even having to rush to purchase new clothes for their wards minutes before the exam.
CBSE guidelines on items not allowed in NEET 2017
Stationery Items - Textual material (printed or written), bits of papers, geometry/pencil box, plastic pouch, calculator, pen, scale, writing pad, pen drives, eraser, calculator, log table, electronic pen/scanner, etc.
Communication Devices - Mobile phone, blue tooth, earphones, microphone, pager, health band, etc.
Ornaments - Ring, Bracelet, Earrings, Nose-pin, Chain/Necklace, Pendants, Badge, Brooch, etc.
Watches - Watch/wrist watch, camera, etc.
Other items - Wallet, goggles, handbags, hair pin, hair band, amulets, belt, cap, scarf, eatable (opened or packed) etc. And, any metallic items which could be used for unfair means, for hiding communication devices like camera, Bluetooth device, etc.
As per CBSE PRO Rama Sharma, CBSE had followed the exact 'protocol of frisking' for NEET 2017 as for AIPMT 2015 and NEET 2016. The dress regulations were introduced to prevent candidates from hiding and using micro bluetooth-enabled devices in their ears and clothes, especially after AIPMT 2015 had to be re-organized following the exposure of malpractice in the exam. Given the 'high value and high stake' nature of NEET, the organizing body had taken efforts to print instructions regarding the 'frisking guidelines and dress code' and widely disseminated the information through the admit card and other means.
Other NEET Controversies
Apart from these incidents over the supposed dress code breaches, NEET 2017 didn't remain immune from controversies in other areas. Regarding the question paper itself, candidates from West Bengal and Maharashtra, who attempted the paper in Bengali and Marathi respectively, have complained that the question paper was different from those given to candidates in other languages and comprised of many more difficult questions. As per media reports, both the West Bengal and Maharashtra Governments have expressed concern over these claims and intend to file official complaints with the CBSE and Ministry of Health and Family Welfare soon. Another headache for the NEET officials comes in the form of glitches discovered in the question paper with Careers360 reporting how experts were divided on their answers to four questions in Code W of the question paper, with some questions having incorrect options and others having more than one correct option. Attempts were also made to leak the NEET Question Papers in Patna and Jaipur but were foiled thanks to the efforts of the Bihar State Police and Rajasthan Anti-Terrorism Squads.
Despite the dress-code controversy being only one among a few others, the CBSE remains convinced that NEET 2017 was held as smoothly as it possibly could have been. As claimed by the Board in its release, "...it is important to mention there were more than 6.42 lakh female candidates registered for the NEET 2017 examination which went off peacefully and smoothly across the country due to full cooperation and patience of the parents and students, which is highly appreciable."
How the Board intends to deal with the above mentioned issues in the coming days should be interesting to see.
Visit medicine.careers360.com for more articles and updates on NEET

Get real-time alerts on exam & colleges at your fingertips with Careers360 App!
Click Here to Install or Give a missed call on 08080944727 to get app link.
MBBS Companion 2019
Predict chances in 3000+ colleges, Know All India Counselling & Admission process etc.
Know More