NEET 2017 - CBSE says domicile of AP, Telangana, J&K will not lose candidature for state govt seats despite 'Self Declaration'
The Central Board of Secondary Education (CBSE) has stated that the candidates from Jammu and Kashmir, Andhra Pradesh and Telangana who have mistakenly submitted the 'Self Declaration' while filling the NEET online application form 2017 will not lose their candidature for MBBS/BDS admission in state medical colleges. According to the CBSE, only those candidates who are staying in these states due to the posting of their parents or other such reasons were required to fill the 'Self Declaration' form.

Related Post -
NEET 2019
NEET Eligibility Criteria 2019
NEET Application Form 2019
NEET Admit Card 2019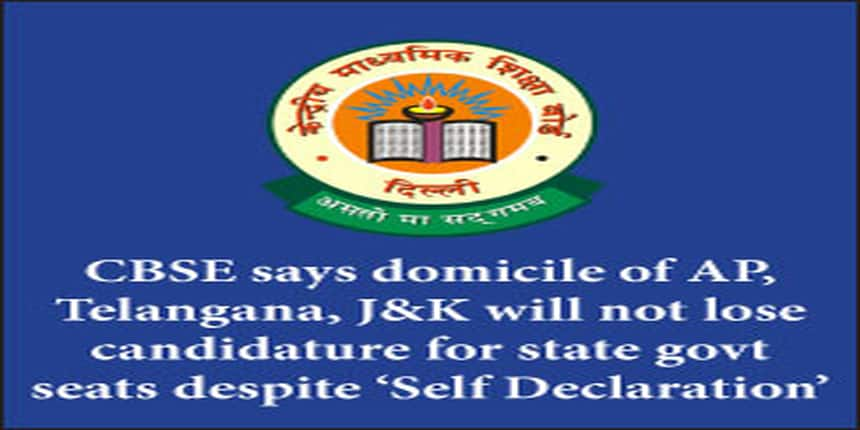 Thus, the self-declaration forms filled by the candidates who are domicile of these states stand nullified. Further, the exam conducting body has asked such candidates to register for state quota Counselling as and when it is declared by the State Counselling Authority.
According to the public notice released by the CBSE on its website on February 13, 2017, candidates who are originally from Jammu and Kashmir, Andhra Pradesh and Telangana but have mistakenly filled the 'Self Declaration' will still be eligible for admissions to 100% state quota seats in their respective states.
"Candidates who have wrongly submitted the 'undertaking' are being informed that in no case their candidature for 100% seats of their State is going to be affected. They are eligible even after submission of 'Self Declaration' for seats of their state subject to the applicable rules of their State" reads the CBSE notification.
The board also stated that such candidates will have to register themselves for Counselling in their state as and when registrations will be started by the State Counselling Authority/Admitting Authority.
According to the Supreme Court's directive in 2016, NEET will be the single entrance examination for admissions to 100% MBBS and BDS seats in the country, apart from those offered by AIIMS and JIPMER.
In every state, except Jammu and Kashmir, Telangana and Andhra Pradesh, 15% seats are reserved as All India Quota, while remaining 85% seats are reserved for domicile candidates. Students from the states of Andhra Pradesh, Telangana and J & K are not eligible for 15% All India Quota seats as these states had opted out of the All India Quota since inception of all India medical entrance exam- NEET.
The NEET brochure states that a candidate appearing from any of these states for admissions under the 15% All India Quota seats is required to submit the 'Self Declaration' undertaking along with the NEET application form. The declaration form in such cases will make these candidateineligible for admission to the MBBS/BDS programmes in these states. However, the CBSE has now made it clear that candidates originally from these States, who are eligible for 100% seats of their states, are not required to fill the 'Self Declaration'.
"The candidates who are not from these states but residing there because of the posting of their parents, etc. These candidates are not eligible for the seats of J&K, Andhra Pradesh & Telangana. These candidates are required to fill the 'Self Declaration'," reads the notification.
The online registration for NEET 2017 has begun from January 31, 2017. Candidates who wish to pursue MBBS and BDS programmes from government, private and deemed colleges/ universities situated in any state or union territory of India will have to mandatory fill the NEET online application form 2017. The last date to fill NEET application forms is March 1, 2017.
To fill NEET application form: Click Here
Stay tuned to www.medicine.careers360.com for more information on NEET 2017
Questions related to NEET
Showing 83501 out of 83502 Questions