NEET 2017: MHRD questions CBSE over increased difficulty of regional question papers
Days after candidates from different states complained about the increased difficulty level of the NEET 2017 Question Paper in certain regional languages, the Ministry of Human Resource Development (MHRD) has asked the Central Board of Secondary Education (CBSE) to provide an explanation for the same. As per media reports, Union HRD Minister Prakash Javadekar has assured students that the Board will soon issue a clarification regarding the issue. "There are certain reports about the paper being difficult for regional languages. The CBSE has been asked about it and the Board will come out with a clarification soon", an MHRD official was quoted as saying by PTI.

Related Post -
NEET 2019
NEET Eligibility Criteria 2019
NEET Application Form 2019
NEET Admit Card 2019
The National Eligibility cum Entrance Test (NEET) 2017 was held on May 7 across 103 cities in the country. The NEET Question Paper language controversy began after students from West Bengal and Maharashtra complained that the difficulty level of the Bengali and Marathi papers was significantly higher than that of the English and Hindi Papers and there was considerable variance in terms of the exam pattern as well. While it is an established norm that question papers in regional languages are literally translated word for word to ensure a fair and standardized paper, this convention wasn't followed for NEET 2017, the students allege. The West Bengal State Government had even declared its intention to file a complaint with the Ministry, with State Education Minister, Partha Chatterjee saying, "It was expected that the questions would be identical, but the questions in Bengali were much tougher than the ones framed in English...We are strongly protesting this."
Just days later, students from Gujarat also raised the issue of the NEET Gujarati language paper being more difficult than the English and Hindi papers, leading State Education Minister Bhupendrasinh Chudasama to hold a meeting with Javadekar to resolve the issue. As stated by noted education activist Dr. Amit Gupta on social media, "It appears like CBSE didn't bother to translate English questions in regional languages and just copy pasted questions from whatever question bank they had available in regional languages otherwise there appears no reason to give different questions in different regional languages." To make matters worse, reports also emerged of candidates at a centre in Andhra Pradesh being forced to give their papers in English and Hindi despite having opted for Telugu in their NEET Application Forms.
The language controversy in the NEET 2017 Question Papers is just the latest in a long line of issues which have recently plagued the All India level entrance exam, made compulsory for admissions to all medical colleges from this academic year onwards. All of these incidents have triggered unrest among student groups across the country, with demands for a NEET retest growing louder especially after it was discovered that there was a chance that the question paper had already been leaked. If and when the CBSE issues an official clarification in response to the MHRD's request, it will be the second time in a week that the exam conducting body is forced to explain its position on a NEET related issue, following its expression of regret over frisking and dress code related controversies which were reported from across the country on the exam day.
Visit medicine.careers360.com for the latest news, views and information on NEET!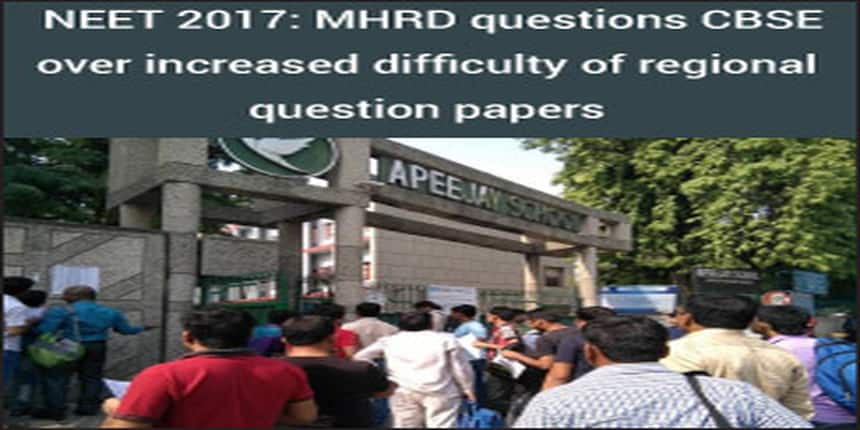 Get real-time alerts on exam & colleges at your fingertips with Careers360 App!
Click Here to Install or Give a missed call on 08080944727 to get app link.
Questions related to NEET
Showing 84444 out of 84444 Questions